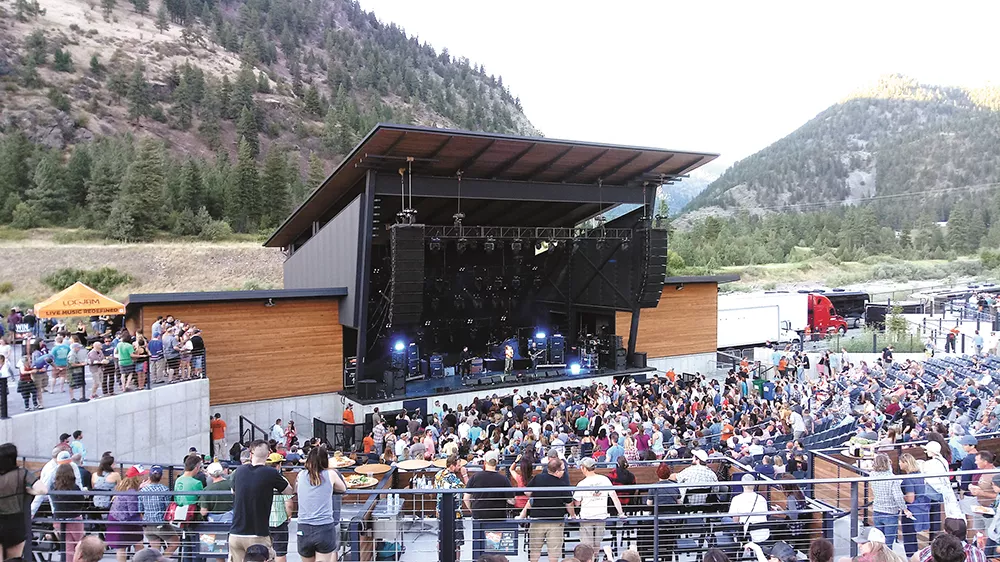 THREE HOUR TOUR
I made the short drive to Missoula to check out a Pixies show at the year-old Kettlehouse Amphitheater and came away thoroughly impressed with the 4,000-capacity venue tucked in a canyon on the banks of the Big Blackfoot River. Located just a few miles east of town, the venue's sound was great, its views incredible and its beer-selection top-notch — no surprise given the Kettlehouse craft brewery is about 100 feet from the stage. There's not a bad seat in the house, either; even the "cheap seats" on the lawn feel close. I highly recommend a jaunt if you need a quick getaway. Blondie (Sept. 4), Jason Isbell and Josh Ritter (Sept. 8) and Dropkick Murphys and Flogging Molly (Sept. 23) are among the shows happening before season's end. Visit logjampresents.com for the full lineup. (DAN NAILEN)
---
THIS WEEK'S PLAYLIST
Some noteworthy new music arrives online and in stores Aug. 10. To wit:
EL TEN ELEVEN, Banker's Hill. Fun fact: this experimental duo did the music for the killer documentary Helvetica. They also play the Bartlett Sept. 15.
NICKI MINAJ
,
Queen
. The Bey-hive will probably have something to say about this album title.
JASON MRAZ
,
Know
. Know what I know? Jason Mraz was one of the most boring concerts I've ever seen.
THE MAGPIE SALUTE, High Water I. A bunch of former Black Crowes led by guitarist Rich Robinson delve into blues-rock.

SHOOTER JENNINGS, Shooter. Waylon Jennings' kid is rooted in country, but his sound is pleasingly expansive on his latest. (DAN NAILEN)
---
BETTER THAN BREAKING BAD?
Breaking Bad was a masterclass in nail-biting suspense, tight plotting, gorgeous cinematography, relentless pacing and riveting acting. And yet, when you pit them directly against each other, I dare say that Better Call Saul — which premiered its fourth season this week — is better. Breaking Bad is an operatic tragedy, full of scheming gods and anguished transformations and drug deals with the devil. Better Call Saul is something much smaller, but much more real: It's a tragedy about how easy it is, despite our best efforts, to become the caricature our worst critics see us as. Breaking Bad is about monsters. Better Call Saul is about humans. (DANIEL WALTERS.)
---
LIKE FINE WINE
It seemed like I was the only one in the sold-out Knitting Factory show Saturday night who didn't know every single word on Black Happy's setlist. With dueling drummers, horns and some kickass guitar solos, these Inland Northwest dudes tore the place up for an hour and a half, and they'd done the same the night before, too. It's hard to believe they rocked harder in the early '90s. (QUINN WELSCH)
---
SNITCHES AND SCIENCE
Jailhouse snitches, questionable forensic science and abuses of power by white officials, mostly against black people in a small Mississippi town, are the major themes in the masterfully reported second season of In the Dark, a podcast from American Public Media. Piece by piece, reporter and host Madeleine Baran picks apart the state's case against Curtis Flowers, a black man who has been tried six (6!) times for a 1996 quadruple murder. Flowers has maintained his innocence from the start and is currently waiting on death row for a decision on his latest appeal, using information uncovered by Baran and her team. After In the Dark's first Peabody Award-winning season featuring the abduction of 11-year-old Jacob Wetterling, the New Yorker has called the second season possibly the "best podcast of the year." (MITCH RYALS)