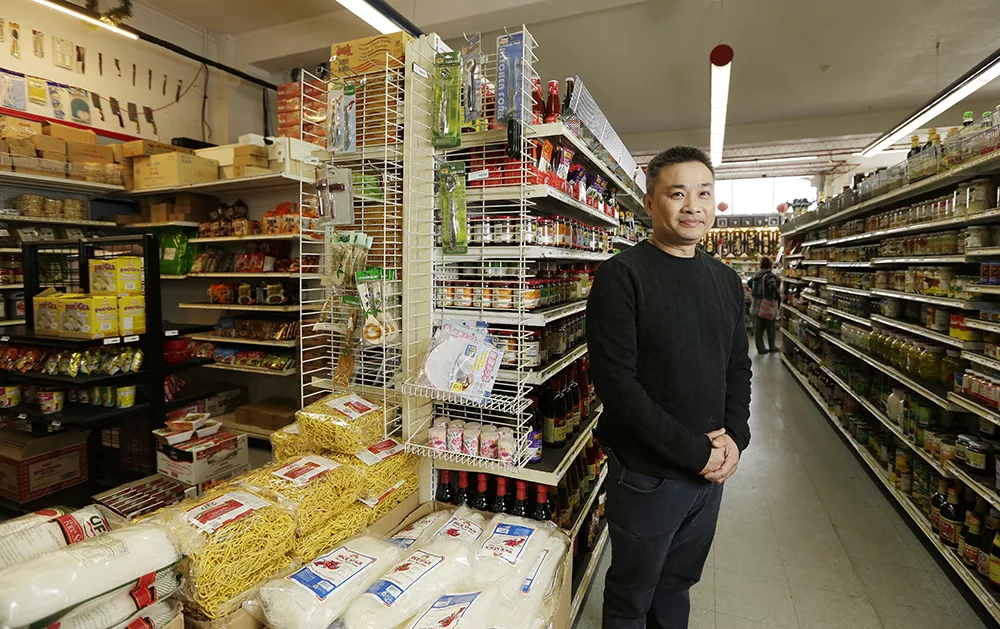 The shelves of Best Asian Market are stocked full of noodles, cans, sauces and other brightly packaged goodies printed with characters that are unfamiliar to non-native speaking customers. It all seems to jump out at you inside the building that was first built as a grocery store more than 80 years ago, located in Spokane's newly rebranded Sprague Union District.
The market is big — nearly 6,000 square feet — offering its mostly Asian customer base a little bit of everything. But even though owner Van Chiu is from Vietnam originally, the market doesn't focus on any one nationality or product.
Chiu and his family emigrated from Vietnam to a refugee camp in Thailand in 1979 and ultimately landed in Los Angeles, where he grew up. Chiu would later study civil engineering and earn his Ph.D. from UCLA. The firm he was working for after college eventually closed shop, so Chiu decided to take a year off to be with his siblings in Spokane. The break didn't last long, though, as Chiu soon saw a business opportunity at Best Asian Market, formerly Bay Oriental Market. He purchased the market in May 2003 as a business venture for his family. He didn't plan to stay for long, but he's kept busy 15 years later.
The real reward of the business has been the opportunity to give back to the community: Almost all of the market's 10 or so employees are immigrants or refugees from Asian countries, Chiu says. The market also regularly makes in-kind donations to benefit St. Anthony's in Spokane, a church with a large Vietnamese population, as well as the Spokane Buddhist Temple.
"I come from an immigrant family," says Chiu, "[and] one thing we pride ourselves in, we hire other immigrants who [are] fleeing persecution. Quite a few of them work for us."
Find Best Asian Market at 2022 E. Sprague Ave., 534-9300.
MARKETS: SHOP THE WORLD
A selection of the international markets of the Inland Northwest
Alpine Deli
417 E. Third, 455-5148
This German, Austrian and Bosnian grocery store sells a variety of foods from those countries, and makes all its desserts — even marzipan and baklava — from scratch.
Asian World Food Market
3314 N. Division, 327-2899
Here you'll find plenty of pantry staples for Japanese and Korean cooking, along with a wide selection of vegetables, noodles and kimchi.
Cassano's Italian Grocery
2002 E. Mission, 747-3888
This longtime institution specializes in cured meats and hard cheeses imported from Italy. Cassano's also operates an in-house deli counter and a catering kitchen.
Damas Middle Eastern Grocery Store
21 S. Thierman Rd., 703-7677
This local mini mart is stocked full of Middle Eastern delights like dried dates, baklava and traditional ingredients, such as fava beans, olive oil and halal foods.
De Leon Foods
102 E. Francis, 483-3033; 15530 E. Sprague, Spokane Valley, 926-5009
De Leon Foods stocks a massive variety of traditional Mexican and Latin American products — cheese, milk, yogurt, sour cream and Mexican sodas.
Good Choice
9512 E. Sprague, Spokane Valley, 927-3962
This Russian market with shelves full of treats and products from all over Europe also has a bakery that serves fresh-made cabbage, potato and meat-filled piroshkis.
International Foods Store
3021 E. Mission, 466-4784
Here you'll find all the essential ingredients for cooking many traditional Mediterranean and Middle Eastern dishes, such as Greek yogurt, halal meats, lentils and more.
Kiev Market
3716 N. Nevada, 4823 E. Sprague and 16004 E. Sprague; facebook.com/kievmarket
This market sells traditional ingredients and brands from Russia and nearby countries, along with a variety of breads, herbal extracts and vinegars.
La Michoacana Mini Market
9907 E. Sprague, 926-8251
This authentic Mexican restaurant also houses a mini mart stocked with traditional Latin ingredients so you can try your best to replicate the restaurant's flavors at home.
Lieng & Phane Oriental Market
13124 E. Sprague, Spokane Valley, 922-0924
This family-owned and operated Asian market opened back in 2004 and has become known for offering hard-to-find items commonly used in authentic Asian cuisine.
Malinka Euro Market & Bakery
9564 and 18203 E. Appleway Blvd.,
Spokane Valley, 321-7479
This is a popular go-to for fresh fish, ice cream treats, hummus, cheese, milk, baked treats and other products from all across Europe, including bread and meat.
Mariam International Foods
116 E. Wellesley, 489-4961
This Middle Eastern store sells a variety of foods, meats and Mediterranean dairy products, like Gaimar and Valbreso brands.
Mariupol European Bakery & Deli
3329 E. Sprague, 535-4426
Here you'll find smoked fish, imported sausages, jars of pickled eggplant, cheeses and dumplings, along with freshly baked rye, cakes, chocolates and specialty food from Russia.
Miller's Country Store
1326 Baldy Mountain Rd., Sandpoint,
208-263-9446
This market, deli and bakery sells bulk ingredients at wholesale prices along with specialty products such as Amish rolled butter, raw milk and farm fresh eggs.
Odessa Deli
11415 E. Trent, 928-4272
This market offers a wide selection of meats, sweets and branded, imported products from Russia, Germany, Bulgaria, Ukraine and Israel.
Oriental Gifts & Food
4270 W. Riverbend Ave., Post Falls,
208-773-4757
A one-stop-shop in North Idaho for organic and natural Korean, Chinese, Thai and Japanese ingredients, the shop also offers teas, energy supplements, Asian diet food products and spices.
Oriental Market
3919 E. Trent,, 535-3936
Locally owned since 1977, this Asian foods market sells a variety of specialty produce, including persimmons, pomelos and lychee and other ethnic products, such as ramen noodles.
Phung-Mart
317 W. Sixth St., Suite 103, Moscow,
208-892-0938
This Asian grocery store serves the Moscow area with fresh vegetables and other traditional ingredients, like spicy pickled bamboo, sesame paste, tofu and kimchi.
PNW Halal Meats
1045 N. Grand Ave., Pullman, 339-6294
This Palouse vendor sells Middle Eastern, Persian, Indian and Bangladeshi pantry items, including halal meats, vegetables and dairy products.
Shin's Asian Market
1475 S. Grand Ave., Pullman, 339-6084
This Asian market on the Palouse stocks goods needed to make a variety of authentic dishes, including samyang spicy cheese noodles, kimchi and butter chips.
Vina Asian Market
1715 E. Francis, 315-9478
This grocery is filled with Asian fruits and vegetables like dragon fruit, bitter melon, kohlrabi, and breadfruit, along with staple ingredients including fish, rice and noodles.