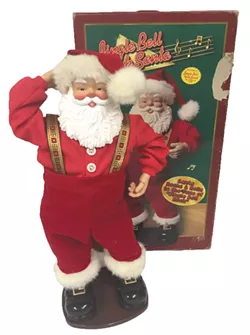 Years ago, one of my parents brought home an electronic dancing Santa to our small home on the Kitsap Peninsula.
We celebrated Christmas the same way many families do: lights, Christmas tree and an advent calendar. But we never owned anything as frivolous or novelty as an electronic dancing Santa — who also sings.
Oh yes. He sang. But Old Saint Nick only had one tune in his repertoire: "Jingle Bell Rock." It's a classic rock 'n' roll hit from the '50s that's been covered countless times by as many pop stars as you can think of. But the only true version is the original by Bobby Helms. It's undeniably catchy, with a slow, swinging pace and perfectly executed chops on an electric guitar. And at 2:11, it's almost a little too short.
Those first few seasons that we had the electric Santa it was great. We would just leave him "on" until one of the parents would crack and shut him off. This was about the same time as those talking Big Mouth Billy Bass wall decorations hit the market, so the novelty wasn't about to wear off anytime soon.
Inevitably, it did get old.
Starting in my teens, I learned to despise "Jingle Bell Rock." I learned to despise most Christmas songs, for that matter. But I truly hated "Jingle Bell Rock," mostly because it was so ingrained into every Christmas memory I ever had, and Christmas was just a corporate scheme that millions of poor rubes fell prey to every December, I thought, despite the fact that I still dutifully kept a wish list.
Of course, every time Dec. 24 rolled around I quickly got over it.
It's been a decade since I left the house with the electronic dancing Santa, and every year that I don't make it back home, it's always one of the things I miss the most. The years I do make it back, I'm reminded how good it is to be with your family and friends, drinking booze and eating ham until the wee hour of 10 pm, all while an electronic Santa dances endlessly in the background to "Jingle Bell Rock." ♦
Quinn Welsch is the copy editor at the Inlander. His official response to Christmas is "bah humbug," though he secretly enjoys making snow angels and roasting chestnuts on an open fire.