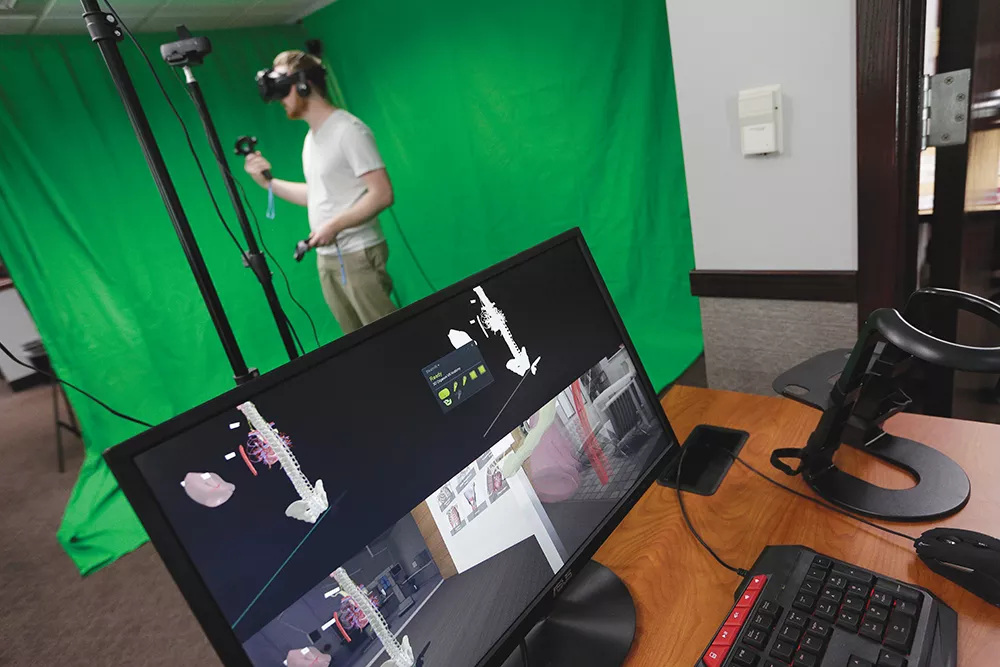 Bryce Cedarquist inspects a human body hovering above him. He's in a room that looks like a generic medical office. But as Cedarquist circles the body, it becomes clear that this is no ordinary medical room. In this room, Cedarquist is a god.
With the touch of a button, Cedarquist can make the body move up and down or side to side. He can make it disappear, or he can strip away the skin and the bones. He can pull out the larynx, bring it closer and enlarge it, then return it to the body with no damage done.
This, of course, isn't real life. This is virtual reality. And it could soon change medical education in the United States.
"Virtual reality has a lot of potential in the future, and I think a lot of schools are seeing that potential," Cedarquist says, who is part of a student team exploring how to incorporate VR at Washington State University's newly founded College of Medicine.
More established medical schools like University of Washington have VR on their radar. The UW is in an "evaluative stage," says Darryl Potyk, chief of medical education for the UW School of Medicine-Gonzaga University Regional Health Partnership.
"We think it has a great purpose and a great value going forward," Potyk says. "But we're still trying to figure out how we're going to implement it to the best of our ability and to our students' advantage."
If there's one clear use of virtual or augmented reality in medical school, it's in anatomy and physiology.
Not only can students deconstruct a human body layer by layer, but certain programs let you actually immerse yourself inside those systems. Students "stand" inside of a heart and see the heart muscle contract, the valves open and close, then observe the heart in a diseased state. It can work a lot better than pictures and written descriptions, says John Tomkowiak, founding dean of WSU's College of Medicine.
Josh Pahang, a WSU medical school student, agrees VR has already helped him understand general anatomy. But, "Every patient is going to be different, so you're not always going to have this perfect 3D model," he says. "That's one big limitation."