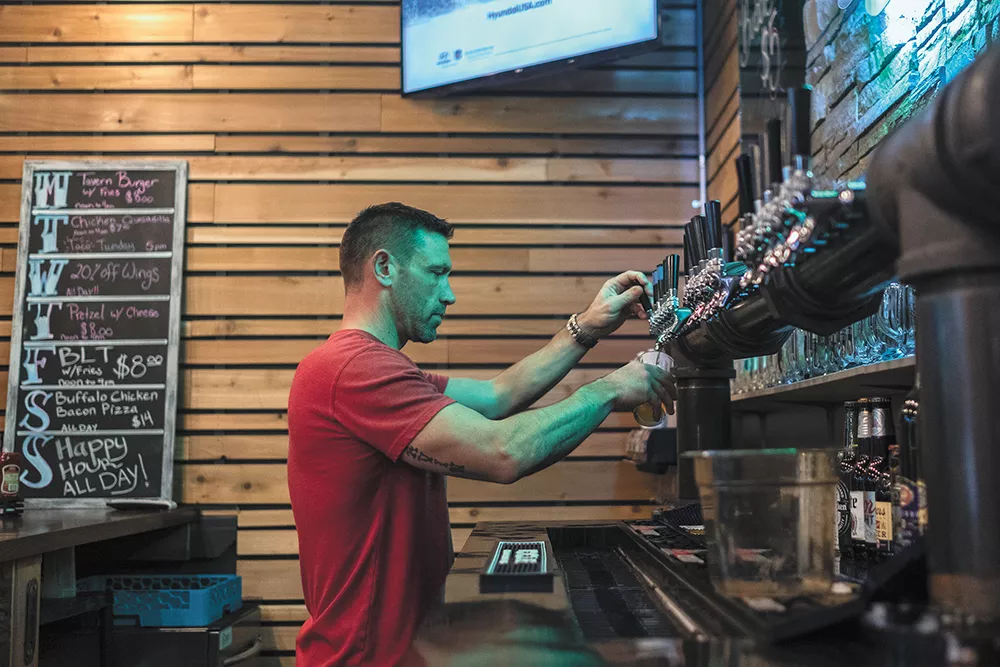 For 10 years, Hop Mountain Taproom and Grill co-owner Joe Condon dreamed of opening a restaurant.
Condon grew up working in restaurants, and after four years in the Navy he transitioned to a corporate job at a big company in the Inland Northwest. When that line of work began to wear Joe out, his at-first reluctant wife Katie gave him the go-ahead.
"Katie could tell that I wasn't very happy in my position and she was like, 'You know what, let's do the taproom,'" Joe recalls.
Located off of Highway 2 as it heads north toward Mount Spokane, Hop Mountain Taproom and Grill focuses on serving local brews and pub-style food. All 21 taps feature Pacific Northwest craft breweries and cider makers, including Big Barn Brewing, Twilight Cider Works, One Tree Cider, No-Li Brewhouse and Moscow-based Hunga Dunga Brewing. Joe picks each IPA, wheat, sour, pale ale and lager with the goal of introducing Spokane's northsiders to new beers and ciders.
"It's finding the balance between a good beer and your demographic," Joe notes.
In addition to local brews, Joe and Katie incorporate other local sources into their menu. Order either a half ($8-$9) or full order ($16-$17) of chicken wings with a choice of four sauces from local company Booey's Gourmet.
Other items on the menu include pub favorites such as deep fried pickles ($8), a hot pretzel with mustard or cheese sauce ($10) and the tavern burger with lettuce, tomato, choice of Swiss or cheddar cheese served on a brioche bun ($11). Joe and Katie continue to develop and change Hop Mountain's menu as they find what customers want, while keeping the focus on their beer selection.
Serious beer connoisseurs can join Hop Mountain's mug club for $100, which includes members' mugs, stored at the taproom. Mug club members receive $1 off every beer, and an 18-ounce pour instead of 16 ounces, among other benefits. There's happy hour from 4-6 pm, and daily lunch specials from noon-4 pm.
Though it clearly pays homage to the region's craft beer scene, Hop Mountain wasn't the first name Joe had for his taproom. At first it was "Hooligan's," then "Darby's," the latter after his dog. Not until he began sketching the logo of a hop bud topped with Mount Spokane's snow cap on a sticky note did Joe and Katie decide on the name.
"From there we're like, shit, Hop Mountain — it just hit us," Joe recalls.
Both from North Spokane, Joe and Katie picked the location on Highway 2 partly for its proximity to Mount Spokane. Throughout this winter's snowsport season, they're running a special with Mt. Spokane Ski & Snowboard Park for customers who show their lift ticket and a special Hop Mountain flyer to get 20 percent off food purchases.
"We're both snowboarders. We come down, have a beer, have a burger, head home," Joe says.♦
Hop Mountain Taproom and Grill • 14017 N. Newport Hwy., Suite G • Open Mon-Fri noon-10 pm, Sat-Sun 11 am-10 pm • hopmountaintaproom.com • 934-1945