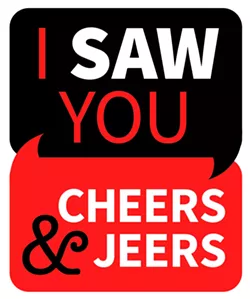 Garlic Bread & Smiles: I saw you at the Spaghetti Factory's 50th anniversary night. You were sporting a tie and enjoying some cheese garlic bread. Your smile was contagious. Don't stop enjoying the little things.
Baseball game: I Saw You in the stadium at the game. I was the batter.
Children at GU Basketball: I saw hundreds of children at the Jan. 12 Women's Basketball Game without hearing protection. Using Decibel X on my smartphone, I found the average noise level was 94dB over the course of 2 hours, and that was without a pep band. The maximum daily exposure for that noise level is 1 hour. Those kids with hearing protection will thank you in 20 years when all their friends are buying aids and suffering from tinnitus.
Metallica police officer: There you were standing by the steps in the G.P. section by the doors. I came out of the concert to rest my feet killing me... You spoke to me once at the end of the concert. You know who you are... coffee?
Putt putt golf: You saw me online and we started playing Words with Friends and we decided to meet and when I saw you. You were This Tall redhead man and we talked about who would win playing putt-putt golf and if you're reading this you'll know what I mean. So we played and you were so nervous and blushing... it was a lot of fun. Contact me sometime and we can replay that memory. Your words with friends.
Goofy: You just moved up from California you saw me in junior high I was the goofy cowgirl. You yelled at me and called me goofy and ran into the bathroom that was our first meeting of being best friends. We have seen each other go through good times and bad times and watched our kids grow up. I am so thankful for that day and Junior High that I met you. Your best friend, Dee
Indian eyes: This goes out to my beautiful Indian eyes. I want to thank you for being the mother that you are, which is a great one. You've given me great Joy by being my baby's mama. I love you for being you and seeing my faults and through it all still call me babe, your man. I love you. Tyla K Buckles love is what it's all about. Through Christ our Lord we will survive. Love your man. Joshua Roberts X3
l choose you: I don't think I could manage or somehow enjoy the hecticness of three kids at Costco, or the craziness that is a candy and slurpee run on a mid-sunday with anyone else. I choose you every day. Always. Thank you for your patience, unwavering dedication and compassion and most of all, thank you for choosing me back.
Good Samaritans: I want to say that I am extremely thankful to the people who went out of their way and helped me when my truck got hit on Northwest Blvd. on the night of January 6th. A special thank you to Natalie and Stephan who stopped and waited with me for the police to come; helped me change my damaged tire and followed me home to make sure I got home safe. And to the other three guys that also helped with changing the tire I am extremely grateful!
Seriously Spokane: Hey Spokane! Did you know there are a few places in this town where one can actually buy headlights for cars. You don't have to be a hazard on the road, other than your operating abilities or lack thereof. Same goes for tail/brake lights. I know that the city feels it is somehow now in indentured servitude to ticket for faulty equipment on a vehicle, but that doesn't mean your rolling deathtrap should be on the road. Get your equipment repaired or take the bus!
High and Dry: Hi! After you assured me you were ready to commit, and I left my job, moved across the country, convinced my ex to quit her job and bring the kids to Spokane so you and I can begin our life together, you drop me like it's hot. After all the psychics and astrologers talk us both into being soul mates, you continue your viscous cycle and head for the exits when your fear-of-commitment kicks in. Your actions were despicable, and you will be paying off this karmic debt for eons.
Are you freaking kidding me? My ex-husband submitted one of these and now I'm going to also. You know who you are. You lied and tricked someone who cared so much about you. You told him he could share your home and then you changed your mind. You had months to let him know that you weren't ready. He left his job and I even put my job at risk just so you guys could be together. I hope you think about what you've done.
A few spoil for many: Jeer to those that feel compelled to throw stuff out onto the Manito pond for whatever reason. I get the occasional rock to see if the ice will break. Unfortunately this only leads to bigger and bigger rocks creating an eyesore for the hundreds of people who enjoy the pond for what it is... one of the iconic sights in our city. What is completely insane are the nuts who felt it necessary to throw trash cans, garbage, plastic barriers and yes, huge rocks onto the pond. Stupidity for sure... remember there are turtles resting under this insulating frozen barrier. ♦