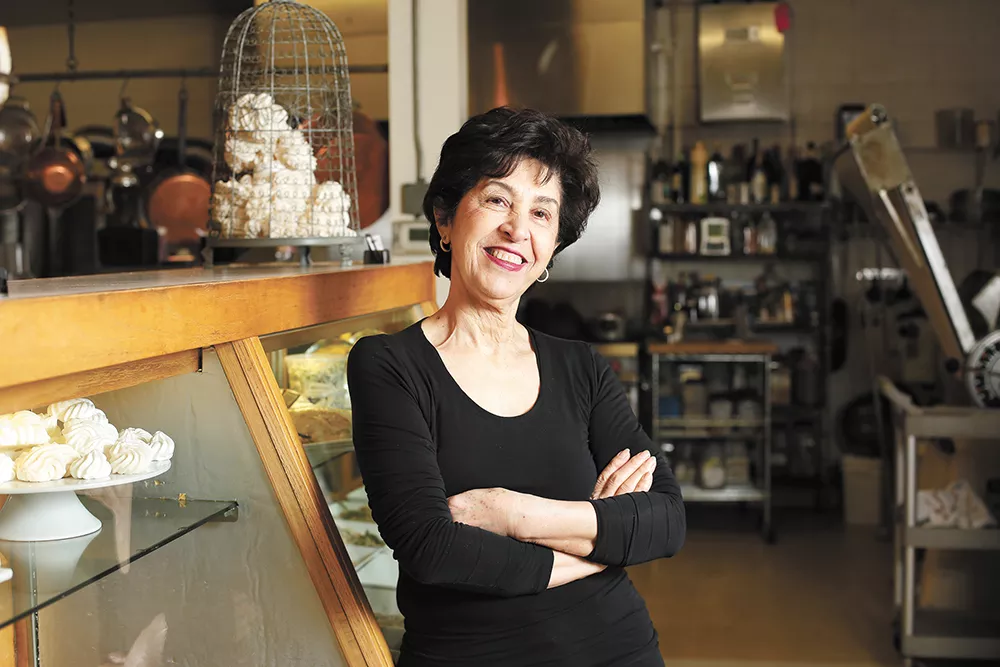 As work in the kitchen begins to wind down on a Friday afternoon, Fery Haghighi pauses to greet each customer stopping by her downtown Spokane catering business for a late lunch or snack.
Of them is a pair of women from Orofino, Idaho, a three-hour drive away, who remind her they always stop by Fery's Catering and Take-Out while in Spokane, and tell all of their friends at home to go as well.
"They bring me herbs, and I put [them] in my garden every year," Haghighi notes. "We have lots of those kind of people who are so kind and so friendly and beautiful."
After nearly 40 years of cooking in Spokane, these familiar faces have become extended family to the Iranian-born cook and business owner who's operated Fery's Catering since 1995, and before that, Spokane's first traditional French-style bakery, Au Croissant.
"She really does this because she loves people and she loves the loyalty of people coming back and wanting her food," notes Haghighi's daughter, Nelou Fennessy.
It's been a long journey, however, for Haghighi and her family to get this far, becoming an established and well-loved local food purveyor. After fleeing their home in Tehran during the 1979 Iranian Revolution, when the country's last shah was ousted by Ayatollah Khomeini, the Haghighis sought political asylum in Spokane. Fery's brother was living here, and she recalls then-Democratic Speaker of the House Tom Foley writing a letter to help them gain entry to the United States.
"We are very lucky, but you know, they say here is a place of opportunity. If you work hard and are honest, you can really climb up. Not in other countries," Haghighi reflects.
Adjusting to life in Spokane wasn't easy in the beginning. Haghighi's family was part of Tehran's wealthy upper class — they had cooks, chauffeurs, nannies and other hired help — and now had to start over in a new and unfamiliar city that felt incredibly small to them.
"A friend of ours told me 'Now you need a job... why don't you go and take classes and become a cashier?'" Haghighi remembers. "When they left, I started crying. For me, putting an apron on and working wasn't very pleasant."
Yet throughout their upheaval, one thing hadn't changed for Haghighi: Her love of cooking.
Not long after settling in Spokane, she and her husband Ahmad, a geologist, opened Au Croissant in downtown Spokane. It was there they introduced Spokane to traditional French pastries and espresso coffee, which were mostly unfamiliar to the city at the time.
Haghighi, who's both self and professionally taught, traveled to refine her cooking skills at Le Cordon Bleu and La Varenne in Paris. Au Croissant, on Howard Street just north of Riverfront Park, became so popular that customers would form lines down the block to get fresh-baked bread and pastries before the day's supply sold out, sometimes as early as 10 am.
"Now, I am so proud," Haghighi reflects. "At a jewelry store, a guy said to me, 'Oh, those are working hands.' Now I am stronger and liberated. I am a working woman and I am proud of that. And I think every day when I cook, I make so many people happy."
At one point, the Haghighis owned three locations of Au Croissant and a production bakery in Spokane Valley where they made bread and other wholesale goods for many local restaurants. In the evenings, the downtown cafe would transition to a formal white-linen restaurant serving French-inspired Mediterranean fare. Some of the dishes Haghighi served there are still part of Fery's Catering's menus, like her Middle Eastern kabobs and rice.
Although the family closed Au Croissant in 1995, in part due to negative reports discouraging consumption of cholesterol, butter and eggs that caused business to drop off, Fery's Catering was the phoenix born from its ashes.
For most of its life, and the past two decades, Fery's Catering and Take-Out has operated in a small, house-size building at the corner of Fifth Avenue and Cowley Street, sandwiched between the freeway and Sacred Heart Medical Center.
While the bulk of Fery's business comes from its catering services for meetings, funerals, weddings, office lunches, parties and other events, Haghighi's Persian-influenced food is highly sought by walk-in customers like the loyal fans stopping in before Friday's closing. Those familiar with the menu know the caterer's unassuming facade and a tiny seating area (hence the take-out focus) belie the rich, layered flavors of its food.
"I'm a cook, I'm not a chef," Haghighi says. "I like to make tasty food, and I have my own Iranian accent on it and a lot of French accents."
The spice rack inside her kitchen is thusly filled with traditional Persian herbs and spices: cumin, fenugreek, turmeric, coriander, sumac, saffron, dried limes and more.
"When I came here, none of them existed," she says. "Now, when a cook wants to make it a little exotic, they put those things in there."
While dishes available for catering vary from what's served daily for take-out customers, customer favorites include her pomegranate and walnut chicken, traditional Middle Eastern-style kabobs, a rhubarb and mint lamb stew and "celebration rice," a Persian rice with nuts, orange peel and carrots.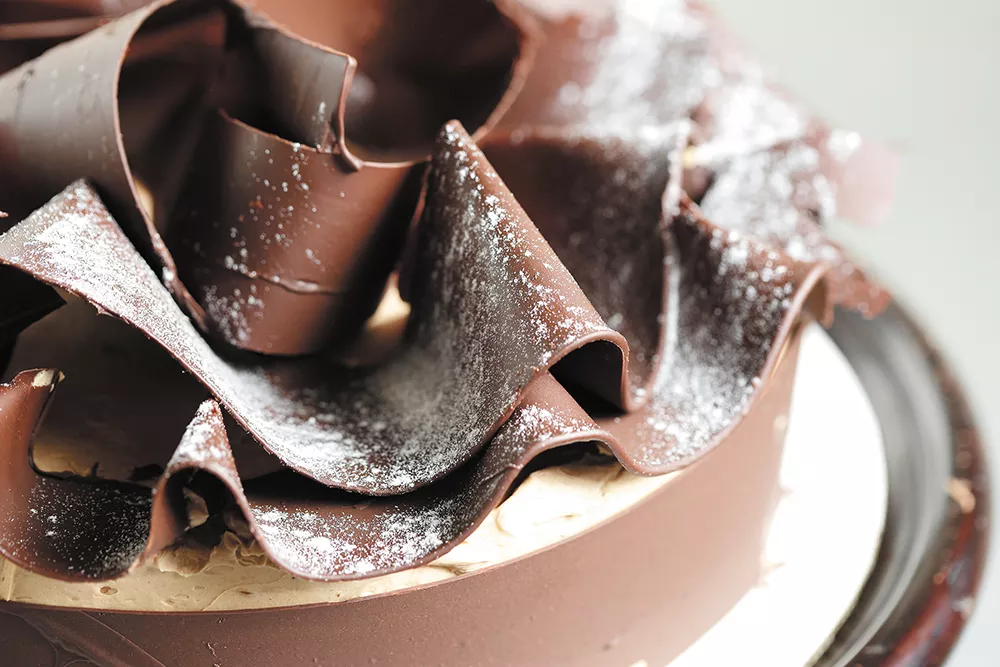 The cold case just inside the front door is filled with big serving bowls of Haghighi's most loved dishes, like her famous chicken and spinach pasta salad with a creamy, peppery dressing. Her spicy chicken curry, hummus spreads, layered cheese terrine, house cobb salad and a rotating selection of richly flavored pasta, rice and legume salads are also constant choices. Cookies and cakes fill the case, too, including French pastries and sweets. Some cakes from Fery's kitchen are also sold at My Fresh Basket and Huckleberry's Natural Market.
By all appearances, Haghighi, 76, isn't slowing down yet. She's begun delegating more work to her small, steadfast team, including longtime manager Melissa Larson, who's been working with Haghighi for 21 years. It's still rare, however, to stop in and not find Haghighi behind the counter overseeing the kitchen. Fennessy says her mother also continues to work on some of the restaurant's Sundays off. When a longtime client requests her food, Haghighi usually can't say no.
"My hope is that I can stay as long as I can, because it makes me happy when I'm here," she says. "I had a customer who comes regularly, she said, 'Everytime I walk in, you have a smile.' I'm not very smiley when I'm cooking — I'm concentrating and busy. But when I see people, I'm very happy." ♦
Fery's Catering and Take-Out • 421 S. Cowley St. • Open Mon-Fri 9 am-6 pm, Sat 10 am-2 pm • feryscatering.com • 458-5234