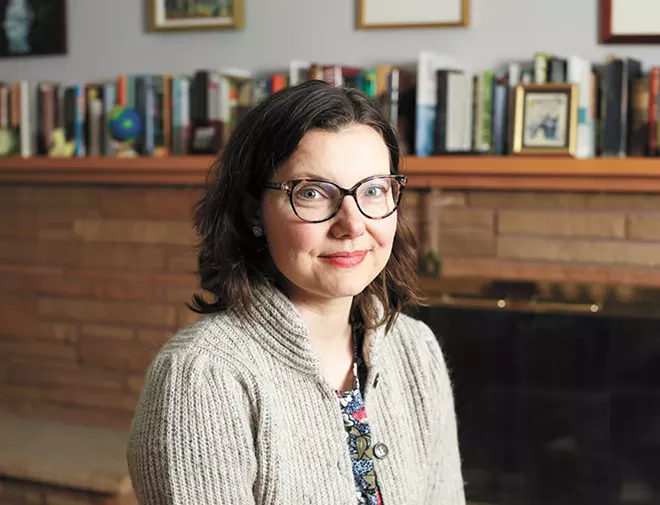 She was spun up from wild threads of imagination, yet Mildred Groves is at once a reflection of our darkest selves and a beacon of warning for a potentially dire future.
Groves is the troubled and simultaneously empowered protagonist of award-winning Spokane author Sharma Shields' sophomore novel, The Cassandra. Releasing on Feb. 12 with a launch party at the Spokane Public Library's downtown branch, the book's plot centers around the nuclear weapons program at Washington state's Hanford Site during World War II.
While deeply rooted in the recorded history of the 586-acre site bordering the southern reaches of the Columbia River, Shields' story was also heavily influenced by the ancient Greeks' epic Cassandra myth. The tragic princess of Troy was gifted with accurate foresight of the future, but likewise cursed because no one believed her prophecies. So, too, is Mildred Groves, an unusual young woman from rural Omak, Washington.
"I've loved Greek myths since I was a little girl," Shields says. "It was my gateway drug to all things mythological and monstrous. I read myths before I read fairy tales, and that has always been a strong pull in my work, touching on those stories and using those metaphors from mythology."
Not unlike her 2015 debut and Washington State Book Award-winning novel, The Sasquatch Hunter's Almanac, in which a man struggles to process his mother's abandonment for an intimate relationship with Bigfoot, The Cassandra hovers between realistic fiction and fabulism. To balance the novel's fantastical protagonist who sees the future, Shields was mindful not to take too much creative liberty with the historical details she discovered while researching Hanford and the often grisly experiences of its wartime workforce.
The Cassandra begins in 1944 as Mildred Groves lands her ticket to freedom from an oppressive home life in the form of a well-paying secretarial job at Hanford, where she is then assigned to assist one of the site's top scientists. Like the majority of its wartime employees, Mildred isn't informed of what "the product," as the top-secret nuclear weapons project was called, being manufactured there really is.
Nevertheless, she becomes plagued with horrific, recurring visions of the forthcoming annihilation unleashed by the nuclear bomb Fat Man, loaded with plutonium from Hanford and dropped on Nagasaki, Japan. Mildred also perceives the radioactive fallout the project is having on the living residents, human and animal, and the land surrounding Hanford. Just like the novel's namesake, she is dismissed, even by those she trusts, as mentally unstable or unreasonably paranoid.
"When you look at the numbers of how many [in Japan] were killed, it's so astronomical and unbelievable. It's like the population of Spokane — an entire mid-sized town destroyed," Shields reflects. "All of that was on my mind as I was writing," she continues. "I do feel like I have a lot of anxiety about how this book will be received because it is so dark."
Despite these reservations, unanimously positive reviews of The Cassandra have poured in the weeks leading up to release, not unlike the preliminary national praise Shields received four years ago for The Sasquatch Hunter's Almanac. Amazon named The Cassandra one of the best new books of February, and Nylon magazine and the Huffington Post included it on lists of most-anticipated new releases, as did several other publications.
Shields began writing early drafts of The Cassandra in late 2014. The next year, she was squeezed in to tour Hanford's decommissioned B Reactor, which created the plutonium for the Fat Man bomb and is now designated as a national historic landmark, open seasonally to the public for scheduled tours.
The author recalls completely scrapping her first working draft of the novel after seeing the B Reactor and Hanford in person because it enabled her to "completely reimagine" the book's setting and plot.
"Really it was one of the most useful things I've ever done in a writing process," she reflects.
The initial inspiration for a story set at Hanford came to Shields not long after she was diagnosed with multiple sclerosis (MS) in 2013. The Spokane area is in the "downwind" radius of Hanford; wind-carried radioactive fallout throughout this regional designation is believed to have caused serious health conditions in thousands of residents.
"That kind of piqued my interest a little bit, and I started looking into it more than I ever had. People talk about it as this very menacing place," Shields notes. "A lot of the plot of the novel started coming to me when I was researching the workers in general. ... [Hanford] wasn't a safe place for women."
In conjunction with the novel's reflections on the often traumatic experiences of the young women and minorities employed at the nuclear site, Shields uses The Cassandra to critically explore humanity's complicitness.
At one point in Mildred's personal prophetic journey to be believed, after the bomb has been dropped on Nagasaki, she thinks to herself: "... It occurred to me that the distance from one human being standing besides another was just as incalculable. It is happening to someone else, but not to me. From that dark gap in our imagined spaces, indifference was born, and cruelty, and murder."
From the safe confines of her South Hill home, while her young children, ages 6 and 9 — whose own futures Shields worries will be irreparably harmed by the same nuclear ideology that began during Mildred's time at Hanford — are off at school, she reflects on this deeper message of the new novel, an American parable for the modern world.
"I think we're all guilty of complicity. It's easy for me to get worked up about something and then forget about it 10 minutes later," Shields admits. "Mildred is trying to battle against [complicitness] in herself and what she sees around her, and I'm trying to battle that in myself, too — that almost kind of lazy, 'Well I'm comfortable, so I'm not going to strain myself,' or 'It's too foreign to me because I can't understand it' — I think that is erroneous thinking that severs ties of empathy and aids in our being cruel to one another."♦
The Cassandra: Book Release Party with Sharma Shields, Alexis M. Smith and Megan Kruse • Tue, Feb. 12 at 6:30 pm • Free; books for $28 from Auntie's • Spokane Public Library, downtown branch • 906 W. Main • spokanelibrary.org