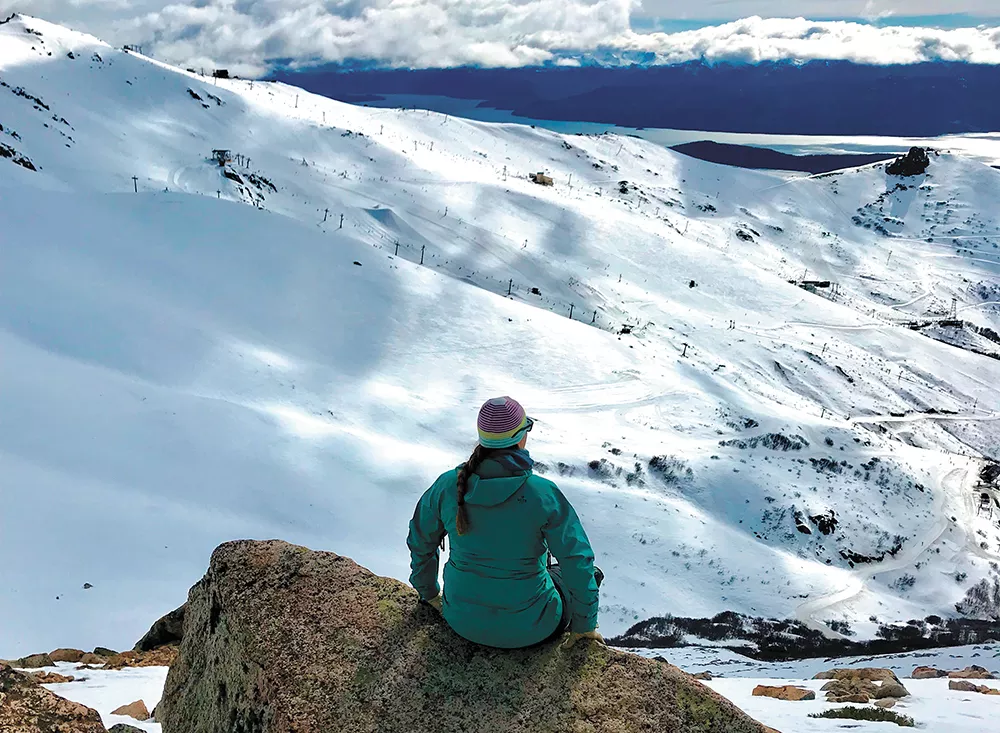 We were several days and almost 7,000 miles of travel away when we exited the small Argentinian cab. We had been through six airports, spent the night stuck in Seattle due to smoke, missed a plane by two minutes, made another by five minutes, slept on airplanes, in airports and in ground transportation vans, so to say we were dazed and confused might be an understatement.
Perhaps that explains how we ended up standing there with piles of bags in a muddy parking lot that was not our intended destination. The building sure looked similar to the photo we'd seen on the internet when we booked our week-plus stay. We double checked and were quite sure we'd given the driver the right address, but things tend to get lost in translation, don't they? Taking a longer look around now as the cab disappeared into the distance, all the buildings looked a lot like the one we'd seen on the computer several months ago. Whoops!
After an extended period of delirious discussion we thought we might have it figured out, but with no idea how to hail another cab in this far-from-home foreign land, we were left with no choice but to pile our duffel bags onto our rolling ski bags, strap things down as best we could and trudge off through the narrow muddy roads, hoping all the while we had deduced the correct route to our destination. Finally, after what felt like a lifetime, we saw it, the building from the pictures, just ahead at the top of a small hill. Sure, it looked a lot like all the others, but this was definitely the one: the small South American apartment we would call home in the ski village of Cerro Catedral high above the quaint lakeside village of San Carlos de Bariloche.
We had made this epic trek for a variety of reasons, but the primary one was to ski powder in August. Cerro Catedral, located 41 degrees south of the equator, is almost perfectly a world away from where we ski in North Idaho at 48 degrees north, meaning when it's the middle of summer here at home, it's the middle of winter there.
While that almost polar opposite location was a huge difference, there were also some similarities to our home mountain which made us choose this particular destination. The ski resort itself is located just a short drive up a winding mountain road from a beautiful small town, San Carlos de Bariloche (typically referred to as simply Bariloche), nestled right on the shores of the majestic Nahuel Huapi Lake, making this South American utopia feel an awful lot like Schweitzer and Sandpoint. In fact, the views of the lake while skiing often looked so much like home that we could almost forget we were actually a world away.
While a typical visitor to this South American gem might stay in the more populated and certainly more bustling lakeside location, we chose to stay slopeside in the small mountain village as we were here to ski, after all. Argentina is located on the fairly narrow southern end of the continent and as a result can often fall victim to high winds, and this was the case on day one of our stay. The winds were so high, in fact, that the ski resort was closed for the day. While we certainly had hoped to get right out and ski, having a day to let our bodies adjust wasn't really such a bad thing. We spent our first day wandering around the mountain village and getting to know the lay of the land. There are many small shops, several restaurants and even a small brewery, which would soon become our favorite haunt.
Lady Luck eventually smiled down upon us on our second morning when we awoke to find the once-muddy village thoroughly covered in a sparkling fresh blanket of what we'd come so far seeking — powder! After a short walk through the fluffy landscape we were finally soaring uphill on an ultra-modern six-person chairlift. We spent the day etching fresh lines all around Catedral's 3,000 skiable acres and riding all manner of lifts. The resort features everything from the frisbee-like Poma surface lift with a death-defying load to ancient double chairs that seem like a hand-me-down from a previous era, to the previously mentioned six-person lifts. For lunch we discovered a mid-mountain oasis of empanadas and malbec at El Cabo, an ultra-friendly and cozy spot high on the mountain.
Over the ski days that followed, we toured every corner of the resort and enjoyed mind-blowing lake and mountain views. We delighted at incredibly delicious and hearty lunches capped off with desserts that could easily be featured on the menu at a five-star restaurant back home. We marveled at giant packs of college-aged tour groups all sporting the exact same outfits. We stumbled through conversations trying to make sense of the region's special form of language which features a Spanish/Italian mash-up of sorts. We experienced a full season's worth of weather conditions in our short time on those Argentinian slopes and even survived what may have been the most harrowing wind-blown chairlift ride either of us had ever experienced, certainly a ride we won't soon forget.
Tripping around the mountain village, the air everywhere seemed to be scented with the pleasant aroma of the hardwood fires used for heating, cooking or just standing around socializing. Argentina is a mecca for all things beef and we certainly found that to be the case. We were even lucky enough to join in with a band of locals who combined the ever-present hardwood fire and beef by grilling what seemed to be skewered flank steaks over a roaring fire outside a small refugio, or pub. Perhaps our greatest culinary discovery was made on a drizzly afternoon walk amongst the finer and architecturally stunning homes of the area when we stumbled upon the El Living del Almacen Mountain Club restaurant. The well-aged building belied the incredible meals we would find inside when we returned to dine later that evening. In Catedral, the locals don't go out for dinner until 9 pm at the earliest. Any visitor simply must take the time to discover and enjoy this local establishment and treat themselves to spectacular fare ordered off a menu handwritten on brown paper bags, paired nicely with a well-curated list of Argentina's famous red wines.
When we finally departed for the long journey back north, our memories were packed full of highlights. The friendly faces and attitudes of the locals, the stunning views, the delicious wine and food, the soft southern powder and the fragrant smell of hardwood smoke. If you're itching to ski in the summer, Cerro de Catedral is a location that's sure make you smile. In fact, you should probably head there next summer because as a wise person once said, "The only trip you will regret is the one you didn't take." ♦