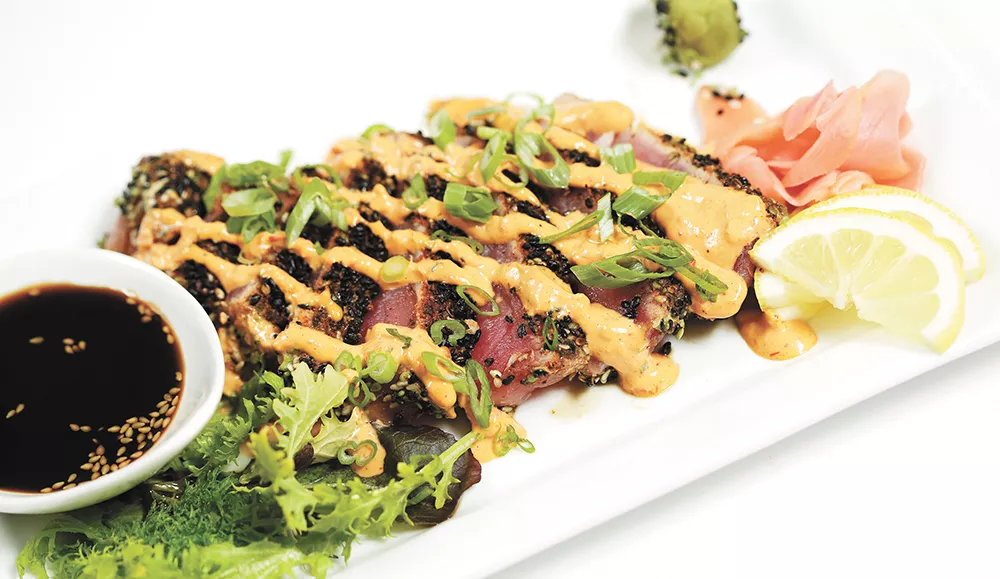 Six years after expanding to North Idaho, the roster of Panhandle-based participants for Inlander Restaurant Week continues to grow with new restaurants joining old favorites. Newcomers include Flame & Cork Wood Fired Pizza, Momo, Radicci Italian Bistro, as well as Current Kitchen & Bar, which was formerly Mallards Restaurant and Lounge at Red Lion Templin's Hotel on the River in Post Falls.
Two additional restaurants join sister participants from prior years: Global Kitchen complements Jason Rex's Collective Kitchen Public House, while Honey Eatery & Social Club is the newest Idaho restaurant from Adam Hegsted, who last year involved Republic Kitchen + Taphouse.
With locations in both Washington — North Spokane and the South Hill — and Idaho, MacKenzie River Pizza Company has been a solid supporter of Inlander Restaurant Week since 2012. It's a great opportunity for the restaurants and guests alike, says regional manager Devin Cassan, noting that they like to feature both newer menu items and those that guests might not typically order.
He's excited about the chorizo meatball skillet, for example, one of three entrée options for the $21 prix fixe menu available at all three area locations.
"It's a great complement of spice, little bit of sweetness with the green chili sour cream and topped off with an egg."
Another southwestern treat: fish tacos with pineapple salsa. A truly local eatery, MacKenzie River Pizza has also paired with Townshend Cellar, No-Li Brewhouse and Dry Fly Distilling for their Drink Local specials.
Speaking of surprises, you never know what the creative culinary team at Satay Bistro is going to offer. This year, the $31 three-course offering includes butternut squash from its regular menu, plus a roasted beet salad with mandarin oranges. In addition to bourbon pecan chicken, Satay is serving tiger prawns and a decadent flank steak roulade alongside whipped potatoes, duck confit truffle popcorn and cream corn. For dessert, try the crème brulee with praline cream sauce or fried bread pudding bites with a dark rum glaze.
Last year, they'd only been open a few months when Restaurant Week hit, yet Vine & Olive Eatery and Wine Bar owner Naomi Boutz jumped at the opportunity to participate. "Nothing ignites the community's enthusiasm for eating local like Inlander Restaurant Week," says Boutz.
Start your $31 meal there with citrus-cured salmon or mushroom and pancetta piroshki, a Russian pastry dumpling. Follow that up with rock shrimp and polenta, a roasted veggie flatbread or steak frites and Béarnaise sauce. Try their butterscotch budino (pudding) for dessert.
"I love the camaraderie it creates within the restaurant industry as we all contribute to the success and excitement of the event while celebrating our individual niches," Boutz adds.
NORTH IDAHO'S RESTAURANTS
315 Martinis & Tapas

Anthony's at Coeur d'Alene

Bardenay

Beverly's

Bluebird - A Midtown Eatery

Cedars Floating Restaurant

Chinook Steak, Pasta & Spirits

Collective Kitchen Public House

Current Kitchen & Bar

Dockside

Flame & Cork

Fleur de Sel

Global Kitchen

Honey Eatery & Social Club

MacKenzie River Pizza, Grill & Pub

Momo - Sushi. Wok. Grill.

The Oval Office

Radicci Italian Bistro

Red Tail

Republic Kitchen + Taphouse
Satay Bistro

Seasons of Coeur d'Alene

Sweet Lou's Restaurant & Tap House

Thai Bamboo

Timber Gastro Pub

Vine & Olive Eatery and Wine Bar

White House Grill