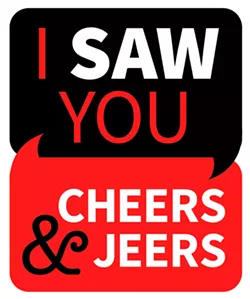 I SAW YOU
Marine: To the Marine we met at the Best Western Downtown Thursday morning, 2/21: it was an honor and a pleasure. I wish we'd have had more time. I hope you get the help you desire from the VA. You'll get through this. And after, you will now have the tools and discipline to do ANYTHING you want with your life. We're going to think of you. All the best.
Corporate Crush: I work a few desks down from you in a large office. You - blonde hair and blue eyed. Me - brown hair and green eyed. Your kindness, your sense of humor, and maybe your good looks too help make every day a little less mundane and a little more enjoyable. Sometimes days are just really tough, but your smile makes it worth it! I appreciated you for all the laughs and inside jokes!
Brews of destiny: Oh Blackbird beer library - New to Spokane, you were a source of inspiration to me. 2014 Rye on Rye, 2013. Bruery Anniversary beer, oh you were my closest friend. And now I see you're closed. I miss you. Please oh please let me know where you end up.
Sharp Shooters: 2/24 at 12:30 Sunday afternoon at Sharp Shooters, you were in a grey T-shirt. You had a little boy with you (your son?), and you were with a buddy in a green camo sweatshirt. You shot my dad's Kimber to see if you liked it. Me: short brown hair, jeans, Bloomsday T-shirt, smitten by your smile. Is there any chance you are single?
Blue Toyota Truck: Blue Shirt Sat. afternoon Feb. 23 ... you blue truck. Me, cute passenger in Dodge four-door, checking you out;) Sorry my friend drives like an idiot, cause I was ready to hop in your truck. Hope your not married, cause I want to know you. rexcook38@yahoo.com
Chips and Salsa & Socialism: I saw you at the Valley Azteca last Tuesday. I was impressed by your compassionate patience with your rowdy dinner dates and you looked fantastic in those suspenders and bow tie. Maybe we can grab a margarita sometime soon? I loved your Bernie pin too. Bernie 2020!
Missed Connection: I saw you in Pacific Ave Pizza, you had that amazing black turtleneck and jeans, laugh carrying over across the room. It changed everything. You got a beer, I got a beer, and we sat and chatted for a while. You amazed me with your intelligence, humor, and ability to drink a much darker porter than I. Alas, it ended far too soon and we had to go our separate ways, but there was just one thing I wanted to ask: Let's get together and do this again sometime, shall we?
CHEERS
Agree: STA employees doing great job I have been riding the buses since I got sick. Just like Seattle Metro, STA employees do a fantastic job, on the phone, at the Plaza, and on the buses. On the 25 route the employees always have a bright shiny face! They dispense helpful info and make the trip easy. Riding around with all the snow makes it harder with all the berms to get on and off the buses, but the drivers work hard to get to a place at the stop that makes it easier for us. Someone actually cleaned out areas so the passengers can get on or off easier!
Snow Angel: I would like to thank Darcy for being a snow angel and shoveling my walk and driveway. I now have a new shovel, and an uplifted spirit! Thank you for your kindness!
Help in Snow in Cheney: Cheers and thank you to the gentleman and his wife who helped me get unstuck from the Mint Condition Dentist parking lot on President's Day. A hygienist also came out to try to assist, as well as another gentleman with a truck who offered to help tow. I'm grateful to live in a town with such kind people!
Sexy: Sexy, your the best thing that has happened to me in a long time!!! I will always love you an will never stop thinking about you.
JEERS
Punching up at the Girl Scouts: Ah, the Spokane County Republican Party sinks to new depths of swinishness. Really boys, going after little girls now. Big girls might hit back, huh?
I Can Give to Whom I Please: The company I work for does this wonderful thing where I have so much taken out of my check and they match every dollar I have put in and it goes to the charity of my choice in November. Since I started working there, I have donated to Spokanimal, Children's Miracle Network, Wishing Star and Operation Spokane Heroes. Because I think it's important to spread the wealth for the good work these organizations do. Because an organization helped my elderly grandmother, in April and May of 2018, I chose to donate to them. After I made my request to have my donation and my match sent to this agency which helps the elderly, I was asked to see Human Resources. Apparently, the leadership of our company has decided that our donations and match can only be sent to the following: Vanessa Behan or 2nd Harvest! What? I was told that our company leaders "feel" Vanessa Behan and 2nd Harvest are the most important agencies, right now with the Homeless Crisis. I said no and I wanted my portion of the donation back to give to the agency that helped my grandmother. They said no and I received a verbal warning for not being a "Team Player". On February 5, I received a thank you letter from one of the two agencies, I won't say which, thanking me for my generous donation of $500.00! What is this the Fund-Raising mafia? Needless to say, I opted out of the giving program, this year.
Bourgeoisie: To the bourgeoisie who live in downtown Spokane who have stopped the rights of Spokane street musicians and buskers to have amplification when they perform. Why don't you move to a suburban neighborhood or out in the boonies if you don't like the sounds of the city. Do you want all the city parades and city events to stop too? Is it because you feel superior because you are an elitist bourgeoisie with no class, who obviously doesn't even deserve to be living in the city. You are the enemy of all art, and you are a killer of dreams. You bourgeoisie have your money, isn't that good enough for you? Do you really have to take away someone else's dream because being filthy rich was the only dream that came true for you?
Where is your business located? The Inlander covers a lot of area. If you want someone to go to a presentation at your venue, please put in the name of the town in which you are located. This goes for the Panida and the Kenworthy in particular. Lots of Main streets around here, ie in Spokane, Post Falls, Coeur d'Alene, Pullman and Sandpoint. ♦