Back in my day, comic book stories stayed on comic book pages. Yes, there were Batman movies — the best still being 1997's Batman & Robin — but superheroes were mostly relegated to print. A live-action Hulk could-damn-not be done.
I'm still right on that, but the rest of the Marvel, DC, and other comic-brand universes are now inescapable. Here are five comics-based TV series ranging from "Hey, I've heard of that!" to "Huh?" status to stream while you're waiting for Captain Marvel, Avengers: Endgame, and Aquaman v. Magic Mike: Dawn of Thrust-Us.
Deadly Class (Season 1 on Syfy.com)
Based on the Image Comics series, Deadly Class is an '80s-set action-snarker about a secret academy that trains good-looking teens to kill elegantly — "Harry Potter Assassin School" will do. Deadly Class is smart enough to go toe-to-knife-tipped-toe with Syfy cousin The Magicians, but with a gonzo-goth edge all its own and a killer Reagan-era soundtrack.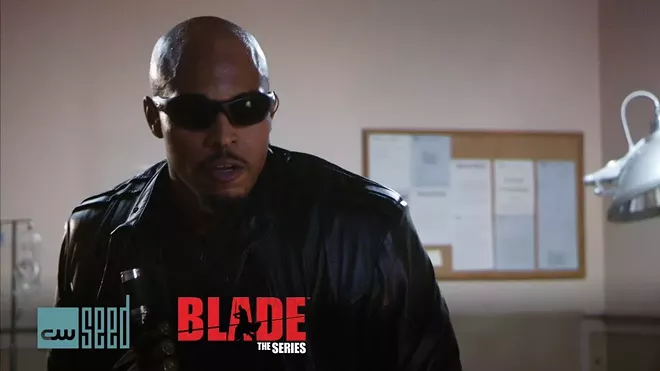 Blade: The Series (Season 1 on CW Seed)
The original 1998 Blade was the first "real" Marvel movie, wiping away the foul/fowl aftertaste of '80s bomb Howard the Duck. To replace vampire hunter Wesley Snipes, 2006's Blade: The Series cast Onyx rapper Sticky Fingaz and cranked out 13 solid-to-superb episodes before cancelation. Netflix's gritty Daredevil and Luke Cage owe this Blade.
The Gifted (Seasons 1-2 on Hulu)
A network TV take on X-Men finally arrived in 2017 with Fox's The Gifted, which focuses on younger mutants struggling to control their powers and a normie society that's determined to snuff them out. The Gifted only dabbles in action and flash, focusing more on characters like Polaris (Emma Dumont) who get little play in the X-Men screen universe.
Legion (Seasons 1-2 on Hulu)
Showrunner Noah Hawley (Fargo, the TV version) took an already-surreal Marvel Comics X-Men series about the psychologically damaged mutant son of Charles Xavier and turned it into a Pink Floyd acid trip of a show. Somehow, it's the most intimate and heartbreaking corner of X-World. Legion is the ultimate cure for superhero burnout.
Night Man (Seasons 1-2 on Roku Channel)
No, not the enemy of the Day Man from It's Always Sunny in Philadelphia; this Night Man is a Malibu Comics character who got his own series that lasted for two years in the '90s. Jazz saxophonist Johnny Domino (Matt McColm) is struck by lightning and suddenly has the power to "hear" evil — like Daredevil, but with shitty musical taste. So bad it's... still bad. ♦
Visit billfrost.tv for more trenchant television coverage.