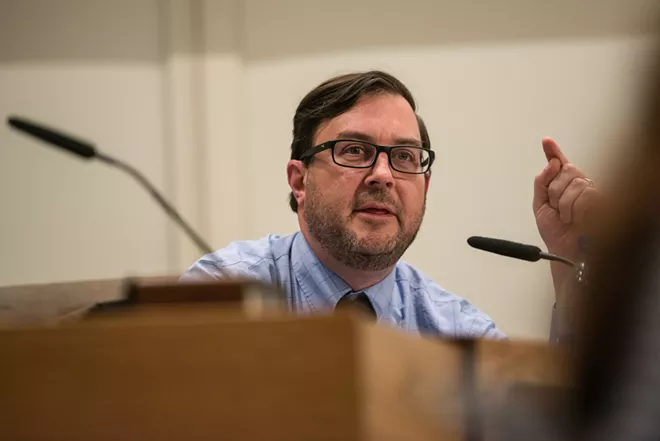 During a wide-ranging Spokane City Council meeting on Monday, the council grappled with two ordinances in particular. While both were minor proposals, both drew heat for their symbolism. They tapped into what is shaping up to be the defining debate of the city's 2019 election cycle: What do we do about downtown?
The first ordinance up was a proposal to allow downtown businesses to apply for rebates on part of their Downtown Spokane Partnership fees, in order to pay for new environmental design features intended to deter crime, like lighting, landscaping and cameras.
The lone holdout was Councilwoman Kate Burke, who accused the ordinance of "perpetuating a cycle of poverty, crime and recidivism into our jails" and that it flew in the face of "smart justice principles." None of her fellow council members were swayed by her argument.
Still, Burke successfully passed an ordinance of hers, 5-2, that had repeatedly been tabled. The ordinance was a policy that allowed anyone to stay in the lobby of City Hall, or other city-owned buildings, as long as they want without being disruptive. The ordinance also establishes a Facilities Safety and Accessibility workgroup to assist with executing the new policy. Critics of the ordinance argued it would amount to turning City Hall into a homeless shelter.
Councilwoman Karen Stratton joined conservative Councilman Mike Fagan in arguing the ordinance was needless. Stratton argued that the measure had "driven a bigger wedge between those helping the homeless" and those trying to grapple with the impacts of those efforts.
City Council President Ben Stuckart, who has tried to straddle the growing divide between homelessness activists and the business community, supported the ordinance. He took the opportunity to slam Seattle is Dying, a KOMO TV documentary that recommends Seattle instead spend its homelesness money on turning the McNeil Island prison into an involuntary drug treatment facility.
"We cannot continue to allow the discussion about the consequences of homelessness to overshadow the discussion about the circumstances of how people get there," Stuckart thundered.