F
ew school assemblies end with a
speaker
lifting their legs off the ground to perform multiple somersaults in midair. Of course, if the speaker is Spokane native and astronaut Anne McClain downlinking live to Gonzaga Prep from the International Space Station, a series of zero-gravity somersaults is the only fitting way to end the assembly.
As a giant screen in the center of the packed gymnasium Wednesday morning replays footage of McClain entering the ISS from a Soyuz rocket capsule back in December, students erupt into cheers. More than a thousand students from 22 different schools in the Spokane area eagerly listen as McClain explains the challenges and adventures of life on the ISS at the high school where she once studied.
The hardest part of her job was getting used to working in space, McClain says.
"You're running into walls, bumping into things. You don't know which way is up. Then, your brain re-maps in 3D."
Instead of standing still like someone would on Earth, McClain bends her knees to bob up and down as she speaks and waits for questions. When another astronaut moves through the compartment where she's giving the interview, she casually pushes off from the 'floor' and catches herself on the ceiling, gently bouncing back down after he exits. The motion looks like a special effect, but it's real.
McClain has a cheeky sense of humor. Why else would her NASA call sign be 'Annimal?' When the downlink first connects, she smiles and surprises students by unzipping her uniform to reveal a Gonzaga Prep T-shirt. It only makes sense.
"That really moved me. It was so Anne," her mother Charlotte Lamp says. "I can't control the child."
People who know McClain say she had her heart set on being an astronaut even at three years old. Since then, she has worked tirelessly to achieve that goal, obtaining a Bachelor of Science in Mechanical/Aeronautical Engineering from West Point, a Master of Science in Aerospace Engineering from the University of Bath and a Master of Science in International Relations from the University of Bristol. She's also an accomplished rugby player and a colonel pilot in the U.S. Army.
All these skills, including the rugby training, help her work as an astronaut. Astronauts train for zero-gravity space walks by spending up to six hours at a time underwater performing tasks in space suits. The buoyancy of an underwater environment mimics the way objects feel lighter in space. Playing rugby helped teach McClain how to fight through tiredness to finish the task.
"The only time I've reached that level of exhaustion was in the 60th minute of a rugby game," Anne says.
Strange differences pervade even the most ordinary activities on board the ISS. Long hair coils outward into a Medusean mane. When astronauts sleep, they don't feel like they're lying down because there's no 'down.'
One of the coolest things was waking up and feeling I was floating," McClain says. "When you're floating, you feel nothing from head to toe."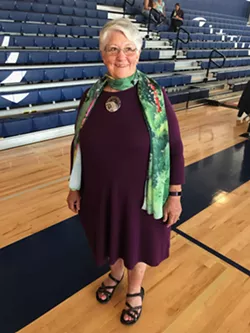 Gonzaga Prep's students watch McClain with amazement. Student Zach Round would like to be an astronaut too. "Who knows what's gonna come in the future?" he says.
McClain has at least one prediction about the subject. She says NASA will start preparing a staging point on the moon for missions to Mars.
"We're gonna put boots back on the moon by 2024," she says.
McClain's mother smiles when she talks about her daughter's work 250 miles above Earth's surface.
"I would have to say it's the same highs and lows any parent gets when you see them get successful," Lamp says.