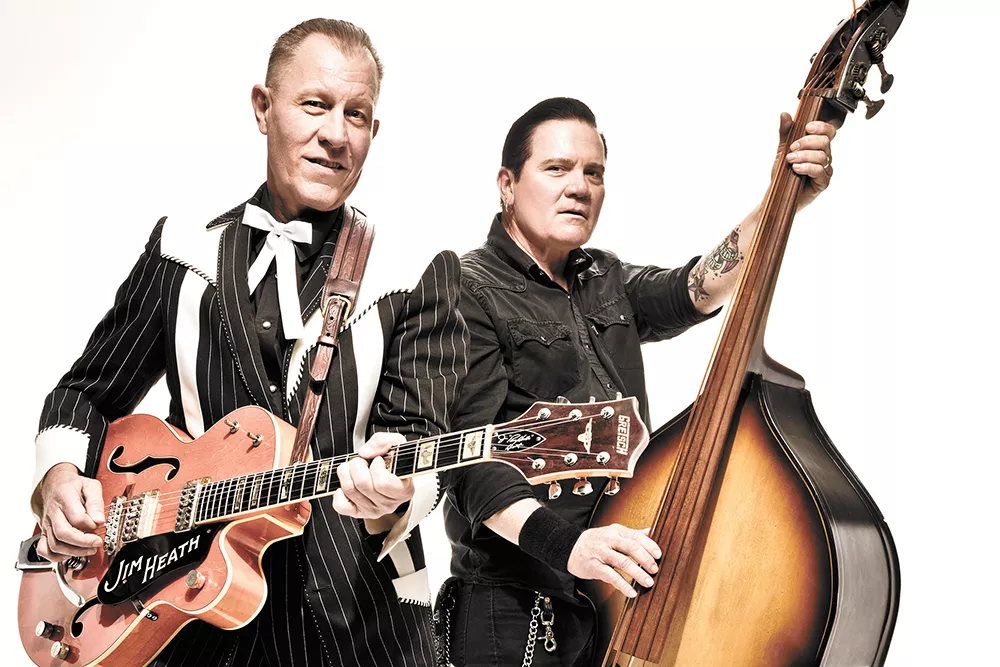 If you need a crash course in rockabilly, psychobilly or greaser tunes, there is no better professor than Jim Heath, aka Reverend Horton Heat.
Since the mid 1980s, Heath, longtime bassist Jimbo Wallace and four different drummers have been baking essentially the same pie with varying levels of the essential, sinister ingredients — the Cramps with triple grease (hold the leather), peppered devilish humor akin to Supersuckers, and chunks of the earliest forms of rock 'n' roll.
Rev's latest album, 2018's Whole New Life — his 12th in 30-plus years — is the closest Heath and his combo have ever come to sound like a fresh slab of singles from the height of Sun Records' heyday. It boogies, it hops, but it also understandably shows age. After all, the Rev turns 60 in November.
The jovial title track is a snappy, Jerry Lee Lewis-like homage to feeling good — a stark contrast to the band's heavy-hitting psychobilly stables like 2002's "Galaxy 500" or 1990's "Baby You Know Who."
Heath says he's continuing to explore the engineering side of making records in addition to providing the material. While recording Whole New Life, Heath wanted to experiment more with techniques used by legendary producer Sam Phillips.
"It really sent me to this whole other headspace," says Heath in a press release. "I worked with a lot of vintage gear on this album." He adds that he also built several tube microphones and pre-amps himself for the session.
Don't be fooled by the band's seemingly cleanest album yet. Heath made the right choice in playing to his strengths instead of rehashing weathered ideas with an outdated approach.
"[It's] the most positive material I have ever written," he says. "[Whole New Life] focuses heavily on rock 'n' roll but there is a human interest parallel — songs about growing up poor, vices, marriage, having children and walking the rapturous streets of America."
Interested? See how the cuts off Whole New Life compare to these five essential Reverend Horton Heat songs:
"Psychobilly Freakout" (Smoke 'Em if You Got 'Em, 1991)
You may have heard this song already when your kid was playing Guitar Hero II in the other room. The song appears in the seventh tier of the game, entitled "Furious Fretwork."
"400 Bucks"
(The Full-Custom Gospel Sounds of the Reverend Horton Heat, 1993)
Guess what word rhymes with "buck" that Heath mentions a handful of times during this song?
"Let Me Show You How to Eat"
(Rev, 2014)
If you are more than a novice with the Rev's material, you probably recognize this isn't the first time he has used food (and/or animals) to express lascivious intentions. "Eat Steak," "Nurture My Pig!," "Octopus Mode," "Please Don't Take the Baby to the Liquor Store" and "Rockin' Dog" paint some solid pictures, too.
"Jimbo Song"
(Space Heater, 1998)
The Reverend Horton Heat band would not exist without slap-bassist Jimbo Wallace. His unique style of playing and physical abilities with a standup bass include throwing it in the air and catching it, laying it down and standing on it while playing, etc. This tribute song likely gets mistaken at shows for a Motörhead or Ramones cover.
"I Can't Surf"
(Liquor in the Front, 1994)
Another RHH song to appear in a video game! "I Can't Surf" was in Tony Hawk's Pro Skater 3. A less-is-more scorcher, the song's only lyrics are shouts to remind you that you cannot, in fact, surf. ♦
Reverend Horton Heat's Rockabilly Invasion with Bloodshot Bill, the Delta Bombers and the Hooten Hallers • Thu, June 13 at 8 pm • $20 • All ages • Knitting Factory • 919 W. Sprague • sp.knittingfactory.com • 244-3279