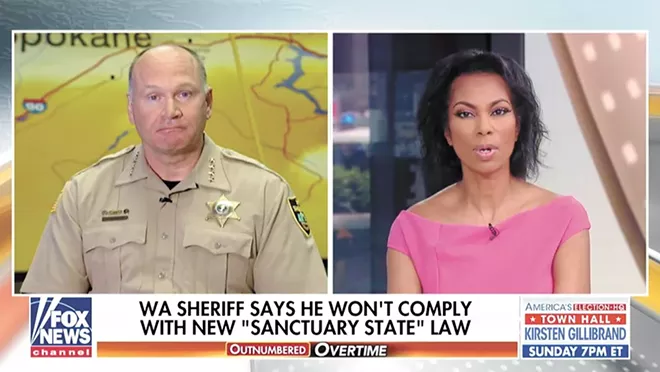 Fresh off his Live PD comments being featured on This American Life, Sheriff Ozzie Knezovich went on another national broadcaster — Fox News — and blasted Gov. Jay Inslee, accusing him of committing a crime and calling on Inslee to resign.
"He took the same oath that I did: To uphold the Constitution of the United States and the laws thereof," Knezovich says.
In a KREM interview last week, Knezovich suggested that he would defy a new state law, signed by Inslee, constraining state and local agencies' cooperation with immigration enforcement agencies.
"I have news for the governor and the AG," Knezovich said on KREM. "We are not going to stop helping our federal partners enforce the law."

A few days later, he told KHQ that Inslee "should be held in contempt of Congress because Congress passed that law or he should be arrested for obstruction of justice."
Those comments led to his interview with Fox News.
"If you don't want to enforce your own laws, then either step down or be held in contempt of Congress or be arrested for obstruction — but do not impede and badmouth your ICE agents for doing their job," Knezovich told Fox News, referring to Inslee and Democratic Speaker of the House Nancy Pelosi.
But Inslee aide Alejandro Sanchez says the law Inslee signed was carefully crafted to ensure it did not conflict with federal law.
"As a general matter, the state of Washington can't obstruct the federal government from doing their jobs," Sanchez says. "We're not restricting them in any way."
The law prohibits agencies from asking about immigration status unless it's relevant to a criminal investigation. It also limits those running Washington state jails from holding unauthorized immigrants until ICE can pick them up on noncriminal charges. Yet, the law also specifically clarifies that it doesn't limit the ability of state or local agencies from sharing citizenship or immigration statuses with ICE or Border Patrol.
Sanchez notes that a preliminary Ninth Circuit Court of Appeals ruling on California's similar immigration law this year found that their law was complying with federal law.
"Our hope would be that people who are enforcing laws would follow state law," says Washington state Democratic Rep. Marcus Riccelli. "I get concerned when people begin picking and choosing how to enforce laws based on potentially political motivation." The city's new policy regarding homeless camps took effect May 1.

This article has been updated to clarify that both KREM and KHQ had reported on Knezovich's comments before his Fox News interview.