DREW POTVIN
Certainly there should be a picture on it like Riverfront Park and the downtown area because it's becoming so nice.
What colors would you use to exemplify Spokane?
Anything but Seahawk colors. Everything seems to be Seahawk colors. I like the Expo colors myself and I think they best represent Spokane.
---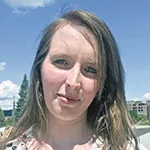 CHELSEA CLARK
I would do something Riverfront Park-centered just because it is such a great landmark for our city. It would have to be outdoorsy.
What colors would you use to exemplify Spokane?
I would put green because the city is green everywhere. You can drive five minutes anywhere and be in a forest or at the park.
---
NICOLE BOND
We're the Lilac City so I'd make it purple and add the river too.





---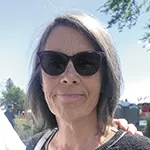 SANDRA SIR
I would put a lot on it. Some trees make it look more [representative] of what we see going on here. Trees, the Valley for starters.




---
PAUL SIR
Something iconic like the clock tower. The city has so many beautiful facets. It's the Lilac City and really into sports and nature.




INTERVIEWS BY RILEY UTLEY,
6/28/2019, RIVERFRONT PARK