FRIENDLY FOES
The battle between good and evil is a tale as old as time. And in Good Omens' case, this phrase is taken very literally, as the main characters — angel Aziraphale (Michael Sheen) and demon Crowley (David Tennant) — are actually as old as time. The series based on authors Neil Gaiman and Terry Pratchett's 1990 novel is filled with a cast of wacky characters played by top-notch actors (Nick Offerman and Jon Hamm just to name a couple), quick-witted dialogue, a compelling, ridiculous and thought-provoking plotline, insane effects and a killer soundtrack to top it off. You will be left in awe by the time you reach the end of episode six. Now streaming on Amazon Prime. (RILEY UTLEY)
---
THIS WEEK'S PLAYLIST
Some noteworthy new music arrives online and in stores July 19. To wit:
Flaming Lips, King's Mouth: Music and Songs. A concept album that's the soundtrack for one of singer Wayne Coyne's art installations. Enter carefully, Lips fans.
Thom Yorke, Anima. The Radiohead singer's first solo album in five years arrives with an accompanying Netflix short film directed by Paul Thomas Anderson. I'm sure it's not at all pretentious.
Sum 41, Order In Decline. My totally real Canadian girlfriend says these pop-punks are bigger than Rush in the Great White North. (DAN NAILEN)
---
TOOT, TOOT
We don't spend a lot of time at the Inlander patting ourselves on the back, but several of our staff reporters and contributors recently were awarded well-earned recognition by the Association of Alternative Newsmedia's annual conference. Here's the prize breakdown:
Wilson Criscione, 3rd place for Beat Reporting for covering sexual harassment in higher education;
Daniel Walters, 1st place in Food Writing for his cover story "Don't Sauté Your Laptop (And Other Home Cooking Tips)";
Samantha Wohlfeil, 2nd place for Long-form News Story for her cover story "A Long Road to Die";
Jeff Drew, 3rd place in Illustration for his Scholastic Fantastic artwork;
The Inlander, 3rd place in Innovation/Format Buster for Sam Ligon's serialized novel Miller Cane.
---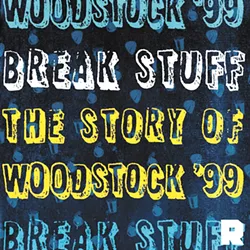 TAKING WOODSTOCK
As organizers struggle to secure the permits for a concert commemorating the 50th anniversary of the Woodstock Music Festival, it's as good a time as any to reflect on the failure that was Woodstock '99. Break Stuff is a new podcast, hosted by journalist Steven Hyden, that will provide a more detailed account of the infamous event, which is now best remembered for the rape, arson and general destruction that occurred over the course of its four days, and for a Limp Bizkit set that reportedly inspired riots. It was, uh, not a great time for popular music. You can currently listen to the first episode for free at luminarypodcasts.com. (NATHAN WEINBENDER)
---
WALL ART
The Emerson-Garfield Neighborhood is about to get a little more colorful. Local artist Tiffany Patterson is set to collaborate with renowned muralist Mick Burson, working on a mural that will occupy the south side of the building at 2726 N. Monroe (next to Gerardo's). Patterson says she's already received city funding for the project, which will begin next week, but she has also posted a GoFundMe that is currently working toward a $2,000 goal. Get more information at gofundme.com/short-notice-mick-amp-tiffany-mural-project. (NATHAN WEINBENDER)