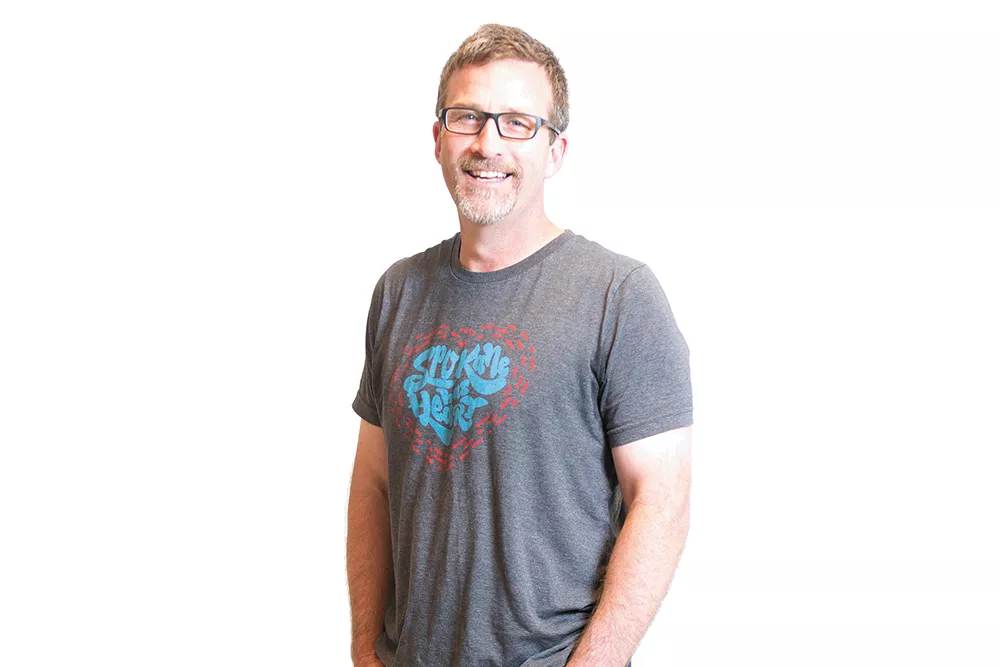 John Bryant's connection to Spokane goes back to 1917. His wife's family moved to the area from Naples, Italy, sponsored by the Gonzaga church. His parents met while going to school in Cheney — known as Eastern Washington College at the time — and spent a lot of time as young adults in the city. His oldest brother was born here. Bryant grew up near Olympia, but he says he's always felt connected to both communities.
After 25 years in the beverage industry, with roles at places like Rainier Brewing Company, Deschutes Brewery, Oskar Blues and a few others, Bryant and his wife Cindy moved to Spokane and purchased a small brewery known as Northern Lights to create No-Li Brewhouse. Throughout the past seven years, the Bryants and No-Li have made contributions to the community and charitable organizations — recent fundraising projects include work with Spokane Human Rights Commission, Odyssey Youth Movement and St. Margaret's Shelter.
We talked to Bryant about his charitable work and his love for the community. This interview has been edited for length and clarity.
INLANDER: How do you make decisions in regards to giving back to the community?
BRYANT: You listen and hear what's around you. I think anytime you go to work, get on a bus, ride a bike, or you get in your car, all these messages are coming at you. We also look for people who need help. We see that if somebody else doesn't do it, we need to step forward. That's kind of been our role since the beginning. I wore this [Spokane has heart] shirt, because this is the very first larger program we did a number of years ago. There was a family that had a tragic loss of their daughter who was killed in a fire. And it wasn't the most attractive thing because the family had a lot of issues, but I knew we had to try to help. By going on the fringes of society, in places that are overlooked and not recognized, we show respect and dignity. It teaches people that everybody has a value.
Can you tell me about a recent community project No-Li was involved in and kind of explain the impact?
We just teamed up with Hoopfest and helped raise $12,000 for Ignite Basketball programs, which is really great. It's based at Rogers High School, it creates a safe place to go and involves keeping kids active in the gym. It also has counselors and mentoring available. We donated $10 from every keg of No-Li sold in June across the state to the program. We went to certain bars and pubs in the community and said "because you purchased this, 10 bucks is going to charity. Thanks for helping out in the community." They feel good, right? They feel part of it.
You've contributed to various projects, but what do you do at the pub to show all are welcome inside the brewery? Do you try to focus on that as well?
We absolutely do because all race, creed, sexual orientation are represented in our staff. It was Pride month in June so we painted this massive, bright flag on the ground in the entrance. And actually a few of our staff said it was really cool, "it makes me feel really good." It's small gestures like that and what we're doing this month. We made an equality glass with funds going to Odyssey Youth Movement and the Human Rights Commission. It's the message of an inclusive culture and everybody's welcome here. I don't think it's bold and I think what you find is it allows a lot of people who maybe are kind of holding back to be more expressive, just to be more relaxed about it. It's not really even a statement, right? It's just who we are.
As No-Li continues to grow and becomes a brand recognized outside of Spokane, how do you keep that community angle tied into all of it?
We believe part of our job is to boast and promote the pride of all the great things about our city in every place we travel to. So we incorporate Spokane in our labels and all our branding in our community work and on the west side of the state. We bring the goodness of Spokane to those areas. Seven years ago, it wasn't that attractive in Seattle to be [from] Spokane, you were looked down on a little bit. But at that point, we knew we had to do it. We had to be overachievers on the west side to show that hey, we don't have to prove to you we're worthy. We just are. And now you're starting to see the turn in Seattle. We travel there, Olympia, Bellingham and hear "tell me about more about Spokane." ♦