Unity in the Community's entire goal is to "bring the community together" and "to be inclusive," says April Anderson, event co-chair for Unity in the Community.

Unity's multicultural celebration happening this weekend in Riverfront Park serves the most underrepresented communities in Spokane and seeks to educate people on different cultures and aid kids in need with school supplies and bike helmets (first come first serve).

"Our goal is always to give away our 1,200 bags of school supplies," she says.
But it's also to "have the kids learn something about different cultures." Which coincidentally is why they have to be present to get a bag. The process to get a bag involves "going through a cultural village and getting their passport stamped from different countries represented." When the passport is full, they can get their school supplies. For everyone else, there is also a variety of things to do.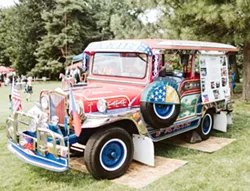 Unity in the Community consists of five key vendor areas: Youth Fair, Career and Education Fair, Health Fair, Early Learning Fair, and General Vendors. Other fun attractions include a stage with diverse actors to keep you entertained and the previously mentioned cultural village.
Unity promises that it really is for all ages. Even senior citizens can get one of 225 bags of different types of resources. They also promise that the number of things to do will be so large you might just spend the whole day there.
The stage will be full of different acts and things to watch all day while you enjoy the event, but there are a few acts that you should plan not to miss. The Philippine dancers are "one of my favorite," says Anderson, and at around 11 am the Dragon dancers from Vietnam will be walking through the park. And for those attending there will be a Jeepney, a super decorative form of transportation from the Philippines, parked in the park.
Unity is marking 25 years of bringing people together this Saturday, Aug. 17 from 10 am-4 pm at the clock tower in Riverfront Park. Anyone is invited to come, and it is of course free. Consider bringing a blanket or chairs to sit on the lawn.