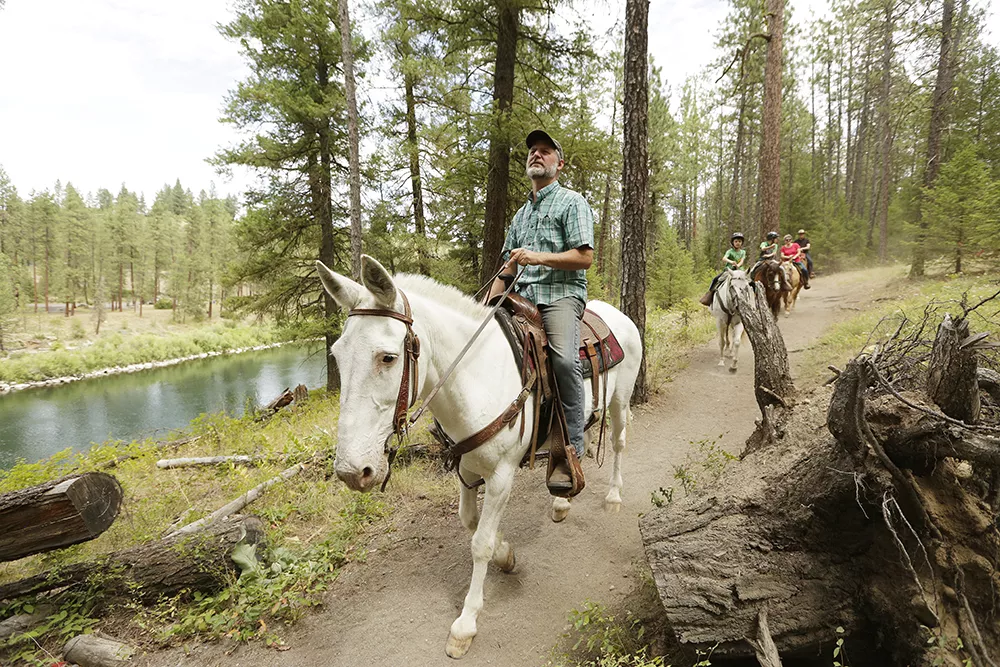 Amos, Black Betty, Blaze, Chief, Cricket, Fancy, Frankie, Jules and Opie. These are some friends who can be made at Riverside State Park this summer. Four legged friends, that is. These are the nine horses who give trail rides through Riverside State Park.
Sheila and Shawn Anderson, who own and operate True West Trail Rides, have been giving trail rides in the Spokane state park for four years.
Riders of all experience levels are welcome, though they must be 7 years or older to saddle up. Some basic instructions are offered before leaving the staging area, and help and tips are given throughout the ride, but it is important to note that these are not riding lessons.
They are, instead, a way to experience the great outdoors from a new perspective — and height.
"It's a great benefit to people to be able to get on a horse because most people don't own horses," says Lara Gricar, a program specialist with Washington state parks and recreation commission. "You can go rent a bike or a kayak, you can go hiking, but you can't go just get a horse. So this is really great that [Spokane] has this option so people can try it. It's a whole new way to experience the park and nature."
Each ride is, in a sense, customized for the riders taking part. They are matched with a horse by experience level and size. The guide chooses a trail that they feel the rider would be comfortable with, again taking experience into consideration.
There are about 80 miles of equestrian friendly trails to choose from throughout the park, so each ride is unique.
"We try to accommodate. If people have ridden with us before, we'll take them on a new trail to change it up a bit," Sheila says.
Most of the horses that are used at True West Trail Rides are ex-performance horses, meaning they are a little older, well trained and accustomed to being around people. One horse competed in the National Finals Rodeo four times.
"For the horses, I feel like this is probably the best gig they could have in the horse industry because they just get to walk and get petted all day long," Sheila laughs.
The herd also includes a mule and a horse that was wild, but has since been trained.
Horseback riding has been offered in Riverside State Park off and on for decades. When the previous concessioner closed, there was a several year hiatus where no trail rides were offered in the park.
When Sheila and Shawn happened to visit the park after moving closer to Spokane, a ranger mentioned they would love to have someone start trail rides back up. Sheila was immediately interested in the prospect of sharing her love of horses with others.
"Growing up, my passion was horses, and it's always been horses," Sheila says. "I've been involved in other aspects of the horse industry, and I think this is the most fun I've ever had with anything I've ever done. And to be able to have first-time riders, kids or adults, come — they'll never forget that first ride you take them on. It's imprinted in their lives."
The time to trot on over is now, as True West Trail Rides only offers rides from the first week of May through the middle of October, depending on the weather. They offer one-hour or two-hour trail rides on Friday, Saturday or Sunday for $25 per hour. On some weekdays, riders can opt for a half-day trail ride, which includes lunch for $150.
Up to six riders can hit the trails at the time, but larger groups can be accommodated by splitting up. Two two-hour and two one-hour rides are offered each weekend day. Visit truewesttrailrides.com.