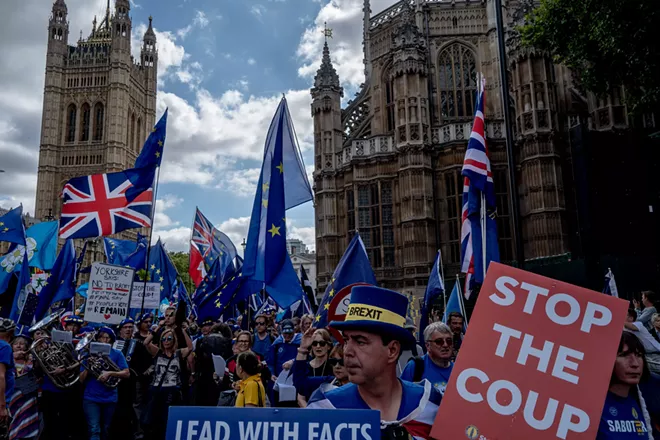 By Stephen Castle
The New York Times Company
L
ONDON —
British lawmakers on Tuesday rose up against Prime Minister Boris Johnson, moving to prevent him from taking the country out of the European Union without a formal agreement, and precipitating an epic showdown that could provoke a snap general election.
The lawmakers voted to take control of Parliament away from the government, giving themselves the authority to pass legislation that would stop the prime minister from his threat of a no-deal Brexit.
It was a critical moment in Britain's tortured, three-year effort to extract itself from the European Union. The saga has divided Britons, torn apart the ruling Conservative Party and prompted complaints that Johnson has trampled the conventions of the country's unwritten constitution.
A majority of lawmakers are determined to block leaving the European Union without a deal, which they believe would be disastrous for the country's economy. Tuesday's vote suggested they have the numbers to succeed.
Johnson's aides had made it clear that, in the event of a defeat on Tuesday, he would seek a general election on Oct. 14. — just a little more than two weeks until the Brexit deadline of Oct. 31 — though Parliament would have to agree to that.
The accelerating pace of events suggests that Britain's Brexit nightmare may finally be approaching an endgame after years of paralysis.
Tuesday's vote also marked the moment when Johnson's hardball tactics, for once, were met with equal resistance.
On a day of high drama, Johnson lost his working majority in Parliament even before the vote took place, when one Conservative rebel, Phillip Lee, quit the party to join the Liberal Democrats, who have managed to stage a resurgence by positioning themselves as an unambiguously anti-Brexit party.
Lee's departure from the Tories may not be the last; Johnson has promised to expel any Conservative lawmaker who voted against him on Tuesday. That could threaten his ability to manage day-to-day business in Parliament, underscoring the need for a new election.
The extent of the Tory civil war was on full display as several of Johnson's Conservative critics, including the former chancellor of the Exchequer, Philip Hammond, lobbed hostile questions at him, making it plain that they had not been brought back into line by threats of expulsion from the party.