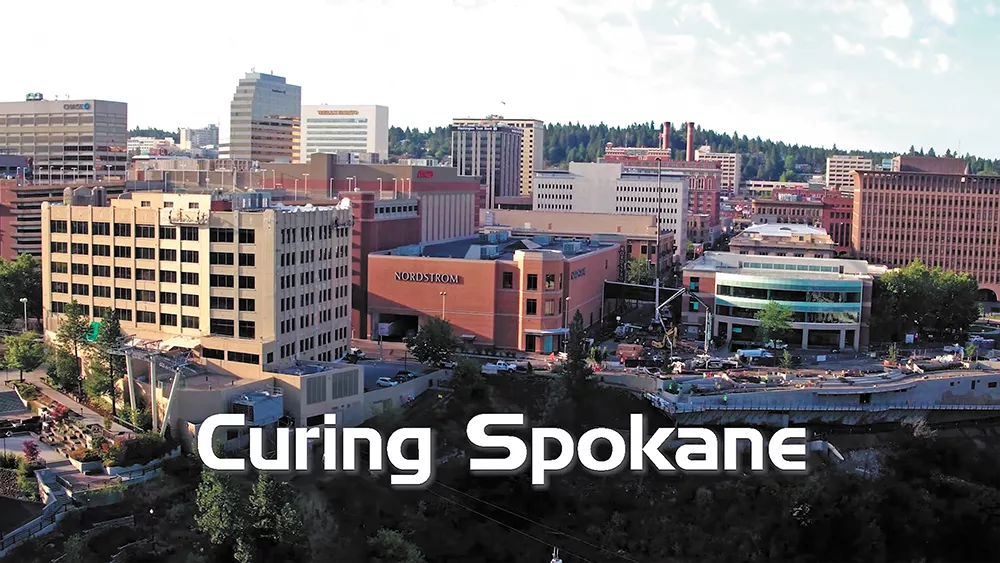 Earlier this year, the Pacific Northwest turned its attention to homelessness and drug addiction on the west side as KOMO TV declared that "Seattle is Dying."
For some, that hourlong news special bravely presented the true impacts of addiction and crime in the Emerald City, with a rightful call to send addicts to an island for forced treatment. For others, the special crassly demonized the less fortunate and presented unrealistic and questionably legal solutions to substance abuse and associated crime.
It sparked conversations around the region, including in Spokane, where the mayoral race has touched on the city's efforts to address safety and homelessness downtown.
For Spokane developer Larry Stone, while "Seattle is Dying" perhaps focused too much on the negatives, it did make him realize he could also stand up and say publicly what he's been hearing in private: Spokane has a problem.
"Lots of great things are happening in Spokane, and if we can solve the crime — and we can — we can continue to do great things," Stone says. "But if we don't solve it, it's going to really hobble us for the future."
That's why he decided to spend $100,000 producing a new 17-minute video called "Curing Spokane," produced by North by Northwest digital studio, which was released on YouTube last Thursday.
Not unlike "Seattle is Dying," Stone's video features shots of people in various states of crisis, insisting it is about crime and not homelessness as it highlights people shooting up in public and acting strangely in the street and on sidewalks. Between beautiful overhead shots of downtown and the bustling core, homeless people are shown walking and sitting with their possessions, interspersed with shots of litter, used needles, graffiti and broken windows.
Some statistics cited in the video are inaccurate, including comparisons of jails in Spokane and Boise. Critics also point out that the solutions proposed — including building a new jail and moving the downtown bus plaza — are expensive and don't address the mental health or addiction issues that likely contribute to the behaviors captured in the video.
In a Facebook post, mayoral candidate and current City Council President Ben Stuckart called the video "embarrassing, inciting and shaming."
"I don't see how Larry can watch his own film and decide the solutions are parking spaces instead of mental health treatment, underground bus stations instead of affordable housing, and a bigger jail instead of programs that get our people out of poverty," Stuckart writes.
Stone says it was intentional to release the video during the mayoral election, which has seen candidates Stuckart and Nadine Woodward at odds on how to deal with homelessness in the downtown library and other parts of the city core. However, Stone says the video is not meant as a political contribution or endorsement of any kind.
He had originally endorsed Stuckart before Woodward announced her candidacy, giving $970 to Stuckart's campaign earlier this year. But once Woodward announced, Stone says there were "two viable candidates" and he decided to go neutral. He says he's donated the same amount to both candidates, though no contribution to Woodward had yet been filed with the Public Disclosure Commission as of Tuesday.
Woodward thanked Stone on Facebook for going to "great lengths and personal cost to document the serious problems facing our city."
"Thank you, Larry, for recognizing the need for a stronger, more visible police presence, with officers on foot patrol in the city's core enforcing our laws," Woodward writes. "This is my number 1 priority."
Throughout the video, residents and visitors to downtown describe their discomfort, and business owners outline issues they've had with vandalism and theft, before the video pivots to proposed solutions, pointing to Boise as a model.
The two cities are nearly identical by both population and ethnic makeup, the video points out, but according to 2017 crime statistics, Boise has significantly lower rates of property crime and far fewer people counted as homeless in their once-per-year count.
While it notes overdose issues in the two cities are also nearly identical, the video doesn't mention that Spokane's poverty rate is higher or that Boise's median income and rental vacancy rates are slightly better.
Still, the video makes the case that Spokane's elected officials should look to Boise for four solutions, namely: 1. build a new, bigger jail; 2. have police enforce misdemeanors and all crimes and generally be more proactive on foot or bicycle; 3. sell the STA Plaza and move the bus station underground and; 4. solve perceived parking problems by offering some free time in garages and on-street stalls and standardizing rates.
The video claims that Spokane has less capacity for inmates than Boise, though news reports show Boise has had its own struggles with jail capacity, with commissioners in Ada County earlier this summer approving funds to design an expansion.
Stone's not alone, however, in arguing that Spokane's jail is too small for the county's needs.
Downtown Spokane Partnership (DSP) President Mark Richard says he knows well from his previous work as a county commissioner and in his current role on an advisory committee for the jail that there is a real need for expanded space both for jail beds and treatment options.
"We are constantly running up against this. I mean daily, an incident occurs, somebody's arrested, and I'm not exaggerating, within an hour to two hours, the individual that's been arrested, if it's not a serious felony crime, they're back on the street," Richard says. "It is demoralizing for our law enforcement and frustrating for the folks that are victims. And I think finally, it's not creating any sense of responsibility."
While Stone serves on DSP's board, he produced the video independently of the partnership.
The video and its website, curingspokane.com, argue generally that the STA Plaza has been a complete failure in its current configuration, and it receives more police calls than anywhere in town. The video calls to sell the building and move the transit station underground, with a focus on simply moving people through, not offering a place for them to hang out.
The Inlander reported earlier this summer that while the plaza does in fact show hundreds of calls for service, many of those are check-ins by the police officer stationed there, who also receives reports of incidents happening in surrounding areas. While more than 600 calls for service had been made at the plaza as of early July, STA's figures showed only 99 actual incidents and 54 that resulted in arrests or citations.
While the video's website claims STA spent $8 million on the plaza in the last year alone, STA spokesman Brandon Rapez-Betty says that's not true: in 2018 the operating and capital costs there were $1.95 million and the same cost year-to-date has been $1.05 million.
"The concerns expressed in the video are rooted in care for our city and a desire to be a part of a collaborative discussion — we at STA are fully aligned in that sentiment," Rapez-Betty says in an email. "Practically speaking, however, the transit proposal misses the mark. It's not as simple as doing what Boise did. Spokane faces its own unique urban issues and the comparison is unproductive."
As for how parking ties into all this, the idea is that making parking easier will increase the number of visitors and sales tax revenue and dilute "the vagrant element." While Stone says he doesn't personally believe there's a lack of parking, addressing that perception is key to getting more people to come visit the downtown he loves.
Despite highlighting the issues that exist, "Curing Spokane" wasn't meant to paint downtown as a scary place, Stone explains, but to be a conversation starter.
"Downtown certainly isn't terrifying. We've got problems and we need to work on them, but please do come downtown," Stone says. ♦