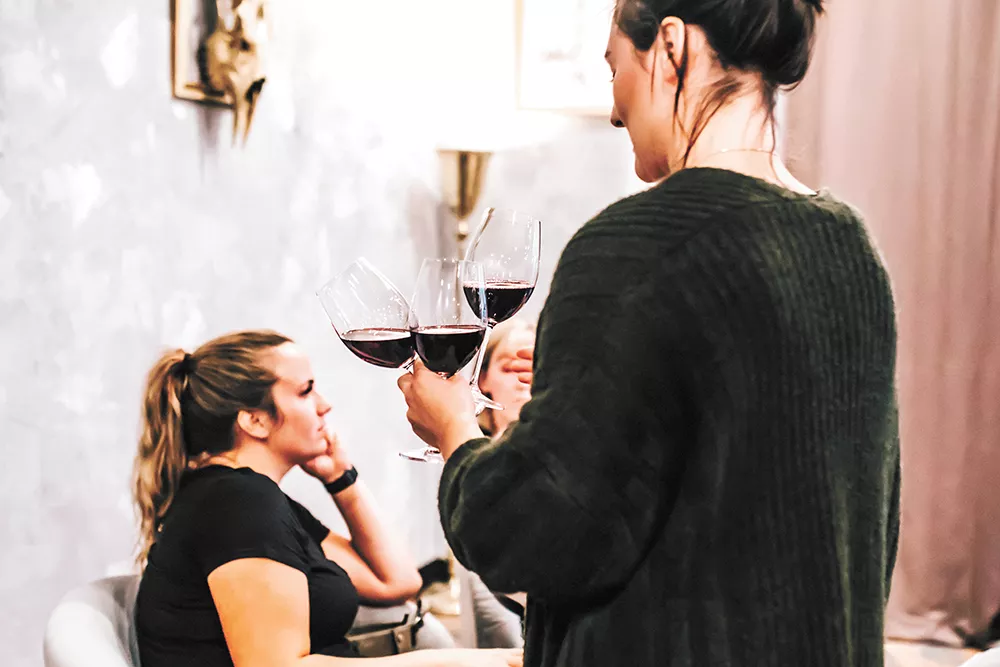 Wine lovers, Frasier fans and date-night goers alike now have something in common: Spokane's new Whim Wine Bar.
The space officially opened Aug. 23 on the first level of River Park Square, just across from the parking garage pay kiosk.
Married couple and co-owners Kori Henderson and Paul Blacketer hope Whim fills a niche in Spokane that they'd personally been searching for.
"We just wanted to open a bar that we wanted to go [to]," Blacketer says.
"We were just kind of constantly disappointed in date nights because they wouldn't have a good wine list or they wouldn't have a good menu. It wasn't everything. You know, you go in and only a couple things are fine," Henderson adds.
Whim's main focus is the large glass pour ($8-$14). The bar offers wines from around the world, including South America, France, Australia and beyond. Henderson chose to highlight wines from around the world because so many places in Spokane focus on Washington wine, and she wanted Whim to be a unique experience. Currently 30 wines are available by the glass. These will rotate as their supply diminishes, though Henderson says she's sure they'll develop favorites that stick around.
There's also a retail space inside the bar offering wine by the bottle ($12-$56), which can be taken home or enjoyed inside the bar for a corkage fee.
Henderson places an emphasis on accessibility and comfort for wine drinkers of all levels, both in price and profile. Therefore, Whim offers sweet, subtle wines for those who may not know much about wine, as well as offering what she calls the "dirtier" flavors — such as her favorite, a French Chinon cabernet franc — that can be enjoyed by connoisseurs with an acquired taste.
"We're trying to steer away from things that you would just find on the supermarket shelf," Blacketer says. "Stuff you might not be familiar with, but you could tell us what you like and we can steer you towards maybe a comparative."
Whim also offers a few local beers on tap, including from Iron Goat Brewing Co. and a pFriem pilsner; the latter is Blacketer's choice.
Also offered are a variety of wine-complementing appetizers such a cheese board ($10) and a meat board ($10). Whim also serves pizzas ($14-$17) such as "the Spokanite" ($16) topped with olive oil, mozzarella, broccoli, bacon and red onions and "the Niles" ($15) with pesto sauce, mozzarella, red onion, mushrooms and truffle oil drizzle.
Besides being driven to create the kind of wine bar they felt was missing in the local scene, Whim was also inspired as the couple — self-proclaimed introverts — grew tired of going out only to discover it was a bar or restaurant's trivia or karaoke night. They simply wanted a quiet, romantic spot that serves both good food and wine.
In brainstorming concepts and themes for the bar, they thought of a 1990s and early 2000s Seattle-set sitcom.
"Initially the TV show Frasier was our inspiration," Blacketer says. "We were like 'We want to go to the places Frasier goes.'"
Many of the pizzas on Whim's menu honor this inspiration, named after characters on the show.
The space, largely designed, painted and created by Blacketer, was quickly transformed from a retail spot into a plush, "faux-fancy" space for date night and a girls night out. Soft grey walls, dusty pink velvet seating and gold accents evoke a cozy, upscale vibe the couple was going for.
Henderson, who previously worked at another wine bar in Spokane, handpicked most of the wines on Whim's lists. She also created tasting notes on many options to help customers decide what they might like.
"I wanted it to be a special place. Like, you go here, you're going to remember it," Blacketer sums up. ♦
Whim Wine Bar • 808 W. Main, street level • Open Mon- Thu noon-9 pm, Fri-Sat noon-10 pm, Sun noon-6 pm • whimwinebar.com • 867-3982