The original Halloween (1978) and Friday the 13th (1980) movies didn't invent the "slasher" genre, but they did kick off a bloody wave of horror that ruled the '80s. Which makes sense — have you seen archival photos of '80s people? They needed some killing.
Here are five '80s slasher flicks to stream between the Halloween parties that nobody invites me to anymore. You dress up as sexy Ben Shapiro one time...
SLUMBER PARTY MASSACRE II (1987)
High schooler Courtney (Crystal Bernard) takes her girl group on a weekend retreat, only to have band practice and brushes with lesbianism interrupted by the return of the Driller Killer! Even better, he's been reincarnated as a singing rockabilly greaser with a sick drill guitar! Yes, it's slasher flick with cool kills and musical numbers — sex and blood and rock 'n' roll, baby! (available on Amazon Prime, Tubi, Shudder, YouTube)
NEW YEAR'S EVIL (1980)
Speaking of rock 'n' roll, early slasher New Year's Evil features the most over-the-top metal theme song of the genre — suck it, Halloween. Blaze (Roz Kelly), host of a New Year's Eve new-wave countdown TV show, receives a call from a mystery fan claiming he'll kill a "naughty girl" in each time zone at midnight, and she'll be the last. Bonus: "Punk" rockers galore. (Amazon Prime, YouTube)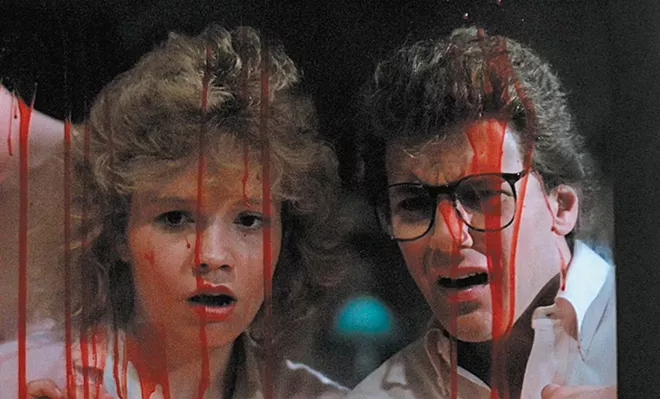 CHOPPING MALL (1986)
With an impossibly fantastic title to live up to, Chopping Mall barely even tries — but at least there's a spin on slashers: killer robots. A group of idiot 20-somethings break into a mall to spend the night (because... fun?), only to have the party crashed by boxy security Roombas set to berserker mode. Fun! (Amazon Prime, Tubi, Shudder, YouTube)
GIRLS NITE OUT (1982)
A college campus scavenger hunt turns bloody when a killer in a mascot bear costume starts slashing up students with serrated knife "claws." Even worse, he involves the college radio DJ to help broadcast his murders — as if that gig wasn't already humiliating enough. (YouTube)
STRIPPED TO KILL (1987)
An LAPD detective (Kay Lenz) goes undercover at the Rock Bottom strip club to investigate a string of stripper murders. Never mind that Emmy-winning actress Lenz is pole dancing (badly) in a low-budget slasher — Stripped to Kill features the most bizarrely ludicrous killer reveal of any flick on this list. Even weirder: The strip club is owned by Norman Fell (Three's Company's Mr. Roper). (Amazon Prime, Tubi) ♦
Visit billfrost.tv for more trenchant television coverage.