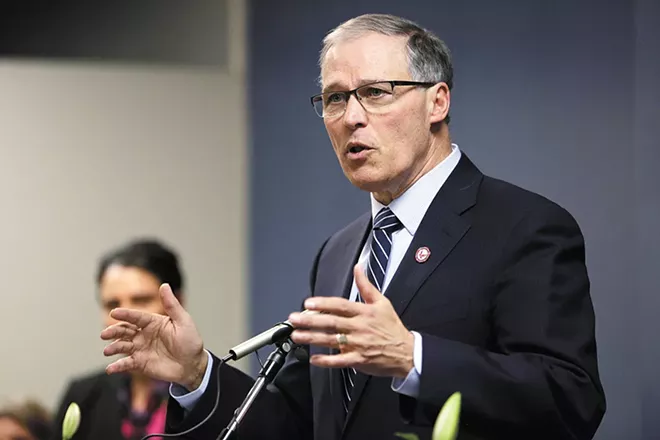 As we reported in last week's Green Zone, Washington Gov. Jay Inslee signed an executive order banning flavored vape products. The Evergreen State joined an ever-growing list of states and jurisdictions that have taken similar action in the wake of the outbreak of vape-related illness and death across the country.
As of Oct. 1, the CDC has received reports of over 1,000 cases of vape-related illness across 48 states. The vast majority of cases involve THC rather than nicotine containing vape products or electronic cigarettes.
Government officials from every state in the union have, in some form or another, issued public warnings about the dangers associated with vaping and many have asked citizens to avoid vaping altogether. But only a handful of states have gone as far as Washington and taken real action.
Oregon, a state where recreational marijuana is legal, is the most recent state to implement a ban. Gov. Kate Brown's executive order, issued on Oct. 4, is very similar to Inslee's. It calls for a six-month ban on all flavored vaping products and gives authority to ban any additional additives that are linked to the health crisis.
Further south in California, a state where recreational marijuana is legal but the black market is not only thriving but outpacing the legal market, legislators have stopped short of a statewide ban. Instead, last month Gov. Gavin Newsom signed an executive order requiring merchants who sell vape products to post consumer warnings about the health risks associated with those products. The order also allocates over $20 million in revenue from cannabis and tobacco taxes to be spent on, essentially, an anti-vaping ad campaign.
Michigan, which legalized recreational marijuana last year but has yet to open its legal market, was the first state to issue a ban in response to the vape crisis. Michigan Gov. Gretchen Whitmer, and many who have followed in her footsteps, targeted nicotine vapes with her ban. "Companies selling vaping products are using candy flavors to hook children on nicotine and misleading claims to promote the belief that these products are safe," Whitmer said in a release.
The other states with bans in place are Massachusetts, which banned all vape products, not just flavored ones, Rhode Island and New York. (New York's ban has been put on hold due to legal challenges from the vaping industry.) State lawmakers in Delaware, Illinois and New Jersey have drafted legislation on the issue, but they won't get to vote on it until next year. ♦