ON INLANDER.COM

NEWS:
Thanks to an influx of late-counted votes, Breean Beggs
has won the race for Spokane City Council president
.
Make no mistake, Councilman Breean Beggs was absolutely crushed in the August primary. He got less than 36 percent of the vote — while more conservative candidates like Mike Fagan and Cindy Wendle tallied up more than 56 percent of the vote. And so with that in mind, last month, Beggs gave the
Inlander
a prediction:
"I believe I will have a fairly decisive victory," he said. He was wrong — his victory wasn't decisive. In fact, he was behind in much of the vote. But he did narrowly pull out a victory as the vote slowly trickled in.
Primaries are very different from general elections, Beggs argued. And this primary was very different from the general election.
"Your typical primary in a municipal election, you have about 30,000 voters," he explained. "This year we had 49,000; 19,000 of those were first-time primary voters."
The reason, he says, was because of the oodles of independent expenditures from groups like the Washington Association of Realtors. "We had no independent expenditures trying to rally nonvoters to vote [during the primary]," Beggs says. "We just focused on the people who normally vote."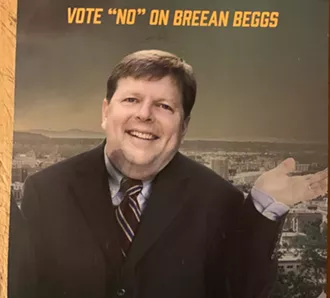 During the general, Beggs didn't get much support from independent expenditures — his total was absolutely dwarfed by the money spent in favor of Wendle. But Wendle didn't have the decades of name-recognition that Woodward did. And in the last moment, Wendle's campaign got slammed for two potential missteps: First, she rolled out a campaign ad suggesting that footage of a Baltimore homeless camp was an
unrecognizable Spokane
. Second, she put out a campaign ad that photoshopped Beggs' head onto some other
guy's body
.
It ran contrary to her campaign message arguing that she'd be the better candidate when it came to compromise.

IN OTHER NEWS...
Stone thrown
Famously sleazy Trump operative Roger Stone is found guilty of lying to Congress and
witness intimidation
. (
New York Times
)

The more things change...
...the more the balance of power on the City Council is exactly the same,
Shawn Vestal writes
. (
Spokesman-Review
)

50 Years in Power

Ron Edinger is retiring from the Couer d'Alene City Council after
more than four decades
. (
Spokesman-Review
)
Witness intimidation?
Just as a former Ukrainian ambassador talks about how the State Department has been intimidated by threatening Trump tweets, Trump sends out a tweet blaming the former ambassador for problems in
Somalia
. (
Washington Post
)