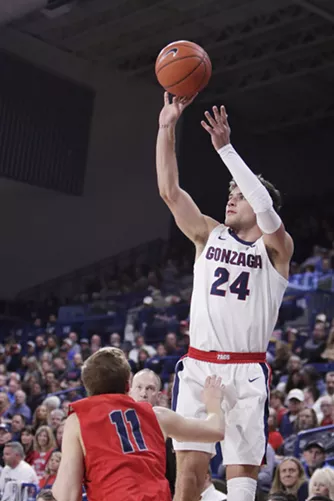 W
ritten on the whiteboard
in the Gonzaga men's locker room on Saturday were two sets of numbers: 81-87 and 66-68. They may look like final scores, but they have nothing to do with basketball. Rather, they represented the high and low temperature ranges forecast for the Bahamas this week.
While most Zag fans are preparing for a week of temperatures in the 30s, the Zags themselves are literally in paradise. Paradise Island, anyway. They're there to continue Gonzaga's tradition of playing in high-level tournaments during the Thanksgiving holiday. This season it's the Battle 4 Atlantis.
The tournament, now in its ninth year, might not have the cachet of the Maui Invitational, which Gonzaga won last year. And it certainly lacks the one-off excitement of the PK80 tournament in Portland, which Gonzaga competed in the year prior. But it's up there. Last season the Virginia Cavaliers won the Battle 4 Atlantis. A few months later, they won the national championship. This year's winner could easily follow in the Cavaliers' footsteps.
"On paper it looks like it's certainly the best one of all the tournaments this year," head coach Mark Few says. "It's gonna be a tough three nights down there, but again that's why we want to be involved."
Of the eight teams in the field fully half are ranked in the
AP Top 25
. No. 6 North Carolina, No. 11 Oregon and No. 13 Seton Hall are all potential challengers for the No. 8 Gonzaga Bulldogs. For the Zags, who have yet to play a team worthy of consideration for the AP Poll, it's a welcome shift.
"We're chomping at the bit to play a Top 25 team again," junior forward Corey Kispert says. "We've got some good games on the horizon."
A match-up between North Carolina and Gonzaga, the two best programs in the event, would be ideal. It won't happen though, unless both teams make it to the championship game. Placing the Zags and Tar Heels on opposite sides of the bracket was purely coincidental, I'm sure. While that outcome is still to be determined, one game against a ranked team is guaranteed for Gonzaga. Seton Hall and Oregon face off in the first round for the right to take on the Zags in the semifinals.
Before that, though, the Zags take on Southern Mississippi in their opening game on Wednesday. The Golden Eagles are 2-3 this season with both wins coming against non-Division I competition. Stat guru
Ken Pomeroy's
advanced rating system pegs the Golden Eagles as the worst team in the field, and it's not even close.
It's not just the level of competition Gonzaga is set to face that has the team excited about making the trip. They get to spend the week in the Bahamas, after all.
"We're leaving [Sunday] to get down there and have a few days on the front end just to enjoy, get in the water and soak up the sunshine," Kispert says. "Coach Few's a beach bum himself, he wouldn't make us go down there and not do anything."