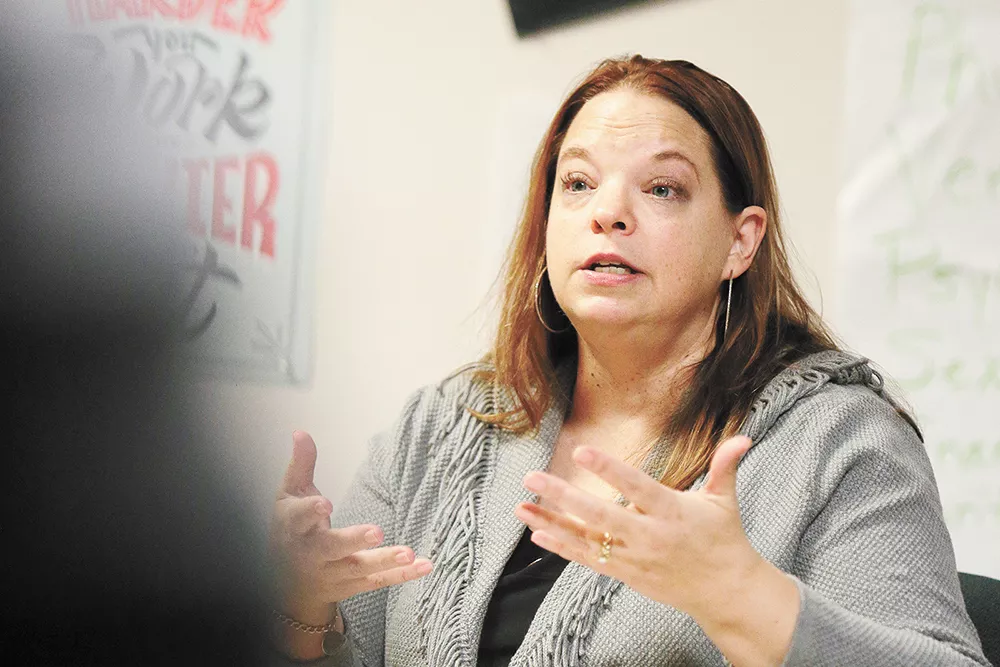 When it comes to domestic violence, Spokane County is an outlier in the worst way. Since 2005, the rate of reported domestic violence incidents per 1,000 residents in the county has been higher than the state average, according to a 2019 joint report from the Spokane Regional Health District and the Women Helping Women's Fund. Additionally, an estimated one out of three perpetrators of domestic violence reoffend within two years, according to the Health District.
The phenomenon has prompted an awareness campaign pushed by the Spokane Regional Domestic Violence Coalition dubbed "End the Violence," which promoted a documentary on the issue that aired earlier this year on local news stations.
But for some, there's a glaring hole in the justice system's response to the issue: Spokane County doesn't have its own specialized domestic violence court, which proponents argue could improve victim safety and reduce offender recidivism by, for starters, speeding up cases and requiring that some offenders attend domestic violence perpetrator treatment programs.
"We know that domestic violence is having a huge impact in our community and that our rates are very high here," says Annie Murphy, chair of the Spokane Regional Domestic Violence Coalition. "Anything that we can do to make victims safer in our community should be a priority."
While there are a variety of types of domestic violence courts nationwide, local officials and advocates frequently point to Boise where Ada County has operated a centralized domestic violence court for years that handles both civil protection orders and misdemeanor domestic violence cases. It also features dedicated judges and other court staff trained specifically in domestic violence issues.
Ada County's model has garnered national recognition: It was dubbed a "national mentor court" in 2013 by the U.S. Department of Justice that other jurisdictions should look to as a model.
The idea, proponents say, is for domestic violence courts to be problem-solving tools — in a similar vein to drug courts — that improve outcomes for both parties. For instance, victims are able to obtain civil protection orders in the same court that they're acting as a witness in.
"Domestic violence is unique in the sense that often families are involved in multiple aspects of the legal system at the same time," says Robyn Mazur, director of gender and justice initiatives at the National Center for Court Innovation, a reform-minded think tank that provided guidance to Ada County while it developed its system. "There may be a criminal case, a family law matter, and that's encompassing of a lot of things including civil protective orders and custody matters."
Proponents of domestic violence courts argue that victims are often dissuaded from pursuing charges because they have to move between various courts to address behavior from one perpetrator. Additionally, judges in different courts may issue conflicting orders on the same defendant.
"These are all separate cases that are happening at the same time, maybe with conflicting orders," says Crissy Anderson, a former legal supervisor at YWCA Spokane. "It creates problems for accountability, it creates problems for victims."
"That's really what best practices say you should be doing," says Lynden Smithson, chief assistant prosecutor with the Spokane City Attorney's Office and longtime proponent of centralized domestic violence courts. "A defendant should see one judge, the judge gets to know that person, the issues, and the victims."
Offenders, meanwhile, are frequently ordered to attend various treatment programs to help address behavior — such as substance use disorder treatment or domestic violence perpetrator treatment — and are required to attend frequent hearings to ensure that they are complying with court orders. Additionally, domestic violence cases are accelerated in the program.
"When we have two or three cases together, it is easier to gain compliance," Smithson says.
"In that domestic violence court [defendants] are automatically assigned to a probation officer who is following up and holding them accountable," says Spokane Police Sgt. Jordan Ferguson, supervisor of the department's domestic violence unit. "Right now, so many times, a judge will order conditions of release and there's no way for anybody to follow that person or check with that person to make sure that they are following the rules set for them by that judge."
While there's no definitive studies on the effectiveness of Ada County's domestic violence court, academic literature examining similar models around the country indicate success. A 2014 study from North Dakota State University on Clay County's domestic violence court showed that participants reoffended at a lower rate than similar offenders who didn't go through the program.
In 2016, a group of officials and advocates from Spokane's criminal justice system travelled to Boise to learn about its domestic violence court. Afterward, a workgroup was formed to consider adopting a similar model, but the efforts fizzled. And since then, no real attempt has been made to reboot the initiative.
"The project just lost steam, for whatever reason," Murphy says.
Smithson says that the main roadblock to establishing a domestic violence court is a lack of motivation to collaborate among the local judiciary. "District Court and Municipal Court don't really play well together," he says, while noting, however, that the city and the county do work together to run the Spokane Regional Mental Health Court.
Tracy Staab, presiding judge in Spokane Municipal Court, says that while she's open to the concept of domestic violence court models, she hasn't seen empirical evidence showing that they produce outcomes.
Judge Patti Walker, who oversees a domestic violence docket in Spokane County District Court, says that while it would be "great" to have a combined court, a lack of funding for support staff and existing projects — such as reforming the court's fee system known as "legal financial obligations" — get in the way.
"I'm not sure it's on anyone's radar right now," she says.
There's also a lingering distrust of domestic violence perpetrator treatment, a crucial component of the Ada County court, among judges and defense attorneys alike. Many point to the cost of treatment — insurance programs don't cover perpetrator intervention treatment — as well as a past report produced by Washington State Institute of Public Policy that found little impact on recidivism.
"Some courts didn't ever order anybody to [domestic violence] perpetrator treatment program," Walker says. "That was either because the judiciary didn't have confidence in it or the lawyers wouldn't agree to have that as part of a plea agreement."
Judge Staab says that the financial burden of treatment is a big factor: "It's always a consideration when you've got someone in front of you who is indigent and can't afford treatment and treatment is not covered by any sort of program," she says.
Smithson is skeptical of those criticisms: "It's all over the place. People are very against domestic intervention treatment because they're like, 'Oh gosh, we've sent people there, but the recidivism rate doesn't change much.' These are the judges that say stuff like this, but they will repeatedly send people to drug or alcohol treatment, and they'll come out and abuse, and they'll send them back."
The lack of referrals has long frustrated domestic violence treatment providers like Ginger Johnson, who runs Relationship Advantage in Spokane.
"How come we have all of these individuals being arrested and almost none being sent to treatment? That just doesn't make sense," she says.
Meanwhile, Judge Walker recently acquired a $15,000 grant from United Way to help cover treatment costs for indigent clients. (At Relationship Advantage, for instance, an initial evaluation costs between $100 and $250 while subsequent weekly sessions cost $50, Johnson says.)
"In my time on the bench, having worked with all of the different providers that we've had in Spokane over the years, I've seen great success," Walker says, referring to perpetrator treatment programs. "We see the change and we don't see them back again." ♦