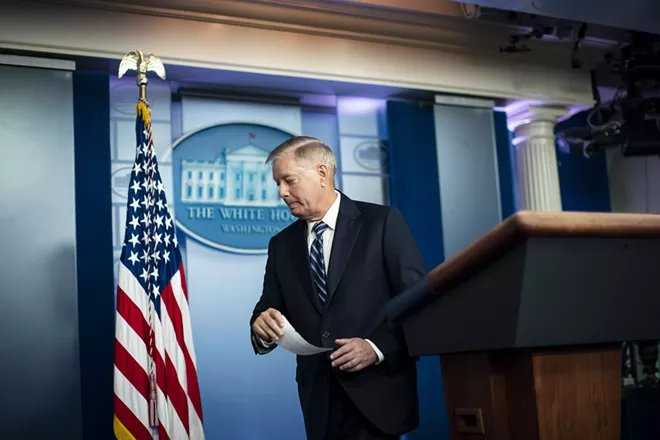 By Catie Edmondson
The New York Times Company

W
ASHINGTON —
Late last month, as damaging revelations about President Donald Trump began piling up in the impeachment inquiry, conservative commentators and activists trained their anger on Sen. Lindsey Graham, R-S.C.
Graham, normally one of the president's most ardent defenders in the Senate, had "not lifted a finger to help this president," said Fox News host Lou Dobbs.
Now Graham, chairman of the Judiciary Committee, has surfaced as an aggressive and unapologetically partisan defender of Trump, even starting his own investigation into former Vice President Joe Biden and his son Hunter Biden.
In the space of a few weeks, Graham has gone from expressing an open mind about impeachment to becoming a leader of the president's counterattack. He has angrily denounced the House inquiry while generally acquiescing to calls from an outraged party base to mount a more vigorous defense of the president. He faces reelection next year.
Graham was separating himself from the impeachment debate, instead drawing attention for his vocal criticism of Trump's decision to withdraw U.S. forces from northern Syria.
Trump was not pleased.
Still, Graham was wary of using his powerful perch on the committee to carry out Trump's wishes. He privately rejected the idea of opening an investigation into the Bidens. And when asked in an interview if he was open to supporting impeachment, Graham told Axios he was, if new evidence of wrongdoing came to light.
A spokesman for Graham declined to make him available for an interview and instead directed a reporter to an appearance the senator had made on Fox News.
"When House Republicans tried to ask these questions about the role of Hunter Biden in the investigation of the gas company, they were shut down — so I'm going to ask," Graham said in the interview this week.
The position constitutes a turnabout from just last month, when Graham persistently worked to distance himself from any talk of investigating the Bidens.
He privately told colleagues in the Senate that he did not think opening an investigation was necessary and that he did not want to do it.
Long before Graham was a close ally of Trump, he branded candidate Trump a "race-baiting, xenophobic, religious bigot." And he counted Biden among his friends when the two served together in the Senate.