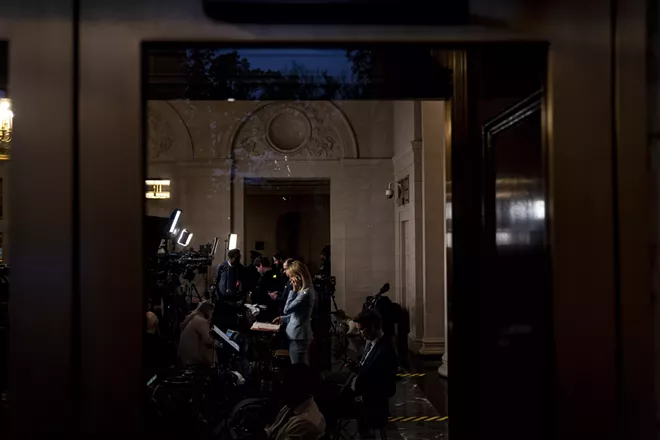 By Nicholas Fandos
The New York Times Company
W
ASHINGTON —
House Republicans plan to argue that President Donald Trump was acting on "genuine and reasonable" skepticism of Ukraine and "valid" concerns about possible corruption involving Americans, not political self-interest, when he pressed the country for investigations of his Democratic rivals, according to a draft of a report laying out their impeachment defense.
In a 123-page document that echoes the defiant messaging that Trump has employed in his own defense, the Republicans do not concede a single point of wrongdoing or hint of misbehavior by the president, according to a copy reviewed by The New York Times before its planned release on Tuesday.
The report amounts to a preemptive attack by some of Trump's most ardent supporters against Democrats' arguments for impeachment. The Democrats have finalized a written report of their own and are scheduled to vote on Tuesday to transmit it to the House Judiciary Committee, kick-starting the next phase of the impeachment inquiry in the House as it barrels toward a likely vote on articles of impeachment.
In the Republicans' dissenting views, they argue that after two months of investigation, the evidence "does not support" that Trump withheld a coveted White House meeting for Ukraine's president or nearly $400 million in security assistance for the country as leverage for securing the investigations.
The conclusion is at odds with sworn testimony from senior U.S. diplomats, White House officials and other administration officials who recounted how Trump sought to use U.S. influence over Ukraine to suit his domestic political purposes, repeatedly insisting that President Volodymyr Zelenskiy of Ukraine announce investigations into former Vice President Joe Biden and an unproven claim that Ukraine conspired with Democrats to interfere in the 2016 election.
Also Monday, the Judiciary Committee unveiled the panel of constitutional scholars its members would question in a hearing scheduled for Wednesday to help inform its debate over whether Trump's conduct was impeachable. The witnesses are Noah Feldman of Harvard Law School, Pamela S. Karlan of Stanford Law School, Michael J. Gerhardt of the University of North Carolina Law School and Jonathan Turley of the George Washington University Law School. Turley was invited by Republicans on the panel.