The yoga mom values two things above all else — comfort and efficiency. If you want to stay lithe and limber in between sessions, you have to perfect your sense of balance while also balancing extracurricular activities and school Christmas concerts and 9-to-5 jobs. We're going to assume that the yoga mom in your life already has all the proper clothes and athletic gear — the mats and the non-slip socks and the Lululemon leggings — so we're focusing on the accoutrements that will not only make her yoga experience more pleasant and distraction-free but also keep her relaxed when yoga class is over.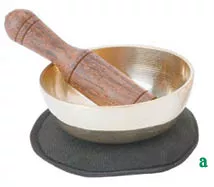 MEDITATION BOWL (a)
Ever feel the need to balance your chakras? Sure, who hasn't? Meditation goes hand in hand with yoga, and these metal alloy meditation bowls from Nepal are a must-have. Courtesy of the company dZi Handmade, which works with Tibetan artisans to ship their products around the world, the bowls come in two sizes, complete with a wooden baton and an accompanying cushion. Using them is easy: Strike the bowl before your next meditation session, and the sound that resonates is meant to assist you in reaching nirvana. It's like a tuning fork for the soul. $45 and $98 • Kizuri • 35 W. Main Ave.
WANDERING LEMURIAN HERBS (b)
In order to ensure that you can get into any yoga position more complicated than downward dog, relaxation is key, and that starts before you ever walk into the yoga studio. Consider the products from Spokane company Wandering Lemurian Herbs, founded by plant forager Aubrey Mundell. The company offers a variety of soothing products that are perfect for a post-yoga unwind: Luxuriate in a hot soak with their "sensual" bath salts ($12) and with a steaming cup of one of their all-natural herbal teas ($15), particularly their healing blend that includes peppermint leaf, elderflower and licorice root. From Here • 808 W. Main Ave., Ste. 251
SLOW NORTH NECK WRAP (c)
Regular yoga sessions require you to keep yourself in limber and flexible condition, and that means you need to be taking care of your muscles in between. But not everybody has time for a deep-tissue massage. Consider, then, these neck wraps from Slow North, which are compact but surprisingly weighty and filled with lentils. Unlike most products of this ilk, Slow North's neck wraps are emblazoned with colorful, eye-catching patterns, so they don't have the drab, clinical look you'd expect. Pop it in the microwave for just half a minute or leave it in the freezer for a few hours, drape it around your neck and wait for the stress to melt away. $44 • The Lookout • 1516 W. Riverside Ave.
YOGA MAT TOWEL (d)
One of the first things you purchase when you're getting into yoga is a good non-slip mat. It's a must. But the more active you are — and especially if you're doing hot yoga — the grodier that mat's going to get. Rather than having to keep shelling out for replacements, an absorbent yoga mat towel in the way to go. The yoga gear company Manduka offers a variety of microfiber towels, from solid colors to more playful designs, that are lightweight and quick-dry, and can be converted into a bath or beach towel in a pinch. $38-$42 • manduka.com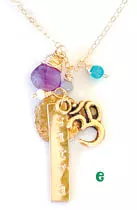 NAMASTE NECKLACE (e)
You can't conjure world peace this holiday, but you can share a gift designed to bring peace to the yoga mom wearing it. Fabrica Vida owner Maria Fisher makes many things in this offbeat store, which feels like an oasis of calm and good vibes, located downstairs from Sherman Avenue's street-level shops. You might even feel more peaceful from having shopped there. $42 • Fabrica Vida • 414B E. Sherman Ave., Coeur d'Alene (CARRIE SCOZZARO) ♦