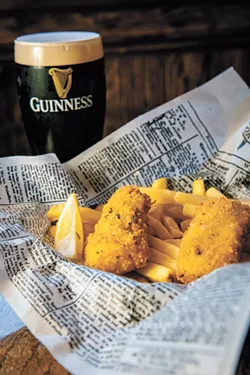 A lot of restaurants talk a big game about being a "family" place, but you can take that idea a little more literally with the new Shawn O'Donnell's which just opened in the historic former home of Milford's Fish House on North Monroe.
Shawn O'Donnell Sr., the founder and namesake of the now four-location American Grill and Irish Pub, rattles off all the family involved in the business, a crew that includes his wife, daughter, son and daughter-in-law. His partner and general manager of the new Spokane location — the first east of the Cascades — is darn near family, too. Chase Van Cotthem grew up neighbors with the O'Donnells in Everett and worked at the restaurants starting in high school up until moving to Spokane nearly a year ago to be closer to his wife's family and find a more economical place to raise his young family.
Van Cotthem's move, and knowledge of the restaurant business, is what sparked O'Donnell to add a new branch to his west side locations in Everett, downtown Seattle and Fremont.
"Chase called and said, 'Hey, what do you think about a restaurant in Spokane?'" O'Donnell recalls. "So we jumped in the car and blasted over."
One of O'Donnell's lifelong friends lives in Spokane and gave him a tour of the city, and O'Donnell was quick to note that, like residential prices, commercial real estate in Spokane is much cheaper than Seattle. Then, when he found out Jerry Young was retiring and looking to sell the Milford's space, a new Shawn O'Donnell's quickly became a reality.
The front of the house was essentially ready to go. O'Donnell and his family painted the walls and decorated using some of the incredible historic photos and memorabilia Young had stashed in the Milford's basement, as well as adding a distinctive Celtic flavor to the bar area. They also got rid of curtains and removed some walls that Milford's had used to add an element of privacy.
"We thought, 'Let's go Irish in the bar, and nostalgic in the dining room,'" O'Donnell says. "We opened it up quite a bit."
The kitchen is where the heavy-duty renovations took place. Refrigerators and burners were replaced, and a new anti-slip floor was installed, all in service to delivering the same menu in Spokane as people have enjoyed at the west side locations.
The corned beef and cabbage ($17) is a popular item, O'Donnell says, and the fish and chips (available in two to four pieces, ranging from $11-$15) is the best seller, made with wild-caught cod and hand-breaded daily. There's a wide array of burgers and traditional Irish entrees like shepherd's pie ($16), as well as not-so-traditional items like an Irish whiskey mac and cheese ($16) and an Irish meatloaf ($16) made with ground lamb, beef and bacon. On weekdays, lunch specials for $10 will get you a choice of Guinness beef stew, shepherd's pie, a Reuben sandwich, chicken pot pie or two-piece fish and chips.
The bar features no less than 18 Irish whiskeys, including flights of three half-ounce pours for $12, as well as several Scotch options, American whiskeys and beers on tap.
While the food and drink are certainly enough to warrant a visit, so is the chance to check out what Shawn O'Donnell's looks like inside the building that first opened in 1925 as the New Transfer Market (there's a photo near the front of Shawn O'Donnell's from back when it was the grocery store). I never made it to Milford's, so seeing the sprawling space that at various points housed everything from a tobacco shop to a karate studio now turned into a warm, wood-filled pub and restaurant was a treat.
During the first few days since opening, both O'Donnell and Van Cotthem were surprised at how busy they were, and noted how people responded to seeing the building in action again.
"The community really seems to dig that building," O'Donnell says.
"Spokane is such a fun city, the people here are willing to try new restaurants," Van Cotthem adds. "And Spokane cares about this building."
As Van Cotthem leads a tour through the various nooks and crannies of the place, from a stunning banquet room to the newly refurbished kitchen, he can't help by delight in the history of the building, and the Spokane artifacts now filling the walls.
"How many people have come through here in the last 95 years?" Van Cotthem muses. "Hopefully we'll be part of the history for the next 95." ♦
Shawn O'Donnell's American Grill and Irish Pub • 719 N. Monroe St. • Open Sun-Thu 11 am-11 pm; Fri-Sat 11 am-midnight • shawnodonnells.com • 326-7251