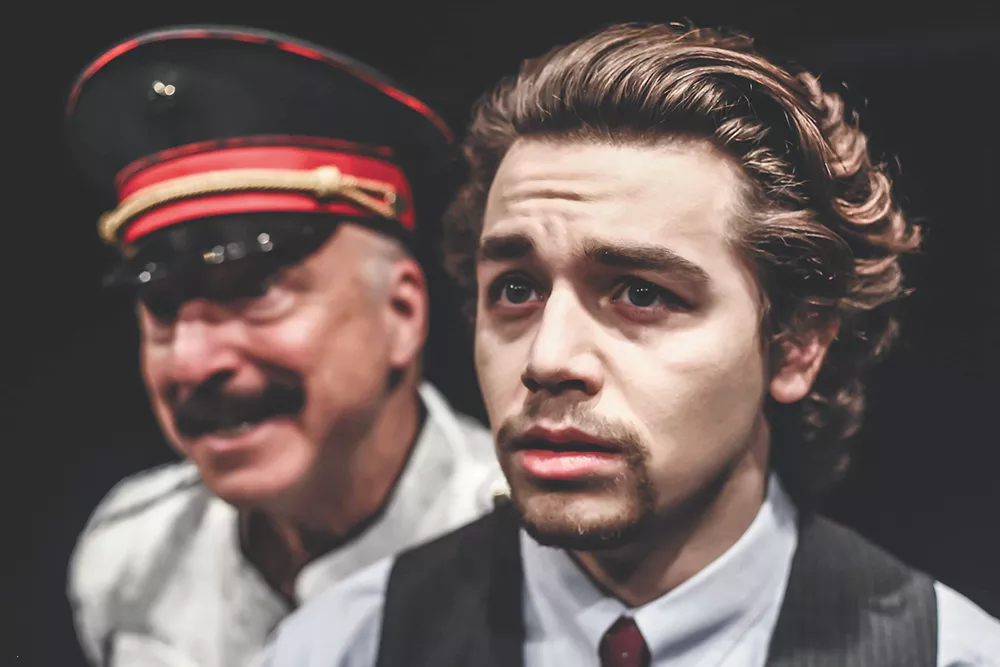 There are several translations of Osip Mandelstam's "Stalin Epigram," a poem that mocked a tyrant who, like all tyrants, could not bear mockery.
One of the more popular among them, a joint effort by Clarence Brown and W.S. Merwin, describes "The ten thick worms his fingers/ ... The huge laughing cockroaches on top of his lip/ The glitter of his boot-rims." This ridiculous yet sinister figure could be found "Ringed with a scum of chicken-necked bosses" who meow and snivel as he "forges decrees in a line like horseshoes/ One for the groin, one for the forehead, temple, eye."
Joseph Stalin's epigram would become Mandelstam's epitaph. In 1934, six months after the poet read it in private gatherings, he was arrested and exiled along with his wife Nadezhda. A short reprieve followed, but Mandelstam was re-arrested in 1938 and shipped to a forced-labor camp. He died by the end of that same year. It would fall to Nadezhda to preserve his work and legacy.
Playwright Don Nigro later took this brief but fraught period of Mandelstam's life and dramatized it for the stage. His play — titled, simply enough, Mandelstam — is starting a run at Stage Left under the direction of Doug Dawson.
"This might only be the fourth time this has ever been produced," Dawson says. "I've been Facebook-messaging with Don Nigro, and we have a note that he wrote specifically to the Stage Left patrons about this production. He says in his program notes that the first time he heard the story of Mandelstam and everything that had happened, he knew it was going to be a play."
Nigro's version clearly takes some creative liberties in the service of entertainment. His Stalin, played here by J.P. O'Shaughnessy, is "the funniest written part in the show, ironically," Dawson says. He fancies himself an aesthete but has zero appreciation for subtlety or ambiguity.
"There is that veil of humor. But every now and then we can drop it and show what a cold-blooded S.O.B. Stalin was. There are those moments where J.P. will drop a line and he's deadly serious and scary," says Ben Dyck, who plays the titular role.
"You're dealing with some pretty heavy stuff, and if it were just all doom and gloom, it might be hard to watch. The comedy helps you to see the absurdity in all of it. Mandelstam wrote a poem about a mustache, and for that he died."
"It's one of these shows where you're laughing out loud, then it gets serious real fast," Dawson adds.
Trapped between Mandelstam's friendship and Stalin's ire is Boris Pasternak, played by Sean Behary. As head of the writer's union, the Doctor Zhivago author and Nobel laureate is the one who receives late-night telephone calls from Comrade Stalin about Mandelstam. And, yes, that really did happen. In the play, as in real life, Pasternak is forced to walk the delicate tightrope between saving his friend and saving himself.
"There's a scene in the show where Pasternak calls Stalin in the middle of the night to say, 'Hey, can you please back off Mandelstam?' Which was a huge risk for him to take. But the scene starts with Stalin answering the phone and going, 'Who's this? Boris? Aren't you dead? Didn't we shoot you?'"
Meanwhile, Mandelstam's wife, whose own persecution almost rivaled her husband's, tries to find a way to honor his muse without him risking their lives.
"Mandelstam and his wife are pretty aligned in their politics. And, actually, Nadezhda is probably the more outspoken at the outset. But once they realize they have recording devices and people are listening to what they have to say, she's much better about being careful than he is," Dyck says.
"Once he sees the impact it's having on her, he tries to write a poem praising Stalin, but he can't do it. The voices won't let him."
Phletha Donean Wynn, Dyck's real-life girlfriend, plays both Mrs. Pasternak (an offstage role) and Nadezhda in Mandelstam. Given how instrumental Nadezhda was in safeguarding her husband's poetry when the state sought to eradicate it, hers isn't just a sidelined spousal character.
Dawson hopes Mandelstam will spark conversation.
"It's very thought-provoking. Coincidentally, it's very current. It's also very funny. And ... it'll expose you to a history that a lot of Americans don't even know about it. It's the sort of show that you will be talking about with the people you saw it with for a couple of days afterwards." ♦
Mandelstam • Jan. 10-26; Thu-Sat at 7:30 pm, Sun at 2 pm • $25 • Stage Left Theater • 108 W. Third Ave. • spokanestageleft.org • 838-9727