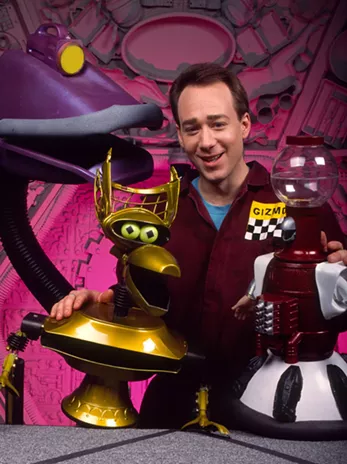 E
ven if you don't know it by name
, you've definitely seen
Mystery Science Theater 3000
: It's that show with the little silhouettes in the bottom right-hand corner that crack wise about what's on screen.
The premise is a bit more complicated than that: Over 200-plus episodes and a Netflix revival, a series of hapless humans were trapped on a spaceship by a mad scientist, who forced them to endure bad movies. Along with quippy robots Tom Servo and Crow T. Robot, the trio would provide hilarious commentary to dull the cinematic pain.
MST3K
creator — and original host — Joel Hodgson is bringing a live version of
MST3K
to Spokane this week, and in anticipation we've picked some of our all-time favorite episodes. We no doubt overlooked some of your favorites (it's just an article — you should really just relax), but hopefully there's enough cinematic cheesiness for you to chew on. Riff away!
Pod People
(Season 3, Episode 3)
What it's about:
In this Spanish rip-off of E.T., an alien chased by poachers befriends a little boy who names it Trumpy. There's also a traveling rock band involved (don't ask).
Why it's a classic:
It's like a bad movie bingo card: incompetent effects, terrible musical numbers and jumbled plotlines.
Best riff:
"Trumpy, you can do stupid things!" (NW)
Manos: The Hands of Fate
(S4, E24)
What it's about:
A 1966 horror film made by a fertilizer salesman in rural El Paso, in which a family is menaced in a desert cabin by a twitchy groundskeeper named Torgo and his polygamous master.
Why it's a classic:
It's considered one of the worst movies in
MST3K
history, and its appearance on the show got the film a cult itself: A recent crowdfunding campaign to remaster the film and release it on BluRay successfully raised $48,000.
Best riff:
"Every frame in this movie looks like someone's last known photograph." (NW)
Mitchell
(S5, E12)
What it's about:
Joe Don Baker stars as a slovenly '70s cop who loves beer and women almost as much as he loves taking down pushers and thugs. Dirty Harry, he… isn't quite.
Why it's a classic:
The jokes are mostly at Baker's expense, and he was reportedly so offended (his 1985 film Final Justice was lampooned in a later episode) that he threatened to beat up anyone associated with the show. This is also Hodgson's final episode as host.
Best riff:
A dig at the funk guitar soundtrack: "Waka-chicka, waka-chicka, waka-chicka — MITCHELL!" (NW)
Space Mutiny
(S8, E20)
What it's about:
Aboard a spaceship filled with pipework, a war rages between treacherous rebels in mini Zambonis, their Santa Claus-looking captain and an evil flight commander.
Why it's a classic:
The ultra-macho names they create for the main character are some of the best string of jokes the show ever achieved.
Best riff:
"Thick McRunfast! Punch Rockgroin! Big McLargeHuge! Bob Johnson… oh, wait." (PS)
The Pumaman
(S9, E3)
What it's about:
Before the MCU, there was
Pumaman
. Gifted by aliens with the powers of a puma — goofy flight, slightly less intelligence than your average college student — he's up against scenery-chewing Donald Pleasence, begging for world domination.
Why it's a classic:
It's a study on incompetence, and it goes hand-in-hand with the snappy riffs. This movie was made for
MST3K
.
Best riff:
"He has the power to rear-project major cities!" (PS)
Werewolf
(S9, E4)
What it's about:
Archaeologists discover the bones of a werewolf, and it doesn't raise any eyebrows when one of them becomes psychotic and turns random citizens into lycanthropes in the name of science.
Why it's a classic:
The absurdity and utter randomness of werewolf security guards driving cars — and Dictator Santa Claus — have Mike and the bots laying it on thicker than ever.
Best riff:
"It's economical to not have a storyline, then you just film people saying things." (PS)
The Final Sacrifice
(S9, E10)
What it's about:
When a young Canadian man fails to reach puberty, he tries to find out what happened to his father and is thrown into a war between cults, prospectors, an ancient advanced civilization and the mysterious Zap Rowsdower.
Why it's a classic:
Every staple of
MST3K
is on display: a massive scale with no budget, villains with brain-dead thugs, and a drunk drifter who wants to play hero.
Best riff:
"I wonder if there's beer on the sun." (PS)
Merlin's Shop of Mystical Wonders
(S10, E3)
What it's about:
Tired of helping King Arthur create a prosperous kingdom, Merlin travels to the modern age and does the sensible thing — opens up a medieval trinket store and attempts to bring magic back into the world through terror and destruction.
Why it's a classic:
As one of the last broadcasted episodes, they went out on a high note with this wildly inconsistent bedtime story turned gruesome horror fiasco.
Best riff:
"Remember to believe in magic, or I'll kill you." (PS) n
Due to weather conditions, this show has been rescheduled for Thu, Feb. 6.
Mystery Science Theater 3000 Live • Thu, Jan. 16 at 7:30 pm • $39.50-$59.50 • All ages • First Interstate Center for the Arts • 334 W. Spokane Falls Blvd. • inbpac.com • 279-7000