I was pleasantly shocked to hear Republican Sen. Mike Lee, the son of the late Solicitor General Rex Lee, denounce President Donald Trump's recent incoherent ramble through the briar patch of reality. Mike Lee, until now, has been a reliable Trump foot soldier. Hopefully, he has determined to forget the partisan hackery promoted, even insisted on, by the likes of Mitch McConnell and now seeks to do the right thing. Lee's recent criticism was about the administration's thin, evasive defense of the president's order to kill Iran's Qasem Soleimani and, by extension, his incoherent plans for Iraq and the Middle East.
Lee has also backed a bipartisan Senate resolution to require Trump to seek congressional approval before taking any more military action against Iran.
Will Mike Lee break with his party leadership and actually vote to support the impeachment of Donald Trump? That's now at least an open question. My hope — and perhaps it is a hope against hope — is that Mike Lee will now find the will to act more like his late and much-revered father.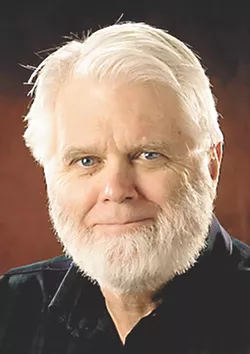 I first met Rex Lee during my freshman year at BYU. I got to know Rex through our Provo neighbor, Terry Crapo. Rex took his law degree from the University of Chicago. Terry went off to Harvard. Both were brilliant — and nice guys to boot. Both were Mormons, and both were Republicans. Both also, I stress, were truly independent thinkers.
Rex clerked for Supreme Court Justice Byron White; in 1972, he helped create the BYU law school. He was widely admired, including by Justice Sandra Day O'Connor, who spoke at his funeral in 1996. In 1981, President Ronald Reagan appointed him solicitor general, where Lee won 23 of 30 cases. During the course of his career, he argued more than 90 cases before the court and won most.
Rex wasn't enough of a loyal foot soldier for Reagan's Attorney General Ed Meese, however, who ordered that Rex Lee take up a case that Lee thought unworthy. Meese wouldn't back off his insistence, and so Lee eventually resigned on principle with the explanation, "I'm the solicitor general, not the pamphleteer general."
That was Rex Lee.
We can hope that, now, it also describes his son, Mike Lee, whose criticism of the administration's briefing and subsequent shifting stories about the new mess in the Middle East President Trump created — perhaps illegally — may be a start.
The challenge for Mike Lee, however, is that he would have to conduct himself as a true senator rather than a GOP loyalist. He would also have to be prepared to cross Senate Majority Leader Mitch McConnell, as well as annoy Trump. His father would have had no trouble answering that call.
I last saw Rex Lee at a lecture he gave as part of the William O. Douglas Lecture Series at Gonzaga University. Rex was a longtime friend of the late Father Pat Ford, who had invited Rex to deliver a speech here in Spokane. Rex, while very ill (he would live only a few more months), was still up to the challenge. In fact, Justice O'Connor recalled Rex bravely writing legal briefs from his hospital bed during his final days.
His speech that evening was both important and, as it has turned out, very timely here in 2020. Rex Lee spoke about the solemn duty Supreme Court justices had — how critical impartial justice is to the moral health of the republic, and how, if we lost that, we'd lose everything. ♦
Robert Herold earned his bachelor's degree in political science at Brigham Young University in 1961.