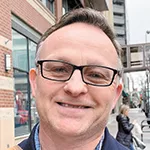 MARK RICHARD
Shuffleboard.
Why?
Just because I think it's interactive. It's a great game where you're actually moving, and it's a lot of fun.
---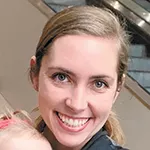 RACHEL DORNQUAST
I don't think I know many arcade games. Oh wait, Donkey Kong for sure.
When was the last time you were in an arcade?
Over 10 years ago.
---
GREG JENSEN
I'd probably go for the classic Dragon's Lair.
And did you play Dragon's Lair a lot in arcades?
Not really, it was kind of too expensive for a kid.
---
GRANT PURDUM
Oh my god, it would be the Teenage Mutant Ninja Turtles video game that they used to have at the mall when I was a kid.
And where would you put it in your house?
Downstairs in the man cave, I guess. Oh, I hate saying "man cave."
---
THERESE COVERT
I'm not that old, or I'm too old. Oh my gosh, it's just been so long. Foosball, I suppose.
And where would you put the foosball table?
Well, if I still had a house I would put it in the family room, by the television.
INTERVIEWS BY MACIE WHITE
1/24/20, RIVER PARK SQUARE