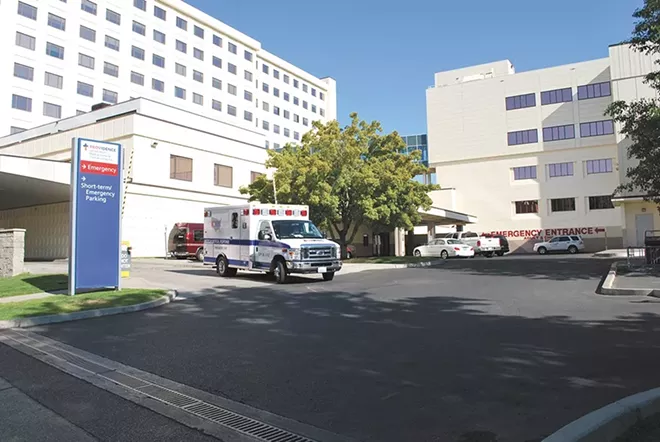 On the hunt

Washington State Department of Health reported yesterday that it is in search of medical supplies related to treating COVID-19. Those things include, but aren't limited to, personal protective equipment such as masks and gloves, as well as respirators and ventilators. Officials stressed that simply looking at the number of ventilators in the state does not provide an adequate understanding of the situation. All ventilators are not the same and COVID-19 patients have unique needs. Similarly, counting up hospital beds is not an accurate way to gauge response capabilities as only certain beds are suitable for COVID-19 patients. The Department of Enterprise Services (DES) is working with Emergency Management to source and fill equipment and raw material needs.
Nonetheless, how many hospital beds do we need?
Propublica produced a sobering look at regional hospital preparedness, presented in customized fashion depending on the reader's location.
Here's what they came up with
.
Finding respite

As bad news piles up, it is becoming harder to avoid falling into despair.
A therapist offers up practical advice for coping with coronavirus anxiety.
(
The Atlantic
)
Everyone copes with horrible situations differently. For some, humor is a balm. It's BOTH/AND: It's horrible AND we can allow our souls to breathe.
Both/and is a concept I often share with my therapy patients, but it's especially relevant now if we're going to bolster our psychological immune systems along with our physical ones. Both/and is how I can say to my son "I'm so glad I get to spend this extra time with you" when I walk past his remote classroom (i.e., the den). He'll be going to college in the not-too-distant future, and although the reason he's home with me is horrible, I'm still glad to see him. It's both/and.
University of Washington professor dies
The University of Washington confirmed in a tweet that
Department of Pathology professor Stephen Schwartz has died of COVID-19
.
"He has left a lasting imprint on our department, our university and the broader scientific community and will be greatly missed."
According to the Schwartz's profile on the university website, he primarily studied cancer.
"A major objective of his research is to determine the influence of genetic susceptibility, either alone or in combination with lifestyle and environmental risk factors." (The Daily)