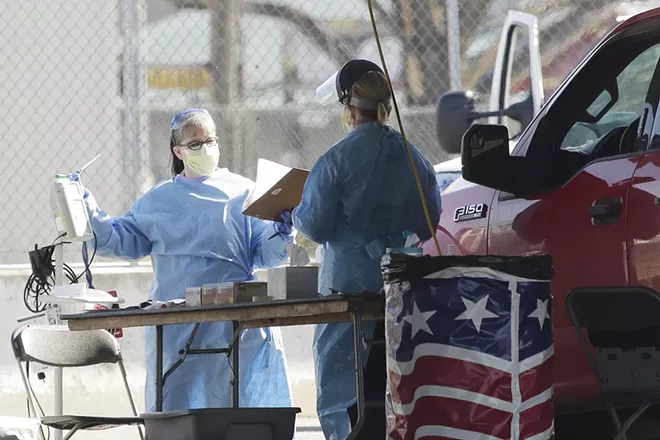 R
ather than requiring a referral from a doctor,
Spokane's drive-thru testing site for COVID-19 will now allow patients to self-refer if they have specific symptoms and fall into a high-risk category.
Patients allowed to self-refer to the site now should have a fever and at least one of the other two major symptoms: dry cough or difficulty breathing. They should also fall into a high-risk category: 60 years old or older, have an underlying medical condition, or if they're a first responder or health care worker.
No one will be turned away from the screening portion, but the testing will most likely be reserved for those who fit those categories, explains Julie Humphreys, spokeswoman for the city of Spokane's Public Safety division.
People still may not be selected for testing if they're presenting those symptoms, but they don't need to come with a doctor's referral to learn if they can get tested anymore, she says. There was initially some confusion with how to get that referral via telemedicine, since printed or handwritten notes from a doctor's office are often not available for these patients, who are being asked to call instead of appear in person.
Patients who come through should also bring their insurance card if they have one. Washington has required insurance providers to pay for COVID-19 screening, testing and treatment with no copay requirements. If someone doesn't have insurance they can still be screened at the site.
The site first opened on Thursday, March 19, when 35 first responders and health care workers who may have come into contact with the virus were screened for symptoms, and of those, 15 received a swab test, Humphreys says.
She says the numbers for the following days were:
Friday: 101 people screened, 69 tested
Saturday: 67 screened, about 30 tested
Sunday: 157 screened, 55 tested
Monday, more than 180 had already been screened by early afternoon.
"We're really happy it's been a steady build," Humphreys says. "It means people aren't just rushing out there, and not everybody who is 'worried well' is being tested. That's what we can't have. That shut down some of the drive-thru testing sites in other cities."
The collaborative testing site was initially set up with 1,000 tests, and there's hope more may be coming. Still, with the numbers where they are, that means plenty of tests are still available for those who need to be tested.
Nurses from the four major health care systems in Spokane are operating the site at the Spokane County Interstate Fairgrounds, with staff from Kaiser Permanente, CHAS, MultiCare and Providence screening people who drive through, Humphreys says.