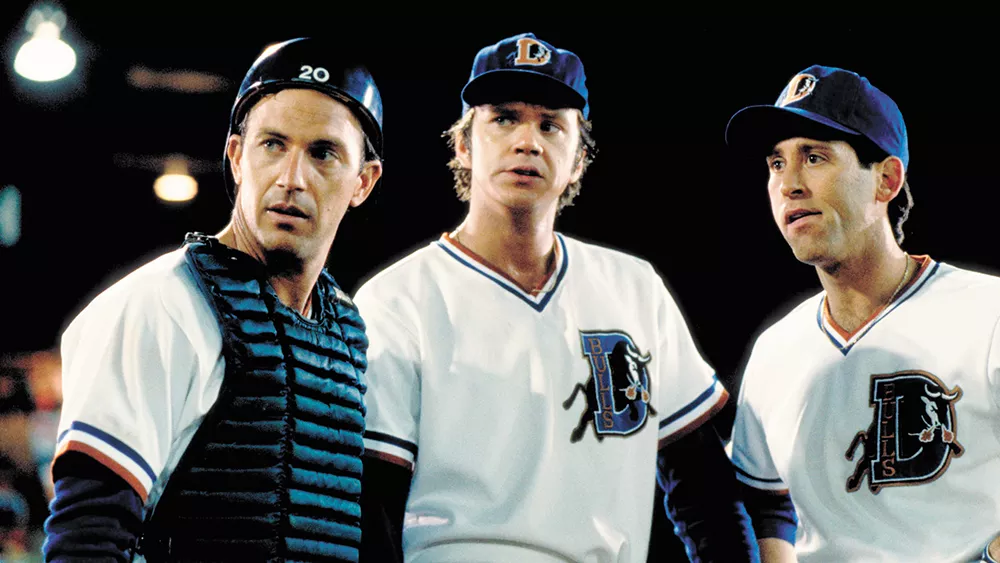 For the sports-loving community, of which I am an annoying emphatic member, the end of public gatherings came at a brutal time.
Besides the loss of March Madness at the Spokane Arena and on TV, this is the time of year when baseball should be beginning, pro basketball and hockey should be pushing toward their playoffs, and everything from Indycar racing to horse racing, tennis to golf, should be hosting the first major events of their seasons. Some might be content watching video games, er, "esports" on TV, that's not going to hack it for those of us who relish the Mariners' first pitch or Stephen Curry's sweet swish.
Some have resorted to watching replays of old games to satisfy their sportsball cravings, but that doesn't work for me. Instead, I've turned to movies. Here are some flicks you can find online to spend one of your homebound evenings while we wait for the return of SportsCenter and fresh new highlights of the day's sporting derring-do.
IF YOU MISS WATCHING BASEBALL...
America's pastime has been the subject of dozens of movies over the years, but there's only one I watch every year before the season's first pitch: Bull Durham. Realistic, funny, Kevin Costner's finest moment and a better valentine to the game than the sappy Field of Dreams. Alternative viewing: The original Bad News Bears, simply to be shocked by what they let kids say in movies in 1976.
IF YOU MISS WATCHING FOOTBALL...
1979's North Dallas Forty offers a glimpse into the decadence of the late '70s and an era of the NFL that's long been forgotten since pro football became a big business. Alternative viewing: Draft Day, a surprisingly entertaining 2014 drama, and yes, more Costner.
IF YOU MISS WATCHING THE X GAMES...
2001 documentary Dogtown and Z-Boys is a brilliant look at early skateboarding culture and the evolution of the sport. Alternative viewing: Penned and directed by Jonah Hill, 2018's Mid90s is about a lot more than skating.
IF YOU MISS WATCHING SOCCER...
In what has to be one of the weirdest casting coups ever, Michael Caine, Sylvester Stallone, Max von Sydow and Pelé co-star in Victory, a semi-cheesy 1981 story of a Nazi prison-camp soccer team that uses a big game to hatch an escape. Rocky plays goalie! Alternative viewing: Bend It Like Beckham is a winning tale of intercultural friendship set among a women's semi-pro team in England.
IF YOU MISS WATCHING CAR RACING...
You could go for something like the Tom Cruise ego trip Days of Thunder, but let's think outside the box: Smokey and the Bandit! Burt Reynolds was never more charming and the car stunts are great. You'll definitely cringe at some of Jackie Gleason's jokes. Alternative viewing: Last year's Ford v. Ferrari has a great Christian Bale performance and some exciting race scenes.
IF YOU MISS WATCHING HOCKEY...
I just rewatched Miracle, the 2004 retelling of the "Miracle on Ice" 1980 Olympic win by the U.S. men over the Soviet Union. It holds up, thanks largely to Kurt Russell as hardass coach Herb Brooks. Alternative viewing: Slapshot, if only to see Paul Newman in a series of fierce '70s leisure suits.
IF YOU MISS WATCHING BASKETBALL...
You won't find a better movie about life on the court than 1994 documentary Hoop Dreams, which tracks two kids with eyes on playing in the NBA. Alternative viewing: Teen Wolf, while not technically a basketball movie, has a wolf-boy who can definitely ball out.
IF YOU MISS WATCHING BOWLING...
Televised bowling isn't exactly scintillating stuff. But Kingpin features Woody Harrelson in high comedic form as an aspiring pro bowler, and Bill Murray as a hard-rolling villain with the best combover haircut of all time. Alternative viewing: Mystery Men is about a crew of unimpressive superheroes, including Janeane Garofalo as "the Bowler."
IF YOU MISS WATCHING THE TOUR DE FRANCE...
American Flyers is an early Kevin Costner vehicle in which brothers compete in a scary road race in the Colorado mountains, all set to a distinctly '80s soundtrack. If you can get over the questionable fashion and Costner's mustache, it's pretty good! Alternative viewing: Breaking Away, which is easily the best bike-racing movie of all time. Don't @ me.
IF YOU MISS WATCHING GOLF...
Have you heard of The Greenskeeper? Former real-life baseball star and notorious racist John Rocker plays a murderous golf course lawn mower in a movie featuring '80s cheese-metal poser Kip Winger on the soundtrack. Yes, it's as good as all that sounds. Alternative viewing: Happy Gilmore, if only to watch game show host Bob Barker beat up Adam Sandler. ♦