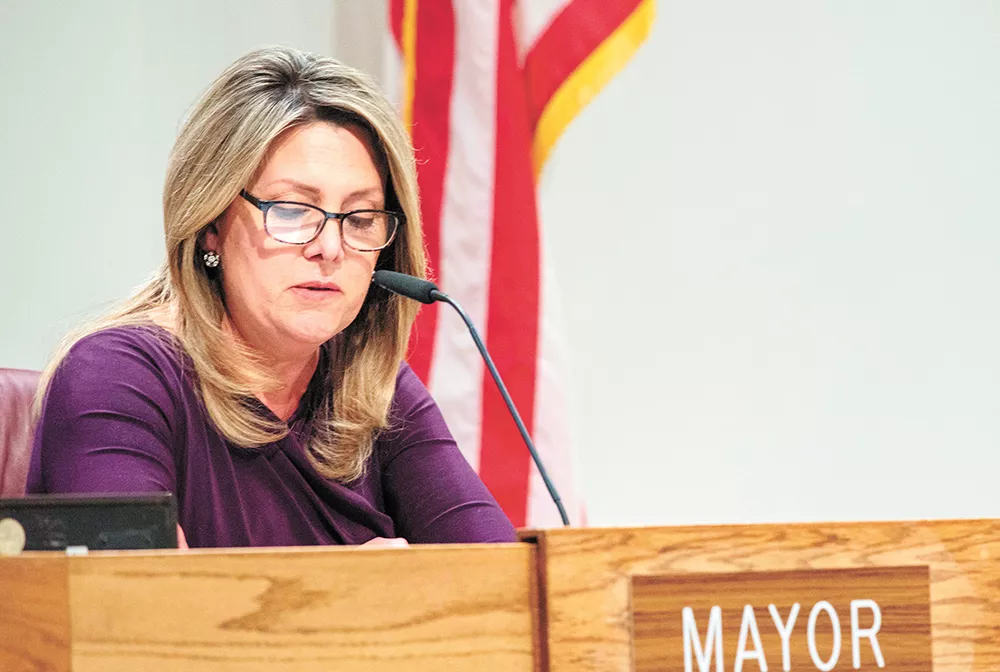 A year ago this month — back when it was still legal to gather in large groups — former local TV anchor Nadine Woodward announced her campaign for mayor of Spokane, with no inkling of the scale of challenge that was awaiting her.
She didn't present a detailed platform as much as a philosophy and personality, arguing that she'd reject "bickering," "political posturing" and "grandstanding," and instead would "listen." She lamented the long-running "war" between the City Council and the Mayor's Office and promised that she'd take a healthier, more mature approach.
But as the campaign ebbed on, as Woodward slammed the City Council and the media, as she made numerous controversial statements about homelessness, it highlighted just how challenging it would be to unify the city.
Woodward's 849-vote margin of victory made one thing absolutely clear: Spokane was sharply divided.
And now, just over 100 days into her role, as the world collapses into pandemic, Woodward is being tested like few mayors ever have in the city's history.
Yet, right now, those on both sides of the ideological divide are crediting Woodward with fulfilling her promise to unite a fractured City Hall, forging trust that could be crucial in the ugly days ahead.
"I knew I had to build a relationship with the City Council," Woodward says. "I could do all this on my own without bringing anybody else along. But that's not the way I want to do it. I'm more of a consensus-builder."
STOP, COLLABORATE, LISTEN
City Council President Breean Beggs — a left-leaning attorney who also won November's election with a narrow advantage — remembers running into the conservative mayor-elect on the sidewalk outside City Hall in late November, and both exchanged earnest promises to work together.
"She was really committed," Beggs says. "She kept telling me that getting along with council is going to be one of her top priorities,"
Woodward regularly set up meetings with each councilmember.
"We have two rules," Woodward says. "No. 1 is we don't surprise each other... No. 2, we have agreed not to disparage each other in public," Woodward says. "I can have a philosophical difference with you and I can articulate that difference, but I'm not going to tear you down personally because I don't agree with you."
It didn't hurt that Woodward's most specific campaign proposal — to return the downtown police precinct to a more central location — was something councilmembers like Beggs had wanted to do for years. It was low-hanging fruit, and within seven weeks, Woodward notes, they got it done.
Woodward says she recognized that she was "coming in with no political experience or governing experience," and so she sought to remedy that with expertise, bringing on Wes Crago, the even-keeled administrator from the tiny Washington town of Ephrata, to be her city administrator. While Woodward's predecessor, Mayor David Condon, spent his first 100 days shaking up the city's bureaucracy, Woodward spent her first few months stabilizing it. Instead of disruptive outside-the-box hires, she filled the city's open positions largely with current or former government staffers.
The way Woodward has treated those city staffers has won her the respect of even one of the Condon administration's biggest critics: City Councilwoman Karen Stratton.
"My biggest relief is that she and Wes care about our employees. ... They are very quick to thank people for their hard work," Stratton says. "You can feel the tone change in City Hall."
During the Condon administration, councilmembers like Stratton noted the absurdity of the communication divide when only a few dozen feet separated the city council office from the mayor's office. But today, that barrier has come down.
"Any time I get up and wander around, I wander over to their office. People literally just hang out and shoot the breeze," Crago says. "And councilmembers will do that on our side."
As a show of unity, Woodward and Crago began attending nearly every Monday night council meeting, at Beggs' invitation.
"The mayor was so excited to do that," Crago says. "That was a big deal."
In fact, because of the coronavirus-related shutdown, Crago remains one of the only officials physically attending council meetings.
"Breean and I are the only two in the room," Crago says, "watching a screen full of faces."
ENTER THE VIRUS
"Everything was pretty much swept away by responding to the crisis — well, I won't say 'swept away.' Everything changed," Crago says.
While Woodward had little experience, the role of a leader who seeks to communicate information with authority was one she honed during three decades on TV.
"She has gone into overdrive to communicate to the public, what we're doing, how we're doing," Crago says. "There's a video shot every day, right outside my office. She crafts the message."
Beggs says that Woodward has been driving the response, including the push to declare a state of emergency, giving the city extra powers and financial resources.
"She really wanted to declare long before the county did," Beggs says. "Frankly, I think, we're a week behind because of [the region's] delay."
But the mayor argues that waiting to declare a state of emergency in the city was worth it in order to effectively partner with other local governments.
"Because this was an emergency of this magnitude, the city should not be working on its own," Woodward says.
Beggs credits Woodward with amending her emergency order, at the council's request, to ban foreclosures, not just evictions.
"I was a little nervous if she was going to go that far," Beggs says. "Somebody said, 'Are we really going to do this?' And she says, 'Yes, we are going to do this.'"
But another move by the mayor may have been even more surprising: During the campaign, Woodward repeatedly championed a tough-love approach to chronic homelessness — criticizing the council's push for a city-owned shelter and even going so far, in an Inlander interview, as to express openness to banning homeless people entirely from the public library.
Today? Woodward's administration turned the downtown library — closed down for renovations — into an additional temporary homeless shelter.
"Which I know, people feel is very ironic," Woodward says, letting out a long laugh. "But it's worked out quite well. ... We have to help our most vulnerable, especially in a health crisis that we're experiencing right now."
In one sense, the apparent change of heart can be attributed to the necessity of preventing an outbreak in a crowded shelter. Yet Spokane could have gone in a different direction. In fact, Woodward describes her shock at listening to the mayor of Vancouver on a conference call talking about shutting down one of Vancouver's homeless shelters.
"I thought, 'Oh my gosh. I can not imagine doing that,'" Woodward says. "That was so foreign to me. ... I just thought, 'That's not the answer at all."
Right now, Beggs says, Woodward has been even more likely than Condon was to trust recommendations made by the city's Community Housing and Human Services Department, which handles homelessness issues.
"My sense is they are more empowered to do what they think is right," Beggs says.
Yet Woodward argues she hasn't changed her views about anything, homelessness included. She still rejects no-requirement service models like "Housing First" and still believes that more "accountability" is a necessary part of the system.
"My outlook hasn't changed," Woodward says. "The way I want to approach this hasn't changed."
THE PITFALLS AHEAD
The months ahead are about to get more challenging, in ways that may strain partnerships in City Hall. The budget impact of this year's economic devastation might be blunted by the city's reserves that it methodically built up during the Condon years. But next year? And the year after that?
"My gosh, I was hoping that we were going to build on the momentum that we've created in the last several years," Woodward says. "Now it looks like we're going to have to rebuild the momentum we had."
Instead of sharing in a feast, the council and the administration may soon be negotiating over scraps. During the campaign, Woodward briefly floated the idea of cutting homeless shelter funding to pay for extra police officers instead of raising taxes, and it remains to be seen how Woodward will prioritize during a budget crisis.
"We have to be extremely flexible," Woodward says. "We've already put a freeze on hiring. We have already cut back on non-essential spending."
Already, there are small signs of conflict. On Monday, a resolution, brought by conservative Councilman Michael Cathcart and supported by Stratton, called for the City Council to support Woodward's request for the Washington governor to lift the stay-at-home order for most residential construction jobs. But the council narrowly rejected a proposal to put it on Monday night's agenda.
Meanwhile, potentially controversial City Council ordinances, like one laying out more rights for tenants, have been put on hold. As the lockdown is lifted, Woodward expects to be dealing with some of those issues.
"We're going to get to a point where we have some philosophical differences," Woodward says. "We're going to have some serious conversations about anything dealing with tenants and landlords after COVID. ... I need to find that balance between protecting tenants but also property owners."
But Woodward believes that once a healthy relationship with the council has been established, that conflict can proceed in a healthier way. And Beggs believes that the mayor might end up supporting the final version of his landlord-tenant ordinance, too. After all, it's not like his ordinance goes so far as to end all foreclosures and evictions entirely.
Either way, he says, the relationship between the mayor and the council is so strong right now that disagreements are scarcely noticed.
"We're so much seeing the good in each other that there might be some slip-ups and conflicts that don't really enter into our consciousness," Beggs says. ♦