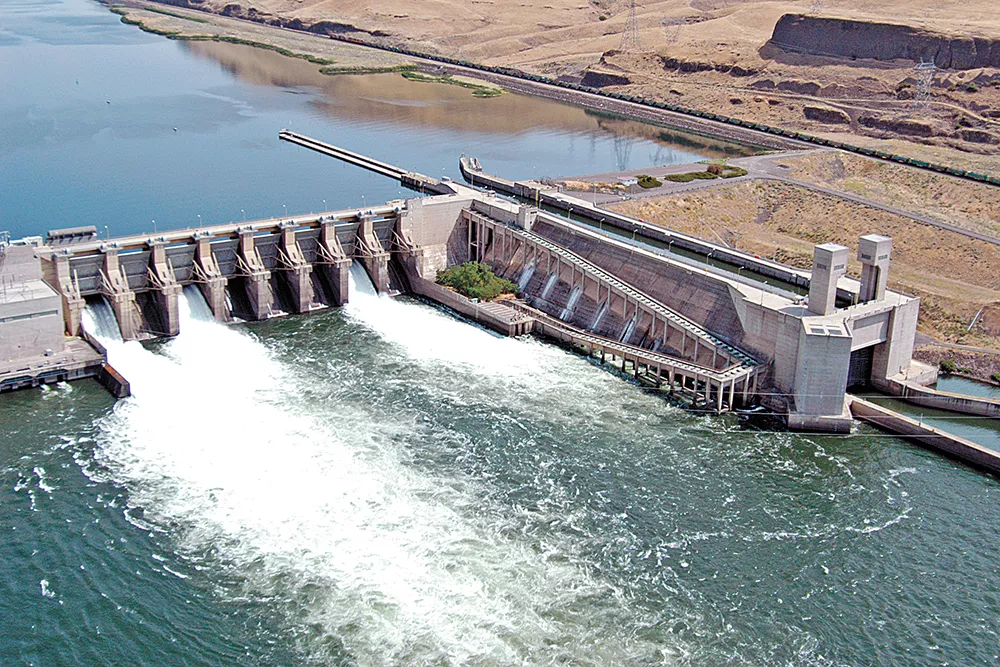 When Liv Larson Andrews, pastor of Salem Lutheran church in Spokane, called into an Army Corps of Engineers public comment meeting on the last day of March, she hoped to share a unique perspective on the debate surrounding the four lower Snake River dams.
As instructed for the telephonic meeting — originally scheduled as one of six in-person opportunities to comment on a draft environmental impact study for the dams — Larson Andrews called in and waited her turn to speak, assuming she was in the queue of people waiting to talk.
For more than two hours that Tuesday night, she listened to other passionate commenters share their for-the-record thoughts about the dams. The study weighs multiple alternatives, including removing the four dams, keeping the dams as they are, and the Corps' preferred alternative of keeping the dams while increasing spill over them to aid endangered salmon and other fish that have suffered since their installation.
But by about 8:50 pm, she heard someone thank everyone for their feedback and then the call ended.
"They said, 'OK, we've heard from everyone,'" Larson Andrews says. "I'm not tech savvy, so I worried I hadn't logged in properly. So it was just like, 'Oh no! Shoot!'"
While she was happy to hear that many of the commenters who did speak on the call were in favor of the dams' removal, she didn't hear anyone share a faith perspective as she had planned to.
"I was calling in to represent my congregation, who highly value creation and the web of life and of all creatures. These dams make that web of life out of balance," Larson Andrews says. "If we understand our biblical calling as people of faith to be good stewards, extinction is poor stewardship."
Her experience (and that of others on the call) highlights a problem that environmental groups say is emerging with widespread community shutdowns intended to slow the spread of COVID-19: Can the public actually stay informed and hold agencies accountable during this time, when many don't have the headspace for anything but their immediate needs?
Even as the Environmental Protection Agency has relaxed its enforcement of mandatory self-reporting of pollution during this time, the federal government is pushing ahead with rulemaking and public comment periods, which environmental groups are calling out as a double standard.
It's not just a matter of people getting their two cents in, either. Voicing objection during an official comment period can preserve standing for a tribe, state, organization or individual to sue later, should they find the government's decision inadequate, says Columbia Riverkeeper Legal and Program Director Lauren Goldberg.
"What we're seeing is that despite the pandemic and the toll that it's taking on communities along the Columbia River, we're seeing the federal government pushing forward on really important decisions," Goldberg says.
In the Northwest, the Snake River dams environmental study public comment period closed on April 13; the draft variances for PCB (polychlorinated biphenyl) polluters on the Spokane River could be opened for public comment in early May; several pieces of the Hanford nuclear reservation cleanup process are moving ahead for comment, and there are many more forest and river rulemaking processes underway.
"It's very frustrating to see EPA go so far in making allowances for polluters when [the government] is not doing the same for communities that are trying to protect the water they drink and the air they breathe," Goldberg says.
Larson Andrews wasn't the only one to miss out on commenting during the March 31 Snake River dams call, which was the final opportunity to call in during the comment period set to close April 13.
Commercial fisherman Pete Knutson, whose Loki Fish Company helps supply fish for farmers markets in the Seattle area, says he also waited for hours to comment on the call, and also never got the chance. Knutson, who is also a commissioner on the Puget Sound Salmon Commission, had hoped to share his opinion that the environmental study doesn't adequately account for the financial impact on the fishing industry he's been a part of for about 50 years.
"When we talk about the dams, we have to talk about what was subtracted," Knutson says. "That was my message: This isn't just a bunch of tree huggers and vegans calling in. We've also got harvesters doing critical work."
While Knutson has written up his comments to submit instead, he still found it frustrating there seemed to be inadequate tracking of who all called in to comment. Similar to Larson Andrews, he thought he was properly waiting in line, but he also eventually heard the staff announce everyone had been called on.
"I think they should extend the comment period," Knutson says, "especially given the situation we're in overall just right now."
Sam Mace, Inland Northwest director for Save Our Wild Salmon, argues the comment process on the environmental study was flawed from the beginning. Her organization was already pushing for more time to comment before the impacts from coronavirus hit the region.
"You do a more than 4,000-page impact statement, you should give 90 days [to comment]," Mace says. "The Trump administration would only give 45, which is crazy right there."
But 45 days meets the requirements of federal policy, according to the Army Corps' Northwestern Division, which stuck with the April 13 comment deadline.
Unlike the March 31 call where not everyone was able to comment, Mace, who is paid to attend the calls as part of her job, says she was on early calls where lots of empty space passed while the staff waited for anyone new to call in. Some people from organizations also likely paying staff to be on the call hopped back in the queue to comment again, she says. Meanwhile, many who would have normally called in or attended weren't commenting.
"The people that really, really need to have their voices heard are the ones in the worst possible position to get on an evening call or send comments in this short turnaround," Mace says.
There may have been an issue on the final call with people not entering themselves in the queue properly, as the operators running the call for the Corps informed facilitators that night that everyone in the queue had been heard, says Amy Echols, outreach coordinator for the fish and environment branch of the Northwestern Division.
"To our knowledge, we hit everybody in the queue," Echols says. "We even asked the AT&T operator if we could add another half hour, and they said, 'Sure, we'll watch the queue,' but the queue emptied."
That call was by far the most popular, she says. Over six calls, the Corps had about 1,000 people call in and about 300 share their 3-minute comments. About 90 comments came on the final night, when the call was extended by an hour. Facilitators repeated how to get into the queue throughout the call, and people were also reminded of the other ways to comment, including writing in online or by mail.
Still, a major concern for some is that not getting heard can affect groups or individuals who want to have standing in court later.
Columbia Riverkeeper's Goldberg points to examples such as the Hanford cleanup, where multiple projects are currently up for public comment. One asks for input on how the Department of Energy should deal with aging radioactive buildings, which pose a risk to public health should they collapse, Goldberg says.
"It's not that we want Hanford cleanup to stop, by any means. The fundamental concern is that the Trump administration's track record on Hanford cleanup is cutting costs and saving money to the detriment of public health and the environment," Goldberg says. "We want to make sure tribal nations, states and the general public can weigh in on those decisions, because ultimately we might have to take the government to court over them. Our ability to do that is impacted if we can't weigh in."
In Spokane, the process to draft a workaround for the biggest polluters of PCBs into the Spokane River is also pushing forward. The variances, which will allow multiple polluters to continue exceeding the limits set in water quality standards while working toward compliance with the law, are the first in state history.
While environmental groups often complain that the government moves too slowly on its pollution and permitting processes, Spokane Riverkeeper Jerry White says that in light of the coronavirus' impacts, now is a time to call for pause.
"People's bandwidth and ability to even register and track these issues that will ultimately have a longstanding impact on them and their quality of life is limited," White says. "This isn't a good time to be addressing those issues."
An in-person open house to explain the variance process to the public had been planned for late March, but was later converted into two online webinars scheduled for April 8.
"We have no problems with webinars. In fact I think they're great when alongside in-person public hearings," White says. "[But] when you have mobility constricted and folks have to access these meetings over webinar, you're really selecting for only part of the population that can participate in that."
White sent a letter to the director of Ecology with other environmental advocates from around the state on April 7, calling for Ecology to pause the variance process until Gov. Jay Inslee's Stay Home, Stay Healthy order is rescinded and social distancing guidelines are relaxed again.
"It brings up deep questions and really casts doubt on the whole process when these things are being undertaken in a period of history like this when people just are not able to pay attention," White says.
For now, however, it appears Ecology plans to move forward.
"We're working toward the goal posts that have already been set for us and we're trying to get as many people to have the chance to review this complicated stuff as possible," explains Ryan Lancaster, spokesman for Ecology's Eastern Regional office.
The April webinars follow an open house that was held in November, and a comment period that was held last summer, he says. Plus, there will be several other opportunities for public input once the draft rule is published, likely sometime in early May.
"These webinars are essentially more open houses to help lay people understand this really complex issue," Lancaster says. "We're definitely interested in getting as much information out there as possible, we just have to move forward with the process."
Once published, the public will get at least 60 days to comment on the variances, he says. That period could be longer but it's hard to tell yet with the coronavirus making everything fluid.
"We want to get people informed, we want people's eyes on it, we want public comments," Lancaster says. ♦