W
hile waiting for news on when they can reopen
for dine-in service, several area restaurants that previously opted to temporarily close, rather than offer their menus to-go, are back in the game as of this week or next.
In Washington state, business owners are waiting for Gov. Jay Inslee to share plans on Friday for a gradual lifting of his Stay Home, Stay Healthy order, which he announced today will now extend past May 4. Restaurants and bars across the state were originally ordered to close for in-person service back on March 16, with a tentative reopening two weeks later; instead those restrictions were extended through May 4.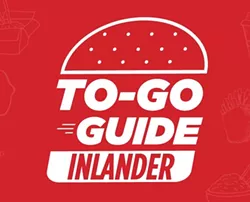 Idaho, meanwhile, is
gradually rolling back its restrictions
and is planning to allow restaurants to reopen their dining rooms by May 16 if local safety protocols are met.
Since pandemic-related closures in both states have now lasted longer than many restaurant owners originally expected and hoped, several eateries announced their returns this week.
Among those is a trio of Spokane restaurants that were serving takeout, but closed after two weeks with the health of its staff in mind. As of this week, however,
Downriver Grill
,
the Flying Goat
and
Republic Pi
are all open again.
"When this all started, there was so much unknown and we wanted to make the best decision at that time for our staff and the community," says co-owner Juli Norris. "We are now ready to give to-go-only another shot, with some support of other local businesses, like Marcella's Bridal, who made us awesome face coverings."
Find weekly specials (including Downriver's famous "BurgerDome" Wednesdays) and what's available to order on each restaurant's website; also check social media pages for specials and other updates.
"We, as a business family, hope we are not far away from the other side of this, and anticipate the day when life can get back to 'normal' and we can do what we do best," Norris continues. "We have been so overwhelmed by the outpouring of support from our local community and are so grateful to have the opportunity to reopen."
Recently opened, as of late last fall, downtown fine dining spot
Gander & Ryegrass
is also back as of Wednesday, offering its
takeout menu
Tuesday through Sunday from noon to 7 pm. The restaurant is also offering no-contact deliveries, and is happy to take requests for items not listed on its menu.
The restaurant offers daily rotating specials for pickup at 5 pm, including family-size pans of lasagna ($65) on Wednesday, spaghetti and meatballs ($45) on Tuesday and a "quarantine staples" box ($75) on Thursday.
Chef-owner Peter Froese says the restaurant was able to reopen and put its small team back to work after being approved for a loan through the Small Business Administration's Payroll Protection Program.
"Time at home with family was great, but I think we are all grateful to be working again," Froese says. "The next few weeks we plan on doing what we do in whatever capacity we can."
Spokane Valley brunch spot
Little Euro Restaurant
is set to reopen for takeout orders on Monday, offering pickup at its drive-thru window. Specials coming with the reopening include family meals with cinnamon rolls ($40), and $20 mimosa kits. Find Little Euro's takeout menu
here
.
In North Idaho, the
Garnet Cafe
announced it will open on Friday after spending the last month working on improvements to its midtown Coeur d'Alene space. The popular brunch spot plans to be open for takeout daily from 8 am-2 pm, with a limited menu that includes adult beverages to-go. Stay updated on the
cafe's Facebook page
.
Another area restaurant that has been temporarily closed throughout the shutdown's first month and a half is
Rüt Bar & Kitchen
, the vegan restaurant on Spokane's lower South Hill that
first opened about a year ago
. Starting Friday, May 1, orders can be placed for curbside pickup or
delivery
via local Treehouse Deliveries.