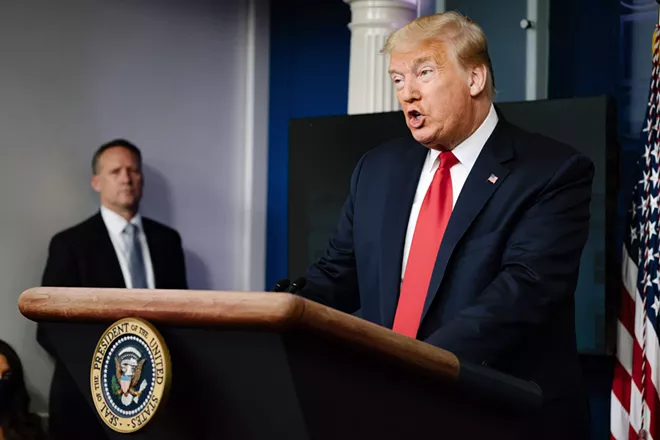 By Maggie Astor and Davey Alba
The New York Times Company
T
he widower of Lori Klausutis
, whose death President Donald Trump has used to smear MSNBC host Joe Scarborough, is asking Twitter to remove the president's tweets on the subject.
Twitter said Tuesday that it would not.
In a letter to Jack Dorsey, the chief executive of Twitter, last week, Timothy Klausutis said Trump had violated Twitter's terms of service by falsely suggesting that Scarborough killed Lori Klausutis in 2001 when he was a Florida congressman and she was an intern in his office. Lori Klausutis, then 28, actually died as a result of a heart condition that caused her to collapse at work and hit her head on her desk.
"An ordinary user like me would be banished from the platform for such a tweet," Timothy Klausutis wrote in the letter, "but I am only asking that these tweets be removed."
Trump has repeatedly promoted the conspiracy theory against Scarborough, who has criticized the president on his MSNBC show "Morning Joe." In a series of tweets over the past several weeks, Trump has urged law enforcement authorities in Florida to "open a cold case" and suggested falsely that Scarborough "got away with murder." He had tweeted about the same conspiracy as far back as 2017.
"I'm asking you to intervene in this instance because the president of the United States has taken something that does not belong to him — the memory of my dead wife — and perverted it for perceived political gain," Klausutis wrote in his letter. "My wife deserves better."
Twitter said Trump's tweets did not violate the company's terms of service, even though its policies say users "may not engage in the targeted harassment of someone, or incite other people to do so." The company has said posts from leaders are newsworthy.
Twitter clarified its policy this month, stating that it would label tweets containing misinformation about the coronavirus with three broad categories: "misleading information," "disputed claim" and "unverified claim."
But the company said it would not label Trump's tweets about Lori Klausutis.
"We are deeply sorry about the pain these statements, and the attention they are drawing, are causing the family," a Twitter spokesman, Nick Pacilio, said in a statement. "We've been working to expand existing product features and policies so we can more effectively address things like this going forward, and we hope to have those changes in place shortly."