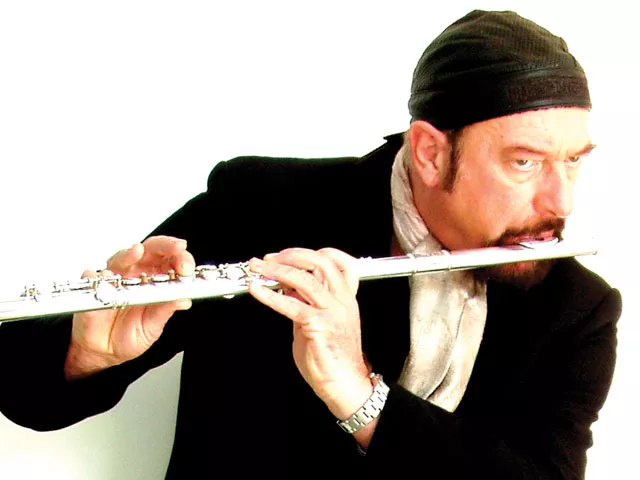 Ian Anderson is best known as the flute-playing leader of the Grammy-winning, genre-busting classic rock outfit Jethro Tull. But he tours and performs under his own name as well, delving deeper into the well of folk, world and baroque classical music that Jethro Tull draws from. We got Anderson on the phone for a few minutes to chat about Eric Clapton, musical Kama Sutra and the downfall of music.
INLANDER: You're renowned for being rock 'n' roll's most famous flautist, but it wasn't your original intention to be a flautist, was it?
ANDERSON: No, my original intention was to be a painter.
But at school I picked up the acoustic guitar and started playing. Then around 19 years old, I heard Eric Clapton play and decided to give up guitar and switch to another instrument — preferably one that Eric Clapton showed no facility in whatsoever. I spotted a flute in a shop window one day and thought it unlikely that Clapton would play it.
You've touched on so many genres and styles in your musical career, both as a member of Jethro Tull and as a solo artist. What can fans expect to see on this particular tour?
Well, it's a bit of a mishmash — like a musical Kama Sutra. Perhaps sometimes confusing, but most of our audience is broad-minded. The music is a pastiche of different types, from different ages, different cultures, different instruments, drawing it all together into a — hopefully — cohesive form. Strange that they, for the most part, all began as acoustic guitar songs strummed in some Holiday Inn somewhere in the American Midwest.
The music industry has obviously changed quite a lot over the course of your career — LPs to 8-tracks, 8-tracks to cassettes, cassettes to CDs and, in the last decade, the rise of digital downloads and file-sharing. Is this what you imagined the future would look like? The days of young musicians being able to get record deals, recording budgets, tour support — except in very few cases — are over. Young bands are expected to play for free at clubs in London, just for the exposure. If they make records, they are made in bedrooms using digital equipment, which favors the use of electronics, samples and so forth. It will be difficult to survive as a working musician, and it's not going to change anytime soon. Most people of a certain age believe music is available for free, and that they shouldn't have to pay for it. It's a moral issue. And the draconian attempts by record companies to curb this theft are not going to work. It will take a multi-generational, sustained effort to change the attitude.

Ian Anderson plays at the Fox on Sunday, Nov. 15, at 7:30 pm. Tickets: $40-$50. Visit: ticketswest.com or call 325-SEAT.