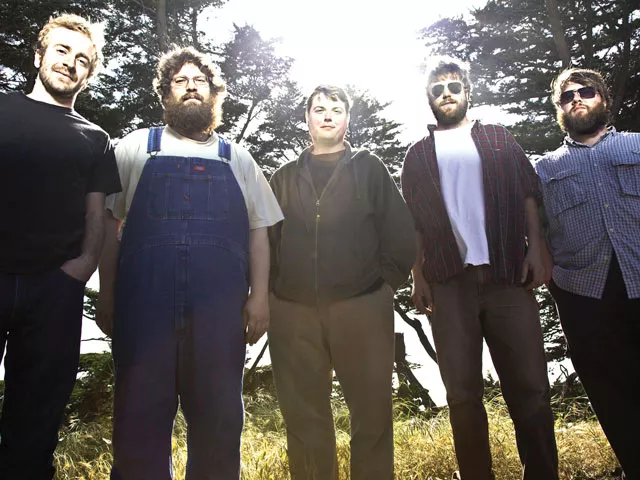 Watching a Trampled by Turtles live show is like witnessing a kamikaze. With each chord you're sure the song will destroy itself, fall off its rocker and land in a fiery pyre of burnt hands, blistered fi ngers and tangled nails. But it doesn't.
They produce quite the spectacle for a bluegrass band — a band that in most circles has been tagged as "new-grass," roots or folk — but like so many bands before them, they consciously ignore the genres.
"I kind of like to see what people come up with for themselves," says lead vocalist, songwriter and guitarist Dave Simonett. "I don't feel like it's worth the energy to explain what the music sounds like because it's so easily accessible these days."
In 2003 the band found itself in a region where picking and toe-tapping were commonplace. To stand out, the band named itself Trampled by Turtles.
"Where we come from, there are a lot of bands the likes of 'river mountain grass boys,'" Simonett says. "It's easy to get lost in that mix so we ended up with a joke for a name."
Since then the band has relentlessly toured and produced five acoustic albums — a plan that Simonett says the group will continue to follow throughout next 1.7 w year. They'll release another album next spring.
The band's nearly nonstop touring schedule and high-intensity live shows have paid off. Simonett says the band is seeing larger audiences in regions that weren't previously their scene. And it's no wonder.
Their music is manic-depressive. Songs like "Methodism in Middle America" come on as steady as slow breathing, leaving listeners with an aching chest-weight as the band tirelessly plucks and strums their heartstrings. Simonett's voice — whether casually speaking or crooning in harmony with his band mates — ensures that nothing about this music is rushed.
On the other hand, songs like "Truck" are dumbfounding with speed and hypnotic jamming, proving that "mandolin" and "shred" are words that truly can occupy the same sentence. Live shows run the emotional gamut — leaving the tiny backcountry hillbilly in you both happily weeping and dancing shamelessly.
"Some things kind of lose their luster," Simonett says, "but the energy exchange from the audience to us is still really exciting. We're going to keep doing it one song at a time, and hopefully get better and better."
Trampled by Turtles plays at Empyrean Coffee House on Wednesday, Dec. 9, at 8 pm. Tickets: $8. Call: 838-9819.