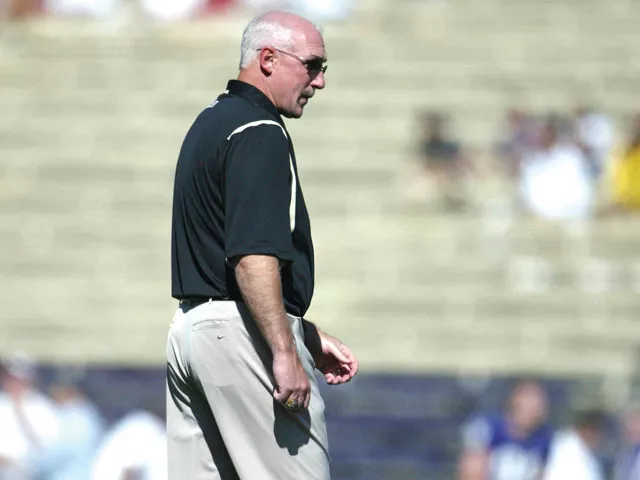 Robb Akey does not enter a room so much as he invades it. Large, loud and proud, Akey is a tsumani with legs. His gravelly foghorn of a voice rattles windows, and his gregarious personality enables him to slap backs with the boys at the bar just as easily as he can take over a living room and charm the mother of a high school recruit.
Recruiting, the backbone of any college sports program, just got a whole lot easier for Akey. After nine straight losing seasons — including 1-11 in 2007 and 2-10 in 2008, in Akey's first two years as coach — the Idaho Vandals are headed to a bowl game for only the second time in school history.
"The difference is Robb Akey has been here three years now," senior wide receiver Max Komar says. "He went about turning around the program the right way. He started from the bottom."
On Wednesday, Dec. 30, the Vandals take on Bowling Green in the Roady's Humanitarian Bowl in Boise. The New York Times ranked the team second-to-worst in the entire BCS coming into the season. Who could have imagined such a scenario?
Well, uh, Akey, for one. "When I was talking about a bowl game, people looked at me like I was crazy," Akey admits.
As luck would have it, most of the select few believers in Akey's bowl plan happened to play for the Vandals.
"He started hammering it in our heads back in the spring," offensive guard Matt Cleveland recalls. "I remember a couple meals, we were eating steaks out of bowls." Akey says he was confident his players had developed physically and mentally enough to finally profit from all the hard work they had put in since Akey crossed the border after eight years as a Washington State assistant.
"It's an honor to play for him," defensive tackle Jonah Saturaka says.
Akey says the season opener, a 21-6 Western Athletic Conference win at New Mexico State, set everything in motion for one of the biggest turnarounds in college football this year.
"A WAC win. Starting the season 1-0. Winning the first road trip. A number of things all rolled into that one game … it takes questions out of kids' heads," Akey says.
Outsiders still have plenty of questions about the Vandals. They've lost four of the last five games — a shoulder injury to quarterback Nathan Enderle did not help — and one of the nation's most prolific offenses (32 points and 451 yards per game) is offset by one of the nation's most porous defenses (36 points and 425 yards allowed per game). Nevada ran up 70 points on Idaho; Boise State scored 63.
Only one senior starts on defense. The Vandals' ability to sustain success next season may come down to how well they deal with the loss of All-American guard Mike Iupati and three other senior starters on the offensive line.
First, the Vandals must tackle a pass-happy Bowling Green squad that boasts one of the best aerial attacks in the country. The Falcons might have the best player on the field in All-American wide receiver Freddie Barnes, who finished the regular season as the national leader with 138 catches (four shy of the "major college" record) and 16 touchdown receptions. Barnes' 1,551 receiving yards ranked second.
Obviously, Barnes represents quite a challenge. Fortunately for Akey and the Vandals, they know all about facing challenges — and overcoming them.
Idaho and Bowling Green play in the Roady's Humanitarian Bowl at Bronco Stadium in Boise on Wednesday, Dec. 30, at 1:30 pm. ESPN is carrying the game on television. For tickets, call (208) 885-6466.