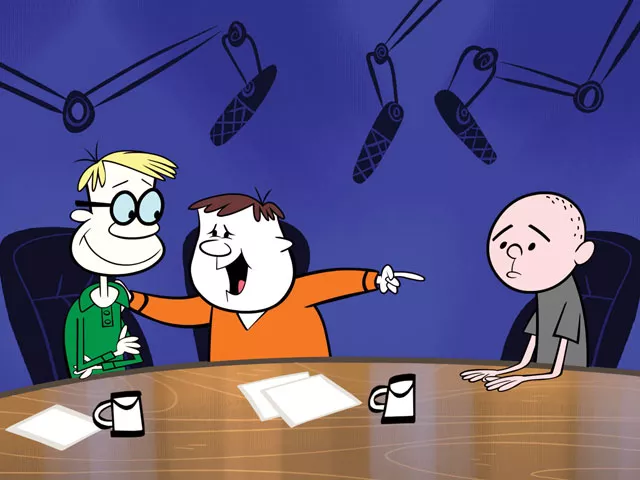 Every school has a few weird kids, the sort who talk funny, smell funny and look funny. You'll often find this kid in gym class, surrounded by his larger, smarter, better-looking peers — peers who listen to what the poor chap's blathering on about and feign deep fascination.
The saddest part? Despite the gales of laughter, the sap doesn't ever seem to realize they're making fun of him. And you're laughing, too. Not because you're mean — but because, hey, weird dude says some hilarious crap.
That, in a nutshell, is the Ricky Gervais Show podcast. Ricky Gervais and Steve Merchant (producers of the British Office and Extras) sit down and chat with their podcast producer, Karl Pilkington, who rambles on about his rather odd beliefs. He has a theory about how it would be easier if babies just popped out, fully formed, from dead 78-year-olds. He believes monkey astronauts were actually trained — through bananas — to fly rocket ships. He tells of a creepy manor, where he found a sign labeled "flies" pointing, indeed, to a massive pile of dead flies.
Merchant and Gervais — actual comedians — are generally only there to goad Pilkington into making increasingly loony statements and to cackle uproariously when he does.
The new Ricky Gervais show on HBO takes that podcast audio and adds cartoon animations. Occasionally, a silly cutaway sequence helps drive home the hilariously surreal nature of Pilkington's worldview. Sadly, however, most of the time the cutaways are painfully peppered with Wacky Morning DJ sound effects.
Indeed, the funniest scenes aren't with monkeys or the sproing sound effects. They're the scenes in the recording studio, where a cartoon Gervais points and guffaws, while a bald, impossibly sad Pilkington stares bleakly.
Yes, this is a very cruel show — junior-high-girls-on-MySpace cruel. Like most of Gervais's shows, it's about laughing at, not laughing with. Such is the evil of humanity: We love to chuckle at our intellectual and social inferiors.
---
TIVO-WORTHY
Behind Bars
"Accused murderers, rapists and the mentally ill outnumber the staff four-to-one and put an elite force of officers to the test," reads the breathless summary for the Feb. 25 episode of Behind Bars. San Quentin? Fox River? No, Spokane County Jail. Scenes at Geiger and Spokane County Jail show Spokane's prison world like you — hopefully — have never seen it before. (Discovery Channel, Feb. 25, 8 pm)

Rules of Engagement
From the bowels of CBS shows nobody's talking about comes a fourth season of Rules of Engagement, straight from sitcom Mad Libs: In the bustling metropolis of NEW YORK CITY, TWO couples and ONE single friend played by failed movie actor DAVID SPADE love, laugh and solve conflicts in 30 minutes. (Premieres Monday, March 1, at 8:30 pm on CBS)

Southland
How bad were Southland's ratings? Southland's ratings were sooo bad that NBC canceled it. But never fear, fans of TV shows about LAPD patrol officers being all dark and gritty, TNT has swooped in to show the remaining episodes. (Premieres Tuesday, March 2, at 10 pm on TNT)
* Follow Daniel Walters on Twitter at @danieltwalters. Check out the "TV on the Internet" podcast he recorded with several writers for pop culture megasite the AV Club at tinyurl.com/tvoti.