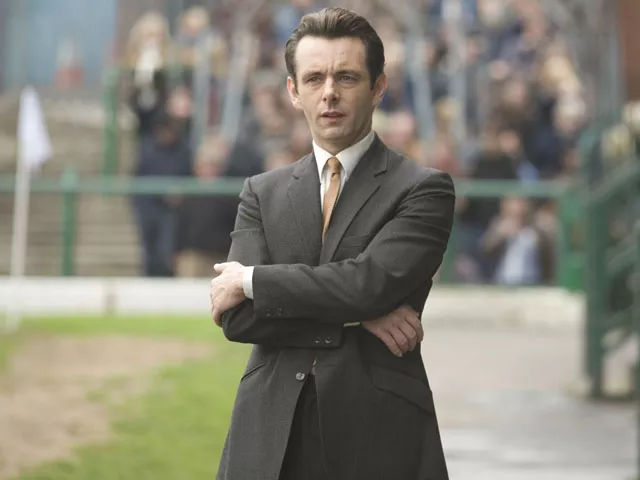 The Damned United is not your average sports drama. There are no underdog athletes, no motivational speeches and no suspense-filled game scenes. In fact, the athletes are hardly featured and on-field action is limited. Instead, The Damned United follows the successes and pitfalls of the self-absorbed and egotistical 1970s football manager (that's British for soccer coach) Brian Clough.
Every soccer fan in England (which amounts to almost everyone in the country) knows Clough's story. However, The Damned United, which was adapted from a best-selling novel loosely based on real events, takes audiences behind the games and shows them a different side of Clough. Whether or not the depicted events, or Clough's character for that matter, are based in fact, it makes for a good story.
Michael Sheen, who stars as Clough, must have a knack for playing famous Brits, having previously portrayed both Tony Blair (The Queen) and David Frost (Frost/Nixon). Now he successfully emulates the coach who was once a household name in England.
From reveling in athletic victory, to battling players and superiors, to literally groveling at someone's feet, Sheen's performance as Clough is not only convincing but riveting. Throughout the film, viewers will look though the pride and narcissism that Clough was infamous for and see a man who loved to win but strove to play fair, and wasn't above humbling himself. When it came down to it, he simply loved soccer.
One of the more touching parts of The Damned United is the relationship between Clough and his longtime assistant, Peter Taylor, played by Timothy Spall (Enchanted, Harry Potter and the Half-Blood Prince).
It's easy to see how this film was a hit overseas, where they take their football seriously. However, the focus on the politics of the popular British sport may leave American audiences uninterested or at least wishing for fewer boardroom scenes and more on-field action. At least Sheen's strong performance and some twists in the plot should leave everyone with something to appreciate.
Special features on the DVD include interviews with those who knew Clough and a piece on how Sheen recreated him. (Rated R)