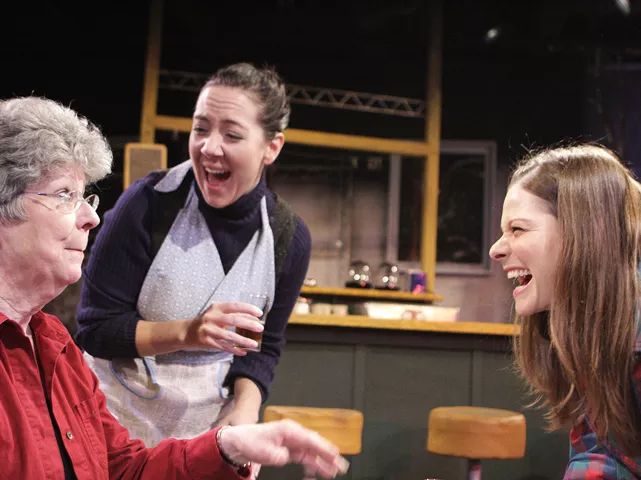 The Spitfire Grill opened in New York City just four days before 9/11. In the days after the attack, the show got a positive reception from both audiences and critics who warmed to the homespun optimism of this small-town, small-cast musical.
"Just regular folks, with regular problems," comments Dee Finan. She's the retired/unretired costumer at the Civic (where Spitfire runs March 19-April 11), and since she knows the characters and the seven cast members well enough to put clothes on their backs, she ought to know.
Spitfire had even weathered an earlier tragedy: In May 2001, while the musical was being workshopped, co-creator and lyricist Fred Alley had dropped dead of a heart attack at the age of 38. But just as the show rebounded, enjoying productions all over the country and even internationally, its main characters also trace an arc from sadness to rejuvenation. After serving a prison sentence (for a crime that's left unspecified until Act Two), Percy (Manuela Peters) hopes that pretty autumn leaves on a postcard will indicate a happier life in Gilead, Wisconsin. The town's dying, though, and the owner of its only diner, Hannah (Judi Pratt), hides secrets of her own under a crusty exterior.
Both the matriarch and the outsider need to realize "that they must face their demons and then finally forgive themselves," says director Marianne McLaughlin.
Along the road to forgiveness are a couple of complicated musical numbers, with townspeople singing overlapping melodies in counterpoint as Gilead accustoms itself to the new girl in town and as a long Wisconsin winter brightens into spring. "While the staging is stylized in many ways, I wanted it to be relaxed and natural," McLaughlin says. The arrangements are complex, she adds, because of "the growing agitation and curiosity over Percy's arrival."
Gilead's postmistress and town gossip, Effy (Sallie Christensen), gets especially agitated. But McLaughlin wants to avoid any busybody stereotypes: "While Effy does have her nose in everybody's business, I think she, like everyone else in the town, is suffering from disillusionment in the post-Vietnam War recession and sense of deep loss" represented by the disappearance of the town's favorite son. "Effy just wants to rediscover a connection to the people she has known for so many years."
Yet if the plot — outcast woman finds redemption both for herself and others — sounds all Lifetime Movie Network, composer James Valcq's melodies enliven the show. Reviewing a southern California production in 2002, Variety's Joel Hirschhorn wrote that "Valcq's numbers are consistently exciting, aided by carefully devised orchestrations. More than most musicals, the underscoring feels like an extra character, brimming with creative cello, violin, mandolin, guitar and keyboard solos. Fred Alley wrote lyrics that contain the ring of plain-spoken, believable truth."
When Percy first arrives, for example, townspeople gossip: "They say she has tattoos./ It don't take much in Gilead to qualify as news." And later, when Percy is learning how to be a short-order cook, she comments that "There's so much butter in the batter,/ It would probably stop the heart of Superman."
During rehearsals, Pratt says, a song like "Come Alive Again" has become a personal favorite: "Hope is reborn in the folks who live in Gilead. It starts with the girls, then Hannah, then spreads to the whole town." A line like "Old store fronts are painted…," Pratt says, depicts "not just the people but the town itself coming alive again."
Just regular folks, facing problems you've heard of and then coming up with creative solutions: The Spitfire Grill offers a bit of can-do Americana, all dressed up in perky tunes. For our own troubled times, a decade after Spitfire's premiere, the Civic's black-box theater is offering up a redemptive musical.
The Spitfire Grill sings about small-town values from March 19-April 11, on Thursdays-Saturdays at 7:30 pm and on Sundays at 2 pm at the Civic's Studio Theater, Dean Ave. and Howard St. Tickets: $22; $11, student rush. Visit spokanecivictheatre.com or call 325-2507.